GRAMMY-WINNING, MULTI-PLATINUM THIRD DAY ANNOUNCES SPRING 2015 SOUL ON FIRE TOUR
Kicking Off March 5 in Boston, Tour Will Feature
Dove Award Winning New Artist Ellie Holcomb
or Grammy Nominated Singer/Songwriter Peter Furler in Select Markets

Tour Follows March 3 Album Launch Party at New York City's
Beacon Theater for the Band's New Worship Recording, LEAD US BACK

Tickets On Sale Now In Some Markets
With More Coming Soon!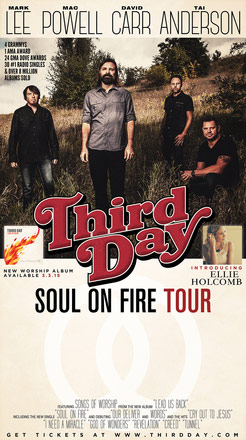 NEWS SOURCE: Southside Entertainment
December 19, 2014
NASHVILLE, Tenn. - Dec. 19, 2014 - Four-time GRAMMY® Award-winning band THIRD DAY will hit the road this spring to headline the SOUL ON FIRE TOUR, coinciding with the March 3 release of the band's new worship album, LEAD US BACK. The 20+ city spring leg kicks off March 5, in Boston following an album launch party at New York City's famed Beacon Theater on March 3, and will then move on to major U.S. markets such as Philadelphia, Tulsa, Dallas, Grand Rapids and more, before wrapping up on April 26 in Augusta, Maine. The SOUL ON FIRE TOUR will introduce Dove Award Winning New Artist of the Year Ellie Holcomb on most dates, while Grammy nominated Australian favorite Peter Furler will be a special guest on other select dates. THIRD DAY will continue the tour across Canada before moving into some special summer shows, and then complete their U.S. touring in the fall of 2015.
The SOUL ON FIRE TOUR takes its name from one of the first singles on THIRD DAY's brand new worship project, LEAD US BACK, the band's first worship recording in more than a decade. The group's two previous worship albums, OFFERINGS - A Worship Album in 2000 and OFFERINGS II - All I Have to Give in 2003, have been the two biggest selling albums of THIRD DAY's career to date.
"LEAD US BACK is a call to worship, not just for our audience but for the band as well," says bassist Tai Anderson. "Why now? We're ready for these songs. We're ready to feel God's spirit fall afresh on all of us again. We have a twofold hope in sharing them. First, that this music will help lead us as a group back to our original fire and desire to worship and second, that it will do the same for our fans who are on the spiritual journey as well."
A special VIP package will be available for SOUL ON FIRE TOUR ticket buyers, including a premium-seat concert ticket and an after-show VIP experience with THIRD DAY. For the most up-to-date ticketing information, please visit www.ThirdDay.com.
THIRD DAY - SOUL ON FIRE TOUR - Spring 2015
March 3 - New York, NY | Beacon Theatre
March 5 - Boston, MA | Colonial Theatre
March 6 - Philadelphia, PA | Merriam Theatre
March 7 - Akron, OH | Akron Civic Center
March 12 - Cordova, TN | Hope Church
March 13 - Tulsa, OK | Cox Business Center
March 14 - Amarillo, TX | Amarillo Civic Center
March 15 - Grand Prairie, TX | Verizon Theatre at Grand Prairie
March 19 - North Charleston, SC | North Charleston Performing Arts Center
March 20 - Knoxville, TN | Knoxville Civic Auditorium
March 21 - Grove City, OH | Grove City Church of the Nazarene
March 22 - Grand Rapids, MI | DeVos Hall
March 26 - St. Augustine, FL | TBA
March 27 - Orlando, FL | TBA
March 28 - Tallahassee, FL | TBA
March 29 - West Palm Beach, FL | TBA
April 16 - Chattanooga, TN | TBA
April 17 - Charlotte, NC | TBA
April 26 - Augusta, ME | Augusta Civic Center

* Additional dates to be added. Dates, markets and venues subject to change without notice.
ABOUT THIRD DAY
THIRD DAY, comprised of members Mac Powell, Tai Anderson, David Carr and Mark Lee, during the last two decades, has racked up 30 No. 1 radio singles. The band has sold more than eight million albums, including two RIAA 2x Multi Platinum, five Platinum and 12 Gold certifications. A Georgia Music Hall of Fame inductee (2009), THIRD DAY has garnered four GRAMMY© Awards (with 11 career nominations), an American Music Award (with four American Music Award nominations), multiple ASCAP honors, (including its coveted Vanguard Award for songwriting), and 24 career GMA Dove Awards (from 42 nominations).
Long known as Christian music's premier live band, the Atlanta-based THIRD DAY has performed for audiences reaching into the millions all around the world. The group has been featured on "The Tonight Show," "The Late Late Show with Craig Ferguson," "60 Minutes," ABC's "Nightline," and written about in USA Today, the New York Times and Billboard magazine - a cover story which called THIRD DAY "one of the best rock bands, period." For more information on THIRD DAY, please visit: www.ThirdDay.com, www.facebook.com/ThirdDay, www.twitter.com/ThirdDay, www.instagram.com/ThirdDay or www.providentpress.com.
ABOUT ELLIE HOLCOMB
Recently crowned New Artist of the Year at the Gospel Music Association Dove Awards, Ellie Holcomb is a star on the rise. Inspired by God's Word, Holcomb recorded and released two EPs full of songs based on the Psalms and other scriptures, Magnolia and With You Now. Even with zero dollars spent on promotion, they both hit No. 1 on the iTunes Christian/Gospel charts. Her scripture-based full-length debut followed in February 2014. As Sure as the Sun (Full Heart Music) received rave reviews for the talented singer-songwriter, who also collaborates with her husband Drew as part of his band, Drew Holcomb and The Neighbors. Find out more at www.ellieholcomb.com.
ABOUT PETER FURLER
With multiple GRAMMY nominations and Dove awards, 25 No. 1 songs and over seven million albums sold in his career, Peter Furler (founder of the Newsboys), released his critically-acclaimed first solo album, On Fire, in 2011. He returned in 2014 with collaborative efforts on three albums released this year. Sun and Shield by the Peter Furler Band was released in March, Christmas with David Ian in October and Goliath by The Perfect Foil with longtime producer/artist Steve Taylor just released in November. For more information, visit www.peterfurler.com.
- ### -
For more info on Third Day visit the JFH Artists Database.
For more info on Peter Furler visit the JFH Artists Database.