Indie Worship Band BridgeCity Releases 'Christ Be Glorified' Album Today
Available Online and in Stores

Premiered Live at the Generation Unleashed Conferences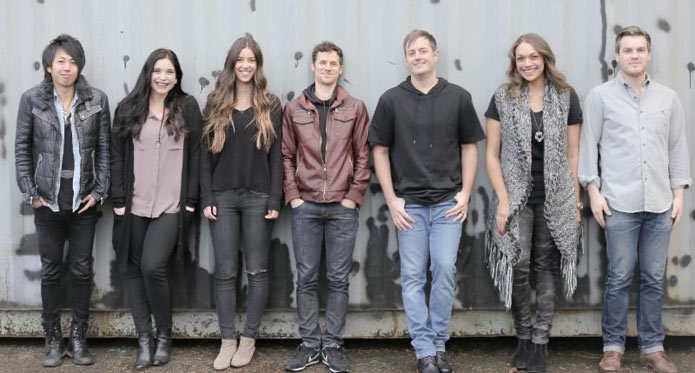 NEWS SOURCE: TKO Marketing
February 3, 2015
LOS ANGELES (February 3, 2015) - BridgeCity, the worship band out of the indie-driven, eclectic Pacific Northwest, released their album 'Christ Be Glorified' online and in stores today, just in time for the Generation Unleashed conferences. In partnership with Maranatha! Music and distributed by Capitol Christian Distribution, 'Christ Be Glorified' marks the second national album release from the band from City Bible Church in Portland, Ore.
"We are excited to release our new album, 'Christ Be Glorified,'" said Isaac Tarter of BridgeCity. "We navigated through uncharted territory throughout the songwriting and recording process of this project. It became clear as we overcame some of the challenges and obstacles that the message and heart of this project was all about one thing - let Christ be glorified."
As unique and diverse as their surroundings, BridgeCity's latest 12-track offering is sonically inspiring and spiritually relevant. It quickly becomes apparent with songs such as the title track, "Christ Be Glorified" and the re-written classic "The Old Rugged Cross (I Am Free)" that there is deep-rooted conviction to write songs that resonate with the church at large and with the individual worshiper alike. Still not afraid to push the creative boundaries in modern worship, synth dominated tracks such as "Face to Face" and "Awaken Hearts" lend to the album's youthful vigor, while tracks like "God You Are Good" take on the pop/acoustic flair that many modern worship tunes carry today.
Based out of Portland, Ore., Generation Unleashed (GU) is the youth ministry and annual youth conference of City Bible Church. Fueled by a passion to lift up and make the name of God great, GU's number one priority is a commitment to building God's house and serving the church. The GU annual conference at the end of January gathers around thousands of young people 12 to 24 years old to pursue God together.
"This year BridgeCity's newest album, 'Christ Be Glorified,' debuted at the Generation Unleashed Conference January 29-31," said Tarter. "Live worship has always been a trademark of the GU conference and this year is no different. The new songs on the album were premiered and live led by BridgeCity."
'Christ Be Glorified' Track Listing:
1. Light A Fire
2. All That I Am
3. Always
4. The Old Rugged Cross (I Am Free)
5. Depths
6. Christ Be Glorified
7. How We Need You Father
8. God You Are Good
9. Face to Face
10. Awaken Hearts
11. Nothing But The Blood (I'm New)
12. Oh The Blood
LINKS
Website: http://www.bridgecity.tv/
Facebook: https://www.facebook.com/bridgecitymusic
Instagram: Bridgecitymusic
Youtube: https://www.youtube.com/user/bridgecitymusicmedia
ABOUT BRIDGECITY:
Psalm 150:6 Says "Let everything that has breath praise the Lord." We believe that is a mandate for all of us, not just for the singer and musician. BridgeCity is a community made up of songwriters and musicians whose passion is to build the church. Our prayer is that the music we write and sing would connect your heart to the presence of God.
ABOUT MARANATHA! MUSIC:
Since 1971, Maranatha! Music has been creating life-changing music and ministry resources for the body of Christ. The company's passion for the lost was the driving force behind the development of the best-selling The Invitation CD series featuring Rick Warren, Beth Moore, Kay Warren and John Baker. Not only has the series sold over 2 million copies to date, but thousands of lives have been impacted by the salvation message of Jesus. Maranatha! Music is a pioneer in praise and worship music publishing. Best known for the Invitation Series, Praise Series, Praise Band Series, and Top 25 Series, Maranatha! Music has sold more than 30 million records and changed lives worldwide. For more information on Maranatha! Music, visit www.maranathamusic.com.
- ### -