BREAKING NEWS:
DC Talk To Contribute Featured Single In Star Wars: The Last Jedi
Trio makes good on promise for big things following this year's highly anticipated, sold-out Jesus Freak Cruise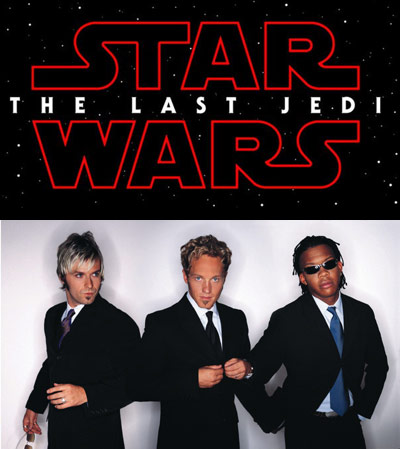 NEWS SOURCE: JFH
April 1, 2017
Last summer, fans burst with excitement over the tease for something big coming from the DC Talk camp. The famous trio, comprised of TobyMac's Toby McKeehan, Newsboys frontman Michael Tait and Audio Adrenaline's Kevin Max, disbanded some years ago with hopes to someday reunite if there were ever an opportunity to do so. The news of a "Jesus Freak Cruise" was music to every diehard fans' ears, but after the sold-out event sets sail this July, what's next for our intrepid heroes?
Today, the band revealed that, in a top secret partnership with Walt Disney Studios and Lucasfilm, DC Talk will journey to "a galaxy far, far away" to be the first-ever artist to have a song featured in the end credits of a Star Wars feature film. Renowned composer John Williams has provided the music for every Star Wars episode film since the 1977 debut, including the upcoming eighth film, titled The Last Jedi, due out December 15th. This time, however, instead of the classic Star Wars theme triumphantly blasting onto the screen at the close of the film, the sounds of Toby, Michael and Kevin will take the spotlight!
Surprisingly, Williams, who recently turned 85 years old, was quick to comment how excited he was about this development. "As arguably the biggest fan of Star Wars, I couldn't be more thrilled to hand the reins over to another beloved group of musicmakers," stated Williams. "And I can't think of a better group of guys than these young up-and-comers!"
The song, which McKeehan has teased as sounding "Very Star Wars but given a sick DC Talk-joint kinda twist," is set to be titled "Ima Skywalkin'" and will merge Williams' iconic theme with an early 90's DC Talk vibe.
Rumor has it Disney is so thrilled with how the song turned out, the band is already in talks for a song to be featured prominently in 2019's as of yet still untitled ninth Star Wars.
But while a lot of the details are still under wraps for the Episode 8 single, we can give you just a small taste of what the song sounds like! Click here to listen to a short clip of "Ima Skywalkin'"!
For the latest news on DC Talk and their intergalactic pursuits, visit www.DCTalk.com
###
For more info on DC Talk, visit the JFH Artists Database.