JOSH WILSON'S NEW SINGLE "DREAM SMALL" IS MOST ADDED AT CHRISTIAN AC RADIO AND DIGITALLY AVAILABLE NOW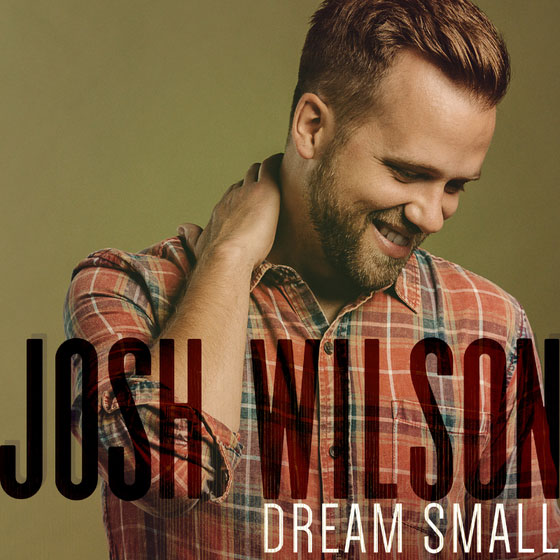 NEWS SOURCE: Merge PR
April 3, 2018
3 April 2018 - Nashville, Tenn - Black River Christian songwriter and artist Josh Wilson's introspective single "Dream Small" is the most added at Christian AC radio this week and is digitally available now.
Written by Wilson and produced by Ben Glover, the up-tempo debut single takes listeners back to the basics of focusing on one thing at a time, highlighting the importance of raising children, loving one's neighbor, and realizing the impact of simple moments. Pulling from his daily experiences as a father, husband, and artist, Wilson's "Dream Small" serves as a reminder to not "buy the lie that you've got to do it all."
Dream small

Don't buy the lie that you've got to do it all

Just let Jesus use you where you are

One day at a time, live well

Loving God and others as yourself

Find little ways where only you can help

With His great love, a tiny rock can make a giant fall

Dream small
"'Dream Small' is an anthem for the unsung heroes in this world," shares Josh Wilson. "It's for moms and dads, students and teachers, secretaries, caregivers, social workers, church staff members and anyone else who is living out God's love and kindness daily. No matter who we are or where we come from, we all have a part to play. And if we're faithful in those little things, as the song says, we can 'add up the small things and watch them grow bigger, the God who does all things makes oceans from rivers.'"
Anticipating the impact of "Dream Small," Black River Christian's VP of Radio Promotion Brian Thiele says, "We're so excited for the opportunity to partner with radio and help spread the very important message of 'Dream Small.' Not only is this song a great fit for radio, it's also a glimpse into how Josh and his family live out their faith. The simple message that the small things can make a big difference is one that everyone needs to hear!"
Currently visiting radio stations nationwide in support of "Dream Small," Wilson continues to write and record for his forthcoming album on Black River Christian, a division of Black River Entertainment.
ABOUT JOSH WILSON: Hit singer/songwriter Josh Wilson returns to Christian radio with his debut single on Black River Christian, "Dream Small." The Texas-native started taking piano lessons in fourth grade, learned guitar and drums in sixth and seventh grade, and fell in love with songwriting in college at Nashville's Belmont University. A self-described introvert with an aversion to the spotlight, Wilson never dreamed he'd be the one behind the mic, but God had other plans. When he signed his first record deal in 2006, Wilson has become a staple at radio, amassing six Top 10 hits on Billboard's Hot Christian Songs chart, including "That Was Then, This Is Now," "Savior, Please," "I Refuse," "Fall Apart," "Carry Me" and "Before The Morning," which landed the No. 4 spot on Billboard's 2012 Year-End Christian Songs chart.
He's toured with some of the genre's biggest acts, including Third Day, Steven Curtis Chapman, Matthew West and Casting Crowns; and even veteran artists who applaud Wilson's carefully honed musicianship have admired his impressive live show. He's been known to have as many as 20 instruments on-stage at any given time (and knows how to play all of them). Wilson resides in Nashville, Tennessee with his wife of eight years, Becca and their 2-year old son Asher. For more information about Josh Wilson, please visit JoshWilsonMusic.com and on his social links below.
ABOUT BLACK RIVER CHRISTIAN: Underneath the Black River Entertainment umbrella is a family of record labels, a management company, a GRAMMY-winning publishing company, and state-of-the-art recording studios.
Black River Records, Black River Americana, Black River Christian and Passport Productions make up the family of record labels. The combined roster of artists includes Abby Anderson, Kelsea Ballerini, Jacob Davis, and Ronnie Milsap; Carolina Story; Hannah Kerr and Josh Wilson; and Nikita Karmen. Thrive Management provides artist management services within Black River Christian.
Black River Publishing is home to many talented writers including: Hit songwriters/producers Bobby Huff and Josh Kerr, songwriters/artists Ben Caver, Eddie Garcia, Nikita Karmen, Scott Stepakoff, Anna Vaus, and Nick Wayne, songwriters/Black River recording artists Abby Anderson, Carolina Story, Jacob Davis, Hannah Kerr and Josh Wilson, and the catalogues of hit-songwriter/Black River Recording artist Kelsea Ballerini, hit songwriters/producers Doug Johnson, Forest Glen Whitehead, and GRAMMY-winning songwriter Josh Osborne. For more information about Black River Publishing, please visit blackriverpublishing.com.
Owned and operated by BRE, the historic Sound Stage and Ronnie's Place studios are located on Nashville's famous Music Row and have set the standard legendary artists/musicians/producers have appreciated since the late 1960s. Artists from multiple genres have cut hits in these studios including 50 Cent, Kelsea Ballerini, Garth Brooks, Johnny Cash, Casting Crowns, Alice Cooper, Sam Hunt, Miranda Lambert, Jerry Lee Lewis, Reba McEntire, Craig Morgan, PHISH, Taylor Swift, Shania Twain and Keith Urban.
Part of the Pegula Sports and Entertainment family, which includes the NFL's Buffalo Bills, NHL's Buffalo Sabres, AHL's Rochester Americans, NLL's Buffalo Bandits, HARBORCENTER, Buffalo Marriott HARBORCENTER, KeyBank Center, and IMPACT Sports Performance, Black River Entertainment and its entities are based in Nashville, TN. For more information, please visit blackriverent.com.
###
For more info on Josh Wilson, visit the JFH Artists Database.



[2019]
Jan. | Feb. | March | April | May | June | July | Aug. | Sept. | Oct. | Nov. | Dec.
[2018]
Jan. | Feb. | March | April | May | June | July | Aug. | Sept. | Oct. | Nov. | Dec.
[2001 - 2017]
Visit our complete MUSIC NEWS ARCHIVE

World Premiere Video
(JFH Sponsor Spot)