It takes a lot of time and work to keep Jesusfreakhideout.com up and running... and growing. With God taking JFH worldwide via the web, it takes more resources to keep it going. We invite ministries and businesses, with similar vision to JFH, to advertise with us. We believe advertising with Jesusfreakhideout.com is a wonderful opportunity for your organization to team up with us in connecting with target audiences on the internet!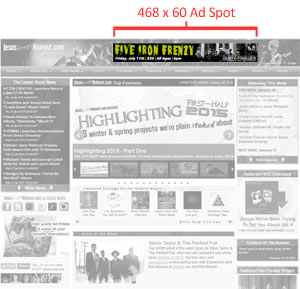 We're excited about your interest in advertising with us! To the right is a diagram of our front page highlighting our central advertising opportunity, the 468 banner ad that sits atop every page at The Hideout. A banner that is included in this Run-of-site spot has the potential of appearing on every page for maximum exposure. It is a great way to get your message out to the entire community and spark the interest of many users who previously never even thought to use a product or service like yours.

468 Ad Specifications
468 x 60 Pixels
50K Max File Size (relatively flexible)
Static GIF, Animated Gif, JPG, or Flash

Please note: Images must meet our standards of professionalism and quality. We do not accept pop-up or pop-under ads and we don't allow attention-hungry color flashing ads, sexual images, misleading message-box-like images, religiously offensive, or other animations or images that could be deemed obnoxious or intrusive.

*Disclaimer: In the event that another advertiser purchases our entire top bar for a week (see ad specs below), all 468 banner ads will be moved to the footer of each page for that period of time and then back to the top after the week's end. All campaigns will still get the exposure paid for.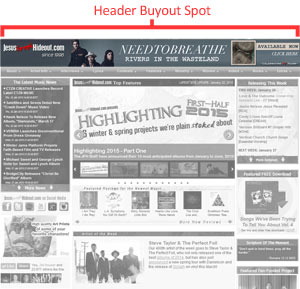 A new advertising opportunity at JFH is the "top bar buy-out" which will allow the advertiser to feature their ad across the entire top bar at JFH for a non-rotating position. This gives maximum exposure and isn't shared with any other ad during its run. Typically, this ad is for a week's time, but can be lengthened or shortened depending on circumstances.

Top Bar Ad Specifications
970 x 87 Pixels
250K Max File Size (relatively flexible)
Static GIF, Animated Gif, JPG, or Flash

Please note: This design especially must meet our standards of professionalism and quality. We must approve the design and it is subject to changes upon our request due to its size and exposure. We also reserve the right to deny your request for an ad if we feel we do not want to be directly associated with the product, organization, or service.

Indie Artist Ads
Indie artists can also advertise with JFH -- as part of their review signup package or completely separately. This spot is 225 x 129 and located on every single page of the site on our left side bar, right underneath the JFH social media icons. Click here for more details and to order space there. Your ad will show up in rotation with other ads for a month's time.

How To Order
For more information, pricing, and impressions/pageviews, we ask that you please contact us using our Contact Form. We'd love to hear from you and answer any questions you have!

We accept payment by check or PayPal.