"Now faith is being sure of what we hope for and certain of what we do not see." - Hebrews 11:1 NIV
Years ago, I began hearing a number of faith-building messages saying that "Faith is NOW," based on Hebrews 11:1. Since then, I have made a practice of taking promises from God's Word, and declaring that the Lord is in the process of fulfilling them on my behalf. For instance, when I am concerned about my health for any reason, I say, "Thank You, Lord, that even right now at this very moment, my health and healing are springing forth speedily at a supernatural rate!" (Isaiah 58:8) I pray daily for health and healing for myself and my family, but making declarations like these - especially when I am faced with disheartening circumstances - really bolsters my faith.
When I sin, and I feel condemned, even though I have asked for the Lord's forgiveness, I declare, "Thank You, Lord, that at this very moment, You are creating in me the power and the desire both to will and to work for Your good pleasure, satisfaction, and delight!" (Philippians 2:13 AMP) If I am alone, I like to make this declaration out loud, because it lets the devil know that his attempts to condemn me have failed. Putting this principle to work is spiritual warfare. It is like telling Satan and his evil cohorts: "Now hear this, Devil - God is on my side, and He is busy working on my behalf right now!" When the "voices" from our circumstances are speaking louder than the Spirit of God's voice in our lives, we need to answer them back with declarations of faith based on the Word of God. If we don't, discouragement will eventually get the best of us, and will rob us of the blessings and victories that the Lord had intended for us. If you are dealing with an addiction today, instead of beating yourself up every time you stumble, try declaring out loud: "Lord, I thank You that at this very moment, You are taking away my desire, and my tendency, to [smoke, drink, overeat...]." This will strengthen your spirit, and fill you with a fresh sense of hope.
If you are under financial pressure today, one of the best things you can do is to release your faith for your finances. I like to declare daily, "Lord, I thank You that at this very moment, You are making all grace abound toward me, so that in all things, at all times, I'll have all that I need - even more than I need - with a surplus for every good work!" (2 Corinthians 9:8) When Paul uses the word "grace" in this verse, he is talking about "every favor and earthly blessing." (Amplified Version) Do you need a job, or opportunities of another kind? Release your faith by saying: "Lord, I thank You that right now, at this very moment, You are opening up doors for me that no one can shut!" (Revelation 3:8) Are you concerned about your children drifting away from God? Then declare: "Lord, I praise You that at this very moment, You are pouring out Your Spirit upon my offspring, and Your blessing upon my descendants!" (Isaiah 44:3)
Making faith confessions like these will not only dissolve our fears and strengthen our faith, but it will delight the heart of God, and bring His presence and power on the scene. My favorite translation of Hebrews 11:1 is from the Living Bible. It says: "What is faith? It is the confident assurance that something we want is going to happen. It is the certainty that what we hope for is waiting for us, even though we cannot see it up ahead." Hallelujah! My prayer for you today is that even if you don't see your answer up ahead, you will boldly declare your "confident assurance" that God is busy working on your behalf right NOW!
Prayer: Lord, remind me often that Your Word says that it's impossible to please You without faith. (Hebrews 11:6) Teach me how to speak words of faith in the face of fear and doubt. Thank You that right now, at this very moment, You are equipping me for victory and success!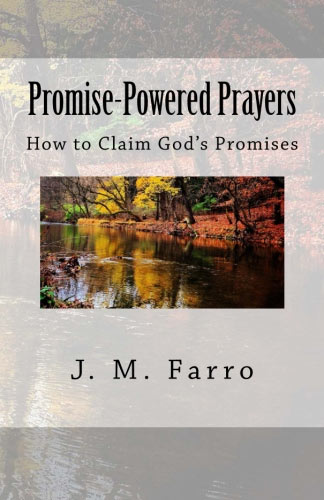 Promise-Powered Prayers Paperback Book

**To order J. M. Farro devotional books on ETSY.com using a credit card, PayPal, or Etsy gift card, Click Here. Books sold through ETSY can be signed and personalized by the author at your request. To place an order on Amazon.com, Click Here.

If you would like to receive J. M. Farro's free Weekly Devotionals, simply insert your email address into the box below and click "Subscribe!" You should get an email confirmation upon submitting your information. If you have any trouble with it, please email J.M. Farro through our Contact Form with "Subscribe" in the Subject and your email address in the body of the message. Thank you!