"Weeping may endure for a night, but joy comes in the morning." - Psalm 30:5 NKJV





My husband, Joe, and I have been raising pet ducks for 13 years now, and every time we have lost one, it has grieved our hearts. When our 8-year-old Pekin, Lily, developed some laying problems, we took her to the vet, and cared tenderly for her at home. We had already lost two other female ducks to laying problems over the years, and we didn't want to lose Lily the same way. But after several weeks of doing our best for Lily in our home, she died. Our male duck, Larry, had already lost two mates, and he took their deaths very hard. Both of his previous mates had died at the vet hospital, so he never had any closure in those cases, and he had suffered terribly as a result. This time, our vet instructed us to leave Lily's body beside Larry for a while, so that he could see for himself that she was gone. Seeing Lily's lifeless body was painful enough. But watching Larry stand faithfully by her side after she had died was almost too much to bear. I wondered if I would ever be able to get those harrowing images out of my mind and heart.

The promise above tells us that while the Lord will allow us to go through some painful times, He will not allow anything to rob us of our joy forever. The Message Bible translation of this promise says, "The nights of crying your eyes out give way to days of laughter." One reason for this is that our God has given us the gift of prayer. Even in the darkest and most difficult times, we can pray for the Lord's comfort, peace, and healing, knowing that He will always answer those prayers. Jesus said, "Ask, using My name, and you will receive, and your cup of joy will overflow." (John 16:24 TLB) In Jesus' name, we can ask for wisdom, guidance, grace, and all we need to keep moving ahead with joy into all that the Lord has for us. In every trial, He has a plan for our recovery and victory, and we will see it unfold before our eyes as we follow His lead.

The Lord didn't simply sustain us through that painful time with Lily and Larry. He comforted us and healed our broken hearts, and He gave us a fresh anointing of His joy. Perhaps you have seen and felt some painful things that have left you hurting and disheartened. Let me assure you that God has a plan for the restoration of your joy. Pray for it. Expect it. And watch God keep His promise to you!

Prayer: Lord, I am so grateful that You are the God who sees. You know every tear that I cry, and every pain that I feel, and You care. When I go through painful experiences, help me to turn to You first. Teach me how to pray for Your peace, comfort, and healing, and guard me from despair. Today, I claim the joy and gladness that belong to me in Christ!

Promise-Power Point: Even in the most difficult times, weeping must ultimately give way to God's supernatural joy.

The Promise-Powered Life.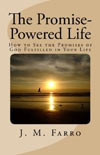 The Promise-Powered Life Paperback Book

**To order J. M. Farro devotional books on ETSY.com using a credit card, PayPal, or Etsy gift card, Click Here . Books sold through ETSY can be signed and personalized by the author at your request. To place an order on Amazon.com, Click Here.

If you would like to receive J. M. Farro's free Weekly Devotionals, simply insert your email address into the box below and click "Subscribe!" You should get an email confirmation upon submitting your information. If you have any trouble with it, please email J.M. Farro through our Contact Form with "Subscribe" in the Subject and your email address in the body of the message. Thank you!