"For nothing is secret that will not be revealed, nor anything hidden that will not be known and come to light." - Luke 8:17 NKJV
The more we read the Scriptures, the more we realize and come to believe that God desires to impart revelation knowledge to His children. The verse above is one example of this truth. When I have needed wisdom for healing, for my finances, for my relationships - or for anything else - I have often claimed this promise and the rewards it holds. Solomon wrote, "Wisdom is supreme; therefore get wisdom. Though it cost all you have, get understanding." (Proverbs 4:7 NIV) When we are in a tense situation and we're not sure what the right thing to do is, the Bible says that we can turn to the Lord for wisdom, and He will provide it generously, as long as we're asking in faith. (James 1:5-6)
Just this morning, I was claiming Jesus' promise in Luke 8:17 (above), because I've been praying about a certain situation for months, seemingly without results. I asked the Lord, "Show me where I've been missing it in this situation. Grant me revelation from heaven so that I can receive Your absolute best." I know that God says in His Word, "My people are destroyed for lack of knowledge." (Hosea 4:6 NKJV) So I'm keenly aware of how we can miss out on the Lord's provision and protection when we fail to earnestly seek His wisdom for our situation.
The verse directly following Luke 8:17 says: "So take care how you listen; for whoever has, to him more shall be given; and whoever does not have, even what he thinks he has shall be taken away from him." (Luke 8:18 NASB) Here, Jesus is warning us to listen carefully when we seek divine wisdom and revelation. If we don't, Satan could very well succeed in stealing it from us before it does us any good. (Mark 4:15) Once we hear the Lord speak to us, it's up to us to apply that truth to our lives and our circumstances, so that we can gain the best outcome that He has prepared for us. As we do our part - seeking, listening, and applying - God will do His part - providing, protecting, and blessing. What situation are you facing right now that begs for godly wisdom?
Prayer: Lord, when I have a need or a question of some sort, remind me to turn to You first. Teach me how to seek You for the revelation I need, and give me understanding along with Your wisdom. Grant me listening ears and a listening heart, and enable me to apply Your wisdom and direction to my life and my circumstances. Today, I declare that I will never be destroyed because I lack knowledge of You, Your Word, or Your will!
Promise-Power Point: God will reveal "secrets" and "hidden" things to me when I seek His wisdom and listen for His voice, with the intent to follow His will.
- J. M. Farro** This is an excerpt from J. M. Farro's newly-revised and expanded The Promise-Powered Life devotional book, available in Paperback and Kindle (digital) versions on Amazon, Kindle, and ETSY.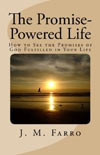 The Promise-Powered Life Paperback Book

**To order J. M. Farro devotional books on ETSY.com using a credit card, PayPal, or Etsy gift card, Click Here . Books sold through ETSY can be signed and personalized by the author at your request. To place an order on Amazon.com, Click Here.

If you would like to receive J. M. Farro's free Weekly Devotionals, simply insert your email address into the box below and click "Subscribe!" You should get an email confirmation upon submitting your information. If you have any trouble with it, please email J.M. Farro through our Contact Form with "Subscribe" in the Subject and your email address in the body of the message. Thank you!