"Be strong and courageous! Don't be afraid or discouraged because of the king of Assyria or his mighty army, for there is a power far greater on our side! He may have a great army, but they are merely men. We have the Lord our God to help us and to fight our battles for us!" - 2 Chronicles 31:6-8 NLT
When my husband, Joe, called me from the doctor recently, saying that he needed surgery, we were both stunned with disbelief. In the past, we had faced his health challenges together - challenges that included a massive heart attack one year, and open-heart surgery several years later. We had trusted God all the way, continually discovering His incredible power, protection, and mercy. I confess that with the prospect of this latest surgery, I was feeling disappointed and discouraged. I turned to the Lord for His perspective and comfort, and He led me to a passage in Scripture that helped me to see this latest challenge in a new light.
The Bible tells us that King Hezekiah of Judah was in the habit of "doing what was pleasing and good in the sight of the Lord his God." It says that Hezekiah "sought his God wholeheartedly," and "as a result, he was very successful." Even so, a verse later, we find out that evil "King Sennacherib of Assyria invaded Judah." (2 Chronicles 31:20-21 NLT) This was the Lord's way of reminding me that even when we are living a life of obedience, we will not be immune to attacks from Satan, the enemy of our souls. Jesus warned that even His devoted ones would experience "tribulation, trials, distress and frustration." But He also said, "But be of good cheer [take courage; be confident, certain, undaunted]! For I have overcome the world. [I have deprived it of power to harm you and have conquered it for you.]" (John 16:33 AMP) In other words, we can take comfort in the fact that our devotion to Christ will enable us to overcome every adversity that comes our way, because the Overcomer Himself is living in us.
After word of Sennacherib's impending attack comes, King Hezekiah focuses on encouraging His people. "Be strong and courageous! Don't be afraid or discouraged because of the king of Assyria or his mighty army, for there is a power far greater on our side! He may have a great army, but they are merely men. We have the Lord our God to help us and to fight our battles for us!" (2 Chronicles 31:6-8 NLT) Here, this very wise king reminds His people that, as powerful as Sennacherib and his army are, they are simply no match for God. Are you facing a grave sickness or disease? They are no match for God. Is financial ruin staring you in the face? God is a "turnaround" God, and He can reverse your situation suddenly and radically. Is a loved one of yours off course? No problem, because God is more powerful than any deception or demon.
Next, we find King Sennacherib taunting King Hezekiah and his subjects. "Surely you must realize what I and the other kings of Assyria before me have done to all the people of the earth! Were any of the gods of those nations able to rescue their people from my power? Which of their gods was able to rescue its people from the destructive power of my predecessors? What makes you think your God can rescue you from me? Don't let Hezekiah deceive you! Don't let him fool you like this! I say it again - no god of any nation or kingdom has ever yet been able to rescue his people from me or my ancestors. How much less will your God rescue you from my power!" (2 Chronicles 31:13-15 NLT) Sound familiar? You're facing a devastating medical diagnosis, and the enemy says, "You will NOT survive this disease." Or, your financial future is sketchy at best, and the devil whispers, "You will NEVER get out of debt." Or, your loved one turns their back on God, and the Deceiver declares, "They are a lost cause!" Make no mistake - the enemy will parade people in front of you who had the same problem as you, and who never recovered. And what are his evil intentions here? To "terrify" you, so that it will be "easier to capture" you. (2 Chronicles 31:18 NLT) Don't fall for his lies and suffer defeat. Instead, keep your faith in God and His promises so you can gain the victory God has in store for you.
As King Hezekiah and the great prophet Isaiah cried out in prayer to God, "the Lord sent an angel who destroyed the Assyrian army with all its commanders and officers. So, Sennacherib was forced to return home in disgrace to his own land. And when he entered the temple of his god, some of his own sons killed him there with a sword." (2 Chronicles 31:21 NLT) And so, the great King Sennacherib suffers a devastating defeat, just as Satan is soundly defeated every time the Lord's devoted ones put their trust in Him, and let Him fight their battles for them. I love how the Bible says, "From then on King Hezekiah became highly respected among all the surrounding nations." (v. 23) As we lay hold of the victories that the Lord has in store for us, others will take notice of us, and will want to hear more about this amazing God of ours. What are you facing today that cries out for the matchless power of god?
Prayer: Lord, help me to serve You faithfully, always remembering that my obedience doesn't exempt me from trouble or heartache. In times of adversity, strengthen me to withstand the enemy's taunts, and to resist becoming fearful or fretful. Remind me often that whatever challenge comes my way, it is no match for You. Thank You for the turnarounds and breakthroughs that I will experience as I keep my faith in You and Your promises!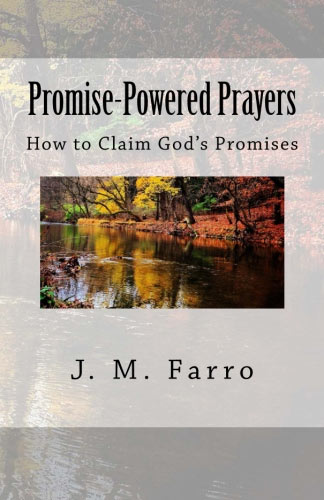 Promise-Powered Prayers Paperback Book

**To order J. M. Farro devotional books on ETSY.com using a credit card, PayPal, or Etsy gift card, Click Here. Books sold through ETSY can be signed and personalized by the author at your request. To place an order on Amazon.com, Click Here.

If you would like to receive J. M. Farro's free Weekly Devotionals, simply insert your email address into the box below and click "Subscribe!" You should get an email confirmation upon submitting your information. If you have any trouble with it, please email J.M. Farro through our Contact Form with "Subscribe" in the Subject and your email address in the body of the message. Thank you!