"I sought the Lord, and He answered me; He delivered me from all my fears." - Psalm 34:4 NIV





I had this very same problem myself over 40 years ago, when I experienced the first heartbreak of my young life. After being in a relationship with my high school sweetheart for more than three years, the relationship ended badly, and I felt the sting of rejection and betrayal. What I didn't realize at the time was that God wanted to do "a new thing" in my life, but He couldn't do that unless I got into agreement with Him. As I look back, I marvel at the great lengths the Lord went to, in order to convince me that He had new plans for me that were better and brighter than I ever imagined.

I promptly left the Intensive Care Unit and went out in the hospital hallway. I sought the Lord in prayer and claimed His promise, asking Him to deliver me from all my fears, so that I could pray effectively for Joe and those who were trying to help him. Then I rebuked the fear and declared out loud, "God has not given me a spirit of fear, but of power, love, and a sound mind!" based on God's promise in Second Timothy 1:7 (NKJV). Then I praised the Lord for making me fearless, and for healing my husband. The next time the hospital team tried to remove Joe from the ventilator, their efforts succeeded, and from then on, Joe's health steadily improved.

I have learned from situations like these that fear is downright dangerous. It causes us to lose our focus, and because of that, it severely affects our faith and our prayers. We simply can't afford to be paralyzed with fear when praying effective prayers is critical, especially in life-or-death situations. Don't put up with fear in your life. Claim God's promises so you can live the fearless life that He's called you to!

Prayer: Lord, I know that fear is not of You, and that Satan tries to use it against me to make me ineffective and powerless. Help me to spend regular time in Your presence and in Your Word so that my faith will increase, and my fears will decrease. Teach me how to rebuke fear every time it comes against me, and to claim Your promises of deliverance. Today, I choose to walk in faith, and not in fear!

Promise-Power Point: I can live a fearless life when I depend on God and His promises to keep me free from fear.

ETSY.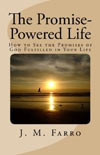 The Promise-Powered Life Paperback Book

**To order J. M. Farro devotional books on ETSY.com using a credit card, PayPal, or Etsy gift card, Click Here . Books sold through ETSY can be signed and personalized by the author at your request. To place an order on Amazon.com, Click Here.

If you would like to receive J. M. Farro's free Weekly Devotionals, simply insert your email address into the box below and click "Subscribe!" You should get an email confirmation upon submitting your information. If you have any trouble with it, please email J.M. Farro through our Contact Form with "Subscribe" in the Subject and your email address in the body of the message. Thank you!