Worth Taking
Punker Than Thou

Album length: 6 tracks: 17 minutes, 33 seconds
Style: Punk / Rock
Street Date: May 27, 2014
Official Site: Facebook

Where did punk music go? At one point, it seemed to flood the market until one day it just disappeared. Refusing to let punk vanish is San Francisco-based indie band Worth Taking bringing a collection of covers with their latest EP, Punker Than Thou. The six-song EP embraces three legendary bands: The Ramones, Green Day, and MxPx - covering two tracks from each band.

"Maria" and "2000 Light Years Away" showcase their love for Green Day. The songs are thankfully not over-the-top interpretations, but Worth Taking makes each track very approachable. Instead of trying to alter the songs, they honor it with a faithful sound. Fans of MxPx will find some great versions with "The Empire" and "My Life Story." Lead vocalist Jerod McBrayer sings with a clearer tone and cleaner production, which isn't normally found in the punk scene. Finishing up the band's punk ventures are The Ramones, "I Wanna Live" and "I Just Want to Have Something to Do." If there are any newcomers to the punk scene, this kind of sound is foundational. It's that self-expressive sound of a counter-culture.

Overall, Worth Taking has done an excellent job of interpreting and translating these tracks for a contemporary audience. The beauty of these covers is that they are songs that are relatively unknown - unless by die-hard fans. In addition, the quality of each track is evident and impressive. The only downside with the clear production is that it loses some of that rawness that the original recordings had. Regardless, if you're looking for good music to kick off the summer, Worth Taking can help you with that.

- Review date: 5/22/14, written by Ryan Barbee of Jesusfreakhideout.com


Record Label: M Perfect Records


Album length: 6 tracks: 17 minutes, 33 seconds


Street Date: May 27, 2014
Maria
The Empire (featuring Mike Herrera)
I Wanna Live
2000 Light Years Away
My Life Story
I Just Want to Have Something to Do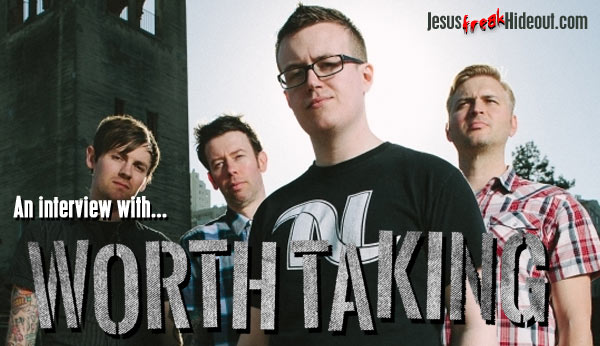 Jesus freak Hideout (Ryan Barbee): Why did you all decide to do a covers project and why those three bands [Green Day, MxPx, and The Ramones]?
Jerod: We've been in a really interesting place while trying to put out our upcoming full-length. We wanted to show our fans that we are alive and well. Because covers are written by someone else, they force you to stretch yourself in order to put your stamp on them. Chris, Tim, and I each picked one band. I'll leave the "who picked who" a mystery.
JFH (Ryan): Why cover the unfamiliar songs?
Jerod: We love a challenge, and unfamiliar songs always present the most exciting challenges. If something is well known (and well covered), you tend to find yourself mimicking things that other bands have done. We also saw it as an opportunity to give new life to some songs that we felt deserved just as much longevity as "the singles."
JFH (Ryan): How would you explain "punk music" to the average Joe who listens to nothing but contemporary radio?
Jerod: While everyone has their own opinion on punk, I believe it's a genre as well as a lifestyle. Punk is about supporting the community. Punk is about knowing no bounds and just going for it. Consequently, you will find that, from a sonic perspective, many punk bands sound very raw. It's more about passion than perfection. It's Rock and Roll without all the glamor.
JFH (Ryan): What song was the most challenging to record?
Jerod: I'll say "I Wanna Live." We probably took the most artistic license with that song. We wanted to be respectful of the original, but really saw a lot of room to make it our own. Walking that line is never easy.
JFH (Ryan): What artists/bands are you currently listening to?
Jerod: Now that Copeland is getting back together, I'm spinning their whole catalog on repeat. I'm really liking the most recent releases by Bayside and Switchfoot as well.
JFH (Ryan): What do you hope to accomplish with your music?
Jerod: The goal will always be to spread a message of hope and love. No matter how dark or light your story, someone can relate and it's important to share that.
JFH (Ryan): If you could sit down and have afternoon tea [I don't know why it has to be afternoon or tea but… that's the hand you were dealt] with anyone… who would it be and why?
Jerod: At the moment, it would have to be Truett Cathy. I bet he has some stories to tell. You can read all the books in the world about him, but nothing would beat a conversation. Because of the scrutiny that comes along with his status, I think a candid visit with him would be rare and exciting. Warren Buffett is a close second, but I imagine the tea wouldn't be as good.