Jerry Akin
JavaBird

Street Date: November 25, 2014
Style: Folk-Rock
Official Site: Facebook Page
Buy It: iTunes

Folk artist Jerry Akin is a pastor and songwriter specializing in folk/rock music. His release, JavaBird, spends a large majority of its time emulating folk sounds akin to artists from the 60s/70s. While many of that era's folk artists spent a lot time singing about anti-war, love, open living, and other similar themes, Akin focuses his lyricism in the area of worship. He cites influences ranging from Bob Dylan to Pink Floyd (a little more evident in the rockier selections, like "A Harder Place"), but other influences like Willie Nelson can also be heard. "Soak," in particular, brings Nelson to mind. Jerry mixes in worship lyrics, some deeper theology, and some altogether darker tones, giving many of the songs a more poetic feel. Akin is very adept at this style of music. Musically, the album sounds fairly simple, but like a lot of folk music, you begin to pick up on additional layers that make it more fascinating. A lot of the music is beautifully played on an acoustic guitar and provides an enjoyable listen. The biggest detractor for some will be Akin's voice, however. The vocals are far from soothing, but folk singers often have more interesting voices -- just look at Bob Dylan. Some will likely love Akin's nasally and honest vocal approach, but those looking for a more refined sound won't be as inclined. There isn't much precedent for an artist blending 60s/70s era folk music--with a bit of rock music from the same time period, topped off with Christian themes--but Akin does a nice job regardless. The sound won't be for everyone, but those longing for the sounds of decades past will love this album. "A Harder Place" and "The Deep Hollow" top the track-listing and help to make JavaBird one of the more intriguing indie releases of the year. - Review date: 12/12/14, written by Michael Weaver of Jesusfreakhideout.com

Record Label: None


Album length: 10 tracks: 29 minutes, 16 seconds


Street Date: November 25, 2014


Buy It:
iTunes

Buy It:
AmazonMP3
Aurora Hymn (3:48)
A Harder Place (5:00)
Soak (4:23)
Take This Thorn (5:10)
Song for Joe (2:52)
The Easy Way (5:08)
Incredible (6:33)
He and I (4:49)
The Deep Hollow (4:53)
Aurora Hum (12:47)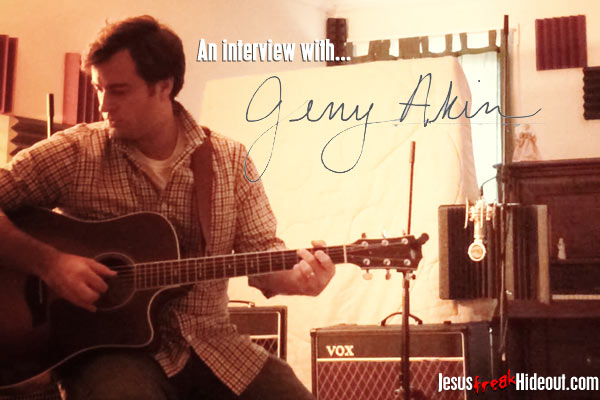 Jesus freak Hideout (Michael Weaver): How long have you been writing and creating music?
Jerry Akin: I got my first guitar when I was 15, and the only reason I ever wanted one was so I could write songs. I don't know at what point it actually started sounding like music, but that was when I started trying.
JFH (Michael): How did you gain an affinity for folk music? Was it something your parents, or maybe a friend, got you into?
Jerry: I kind of found it on my own. I just always liked the way you can weave almost anything into a folk song; history, story telling, spiritual reflections, or whatever. The canvas is huge and blank, so you're free to sing about silly things or very serious topics. You don't always have that flexibility in other genres.
JFH (Michael): You have mentioned having influences ranging from Bob Dylan to Pink Floyd. I personally here some shades of Willie Nelson. He is more country than folk, but he is also a pretty accomplished story teller. Is he an artist you take anything from stylistically?
Jerry: You know, that's interesting. I've been told that quite a few times. I love Willie, but I haven't really listened to him enough throughout the years to consider him a big influence. Maybe I should listen to him more.
JFH (Michael): The song "Soak" mentions the name of your record, "Java bird." If you are referencing the java sparrow, or java finch, it's a really neat looking bird. What significance does it have in the album's title?
Jerry: Yeah, I was just referencing a bird to symbolize freedom and beauty, but the term "java bird" had a double meaning because most of the recording sessions were early in the morning, so I was drinking a whole lot of coffee. Same thing with the track, "Song for Joe." It was an instrumental I wrote one day when I was thinking about a memory I had with my brother Joseph, but again, I was drinking a cup of joe.
JFH (Michael): I enjoy the acoustic guitar and the story-telling behind "The Deep Hollow." What can you tell us about that song?
Jerry: It's really just another take on the prodigal son parable. It's probably a little autobiographical too. I enjoy telling stories, even if they're familiar stories that I can somehow make my own. That song came together really fast. In fact, the main vocal and guitar part you're hearing was a quick recording I made using my iPhone.
JFH (Michael): I've heard countless artists compare their songs to their children in a sense stating that they can't really pick a favorite because they've created each one, but does any particular song from JavaBird have a special deeper meaning for you personally?
Jerry: "Incredible" is pretty special to me. I wrote it for my wife, and it's the most simple song ever. Simple chords, simple words. I just wanted to be honest and vulnerable without hiding behind a bunch of clever chord changes or poetic lyrics.
JFH (Michael): What do you hope God accomplishes through this record and this group of songs?
Jerry: I believe the Holy Spirit was present when I wrote and recorded the album, so I just pray the Holy Spirit will be present when people listen. I have no idea what God has in mind or how He may choose to use it to speak to someone, but I pray that He does.
JFH (Michael): I see that you are also a pastor on top of being a songwriter. Are you currently pastoring at church at this time, or is your focus solely on music right now?
Jerry: Yes, I am the pastor of Buena Vista United Methodist Church in Buena Vista, Georgia.
JFH (Michael): I noticed on Facebook you have a line-up of at least some of your instruments and you have given then names. What's your go-to guitar right now? Mine is an Ibanez Artcore right now. It's not even the most expense guitar I own, but I love the way it plays and it sounds great.
Jerry: My main squeeze is the Taylor acoustic. I call her Aurora.
JFH (Michael): Besides getting and listening to JavaBird, do you have any final thoughts or ideas you'd like to leave the readers?
Jerry: For a full year, the album is available for free at noisetrade.com/JerryAkin/javabird. All tips and donations will go to Imagine No Malaria, a wonderful mission aimed at eradicating malaria in Africa. You can read more about the mission at imaginenomalaria.org