All That Is
What King Is This? EP

Street Date: August 11, 2016
Style: Indie / Folk
Official Site: Official Website
Buy It: BandCamp

All That Is is an indie alt/rock band, with some folk (modern Irish folk music) influences, from Belfast, Ireland. Their EP, entitled What King is This?, released in August of 2016. While I wouldn't classify them solely as a worship band, they certainly have those aspects incorporated into their music. The first two tracks are rather standard tunes, but the second two are much more worshipful in nature. The opening number, "When Memory Brings Aid," is co-fronted by both singers, Mark Wright and Cherie Carr. The song actually has a bit of a bluesy vibe and the guitar licks provided by guitarist Michael Blakely give it a great sound. "In the End" follows, and the driving drums and piano make it a top track on the EP. Wright sings, "In the end, we only regret the chances we didn't take / No you can't change the whole world, but change the life of one / Through an act of kindness in our madness when we put ourselves behind us," in the chorus. The song is a reminder that telling just one person about Jesus could be the difference needed in their life. The EP shifts gears a bit as Carr takes over for the beautiful worship song, "Your Love." The acoustic guitar and piano set Cherie's voice off nicely and the song is easily the better of the two worship numbers. The title track, and final song, is a good one in its own right and carries more of the folk sound than anything prior. Wright takes over again on lead vocals, but is backed up by the lovely Carr. All That Is have a nice EP that they should be extremely proud to have released. Two enjoyable songs, coupled with two additional worship tunes, give them a solid base to expand upon. The music is fairly simplistic, but it complements some really solid vocals. If you are looking for some new music to indulge in, or just a whole new band altogether, this group from the United Kingdom has a pleasant little EP that many should find enjoyable. If you like what you hear, be looking for their new single, "Home to Glory," on March 6th, 2017. - Review date: 1/23/17, written by Michael Weaver of Jesusfreakhideout.com

Record Label: None


Album length: 4 tracks


Street Date: August 11, 2016


Buy It:
BandCamp
Memory Brings Aid (4:45)
In The End (4:29)
Your Love (5:03)
What King Is This? (4:12)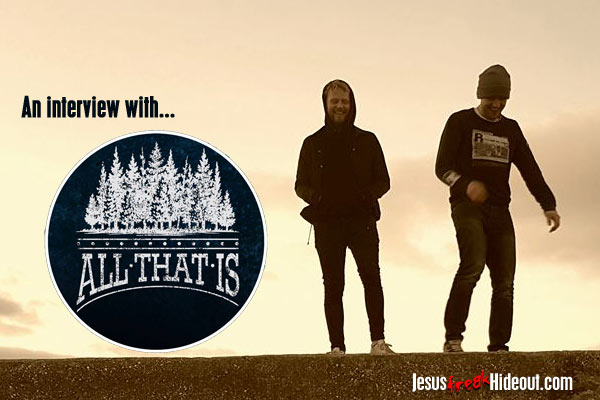 Jesus Freak Hideout (Michael Weaver): You have an intriguing band name. How did you decide on it and what does it mean?
Mark Wright: We picked the name out of a hat in my parents' cold Fermanagh kitchen last January. We stole it from our friend's idea for a Christian fashion site. Sorry! We'd a few even more bizarre ideas, wrote those suggestions down on separate pages & out of the hat came 'All That Is'. It comes from Psalm 101 v 3, "Bless the Lord, O my soul, and all that is within me, bless his holy name!"
JFH (Michael): Who are some of your musical influences that have inspired either your sound or songwriting
Mark: My biggest influences right now are Aaron Ferris, Ryan McMullen & Steph McCloud. I like songs that tell a story & that have a deeper meaning behind them. I think it's really influencing a lot of what's to come from us!
JFH (Michael): The cover art for the EP is SUPER cool! It appears to be some sort of shot from space. Where did you find the photo, and what is it exactly?
Mark: Thank you! The title track & name of the EP is "What King is This?" & the opening verse is "what king is this who speaks & forms the galaxies." We used an image showing a picture of a galaxy to remind people of how big God is! Pete Snowden helps us out with our artwork & was amazing during the whole recording process. Hero!
JFH (Michael): I saw the EP as having two parts. The first two tracks felt like "regular" songs, but the second two felt specifically like worship songs. Was that your intent, or was that just how the songs came out during the writing process?
Mark: At the time we came to record, we didn't really know what we were doing & those were the only songs we'd written. We love leading worship & that style surrounds us, that's why there's such a change. I suppose it was a bit intentional. We sat down & worked out the flow of the EP; we wanted it to be understood. I loved how cathartic an experience it was. From hearing the songs at first to what they were produced into was so special.
JFH (Michael): Is there a big independent music scene in Belfast, or are bands like your own more few and far between?
Mark: Secularly, in Ireland, the music scene has always been massive. Although I think what we're beginning to notice locally is the lack of Christian bands. This is probably one of the reasons we're trying to push our band to encourage different churches and not only that but also to encourage different artists to start writing their own original stuff.
JFH (Michael): If you could collaborate musically with one Christian artist (living or dead) who would it be and why?
Mark: I remember seeing Rend Collective play at my church in Ireland & it's crazy to see how God has blessed them. They're amazing & Irish. Needtobreathe could definitely teach us a thing or two, too! Conor wants to spend an afternoon with LeCrae.