Ten years ago, when on an ice cream run with friends, my ears were opened to a new world. At our age, good music was a staple for every car ride, no matter the distance. With the now near-extinct compact disc being our preferred mode of listening, one of the guys inserted an album with "Crashings" and "Falling Up" scribbled on it. I was assured that it was "Christian." This was my first exposure to real Christian rock.
I enjoyed the music so much that my friend gave me the album as an early birthday present. Looking forward to today, in an era when Christian music is frequently criticized as formulaic and stagnant, Falling Up has consistently offered one surprise after another, creating a handful of the unique sounds we have come to know and love. It is an uncommon occurrence for a fresh-out-of-high-school band to survive beyond their first album, and even less probable for that career to span more than a decade. Falling Up, together since 2001, stormed the charts with their debut release of Crashings in February 2004. With producer Aaron Sprinkle at the helm, the then six-member outfit toured relentlessly the following year, garnering a solid fan base from the get-go. The current form of contemporary Christian rock was still being defined at this time, and the band was frequently compared to secular groups such as Linkin Park. With three charting singles ("Broken Heart," "Bittersweet," "Escalates") the album quickly became a fan-favorite, and arguably played a role in shifting the overall style and boundaries found within Christian rock. Falling Up's initial style was an odd blend of rock, rap, nu-metal, and post-grunge, with Crashings incorporating guest artists such as Paul Wright, Ryan Clark, Benjiman, and Jon Micah Sumrall.
The band's sophomore release, Dawn Escapes, maintained a similar sound, but dropped the "rap" element for a more grounded melodic hard rock sound. Their third album, Captiva, slightly slowed the pace, shifting to a piano rock genre, incorporating more electronic components. Fangs!, the band's final album with BEC Recordings, saw the band take off in a very different direction, bringing a raw rock sound mixed with a rather ethereal series of ballads. The concept album told a rather ambiguous sci-fi tale, with the lyrics being notably removed from explicitly Christian concepts. This led to a drop in the band's original fan base. After disagreements as to the direction of their music, Falling Up parted ways with their label, subsequently going on hiatus.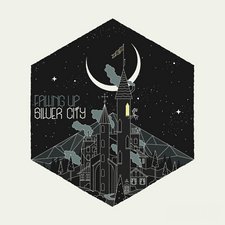 Falling Up returned in 2011 with a fan-funded album, Your Sparkling Death Cometh. The album was a critical success, appealing to fans both new and old. By this point, Falling Up had essentially shrugged off all genres, finding themselves under the all-encompassing label of "experimental rock." Mnemos, an instrumental remix EP, surfaced the next year, followed by the Machine De Ella project, which saw their sixth and seventh studio albums simultaneously released in 2013. One project (Hours) featured their signature rock sound, relaying the fictional tale of a novel created by the band. The other (Midnight on Earthship) was a slow and melodic album, with the band returning to its lyrical roots. Most recently, Falling Up put together a Christmas album (Silver City), once again pushing the boundaries of what has become normative for artists.
None of its projects have been without fans, and none have been without critics. One thing that always has been consistent, however, is that Falling Up will do what they want. They have been called copycats and pioneers, sometimes even in regard to a single project. Three of the founding members, frontman Jessy Ribordy, drummer Josh Shroy, and bassist Jeremy Miller are still part of the band today, and even after going independent, Falling Up has not only been able to survive, but thrive. This speaks to the versatility of their music, and is indicative of the legacy it will leave. And even if there is no place in the remainder of this decade for "science fiction Christian indie art rock," Jessy and the boys will find their voices in the industry.
-- David Craft

Comments
1. Will Light said...
Wow, great blog! Falling Up has always been like one of my favorite bands. I even liked Fangs.. haha!

I am looking forward to whatever their next project will sound like! Its always an adventure with them!
3. FU fan said...
Wow, so much for a "10 Years Later". you barely talked about the album at all. This was more of a generic article about the band's history.

you should have said something more like: "This album was awesome in 2004 AND IT STILL KICKS 10 YEARS LATER!! even if they aren't doing backflips on stage anymore"
5. Marcus Walters said...
I loved Crashings and I really loved Your Sparkling Death Comes. It's fun to reflect on the last 10 years. Thanks for the blog, JFH!

And is there any word on a new Falling Up album?

PS You should take a look at Kutless's Sea of Faces next
7. Sam said...
I seem to be the only person who prefers their work post-Captiva. I found the early stuff a bit generic, and feel that their creativity has reached its potential in works such as YSDC and Hours
9. Levi said...
Falling Up has been my favorite band from Crashings to the Machine de Ella Project. After dc Talk broke up, I was on the lookout for some good Christian artists to follow, and I've been following Falling Up ever since. I like that they aren't afraid to experiment with sounds in their music. Also, in regard to their more recent releases, Christian sic-fi concept albums can be hard to find outside of Falling Up. In many ways, I like to think of Falling Up as pioneers in the music scene (especially the Christian music scene). I'm stoked for their return to live shows this summer with JoshuaFest. Hopefully, they'll do some touring across the U.S.A.
Commenting has been turned off for this entry.