Film Review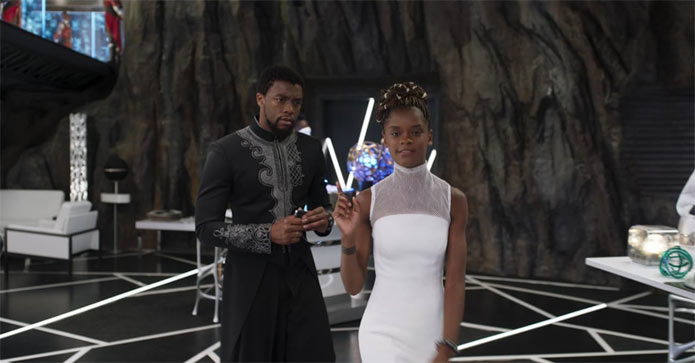 Marvel's been making it difficult for fans NOT to get invested in their cinematic universe. Now 10 years into their massive crossover franchise, the first new film in the series for 2018 is a standalone Black Panther film. The character was introduced in 2016 via Captain America: Civil War, where the new (to us) hero, T'Challa, tried to hunt down his father's killer - who he believed, erroneously, to be Bucky Barnes. This film, however, takes place a week after the events of Civil War, and T'Challa is returning home to the secretive, technologically advanced world of Wakanda in Africa to be crowned the country's new king. He's met with some, albeit very little, resistance, before things get complicated and a new villain makes his presence known.
If you don't follow these films very closely, you can easily get a little lost -- or just not see the significance in reoccurring characters - from film to film. 2015's Avengers: Age of Ultron introduced villain Ulysses Klaue--played by Andy Serkis, who Ultron enlisted to get him vibranium from Wakanda. And during one of their encounters, Ultron literally accidentally cuts off Klaue's arm. Serkis returns in Black Panther as a nemesis of the Wakandans and he brings with himself, this time, a high tech mechanical arm. Also reprising a previous role is Martin Freeman's CIA Agent Ross from Civil War. He has a much bigger role this time around (and who couldn't love his face-to-face scene with Serkis, reteaming Gollum and Bilbo Baggins from when they appeared in The Hobbit together?!), and he brings a lot of warmth and charm to his moments. The end credits scene -- all the way after the credits finish -- brings back yet another character. (I heard some people behind me say "Who's that?") Don't miss this little scene because it sets up the return of a character for Infinity War (we already saw him in the movie's teaser trailer), and follows-up on a post-credits scene from Civil War.
But really the heart and soul of Black Panther is in Chadwick Boseman's hero and his wonderful performance as the character of T'Challa. I enjoyed his appearance in Civil War, and it was enough to draw me in to his character. However, I have to be honest; I wasn't impressed by any of the previews for Black Panther. There was something about the way Wakanda and the technology and the scenery were presented that felt especially drenched in CGI and synthetics; it really irked me. Thor: Ragnarok also looked a lot like this -- and even Guardians of the Galaxy, Vol. 2 to a great deal, but it's much more grounded films like Captain America: Winter Soldier or even Civil War that feel more tangible and believable. However, Black Panther, as a film, proves to be much more than what its trailers present. The CG isn't nearly as offensive as the trailers made it seem. And while there were still some moments that just screamed "green screen" (like the tribal folks on the mountainside during T'Challa's crowning scene, or any number of shots of the Wakanda city and futuristic jets), they didn't detract from the film. The vibe I'd gotten of the effects reminded me of how badly Star Wars: Revenge of the Sith relied so heavily on digitally-created sets, but Black Panther proved to be so much more than that.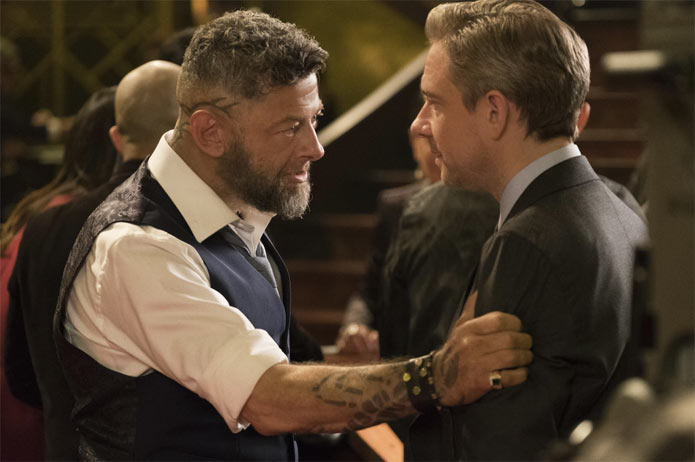 Supporting Boseman is a fantasic assembly of talented actors, including Angela Bassett as his mother, Ramonda; Lupita Nyong'o as his tough love interest, Nakia; Danai Gurira as Wakandan warrior Okoye; Daniel Kaluuya as T'Challa's friend, W'Kabi; Letitia Wright as T'Challa's feisty sister, Shuri; and Forest Whitaker as his mentor, Zuri. This powerful cast really brings a lot to the film to help create such a believable new world. The only sore spot in the bunch, to me, was Michael B. Jordan. I haven't seen much that he's been in, but I remember he was what I liked least about Creed, and he's the only character that I found irritating in Black Panther. I understand that Erik "Killmonger" isn't supposed to be likable, but Jordan really seemed to chew up the scenery whenever he had the chance. Where Serkis's acting was a bit over-the-top at times as Ulysses Klaue, he remained entertaining and rather fun. Jordan, instead, felt like he was in the wrong movie altogether. Again, I get that that is actually kind of the point of his character, but it still detracted from the film for me a bit.
Any little nitpicks aside, Black Panther blew my expectations to dust. It's emotional, exciting, fun, and dramatic in all the right ways. Some of the humor is shocking, but also needed to lighten the mood at times. And Boseman is just so dang likable as T'Challa! He carries the film well as a new superhero for us to rally behind. I can't wait to see him fight alongside the Avengers in just three months. The film also showcases really strong side characters, including the female characters, without undermining or alienating any particular group (like how Wonder Woman didn't make the male characters seem weak in an effort to elevate the female hero, Black Panther doesn't make any particular race or gender more elite than another). It offers a good message of family and unity, but the movie may be a bit too violent for the whole family to enjoy.
Content-wise, Black Panther starts out with some intense moments and seems like there won't be any profanity, but there are several characters that end up using the "S" word several times, including Killmonger and Agent Ross. Some of the fights get a bit bloody as well, especially with shirtless battles with knives and spears as weapons. There's also a rather gross moment where we see the closeup of a bullet wound and then another view of it as a bead is pushed into it to heal the wound. Finally, some other intense and violent moments include a character being beaten, stabbed, picked up and thrown off a cliff presumably left for dead; a scene where characters are shot to death (mostly off screen), and another character is stabbed with a spear and murdered in front of a bunch of people. There's also another moment where a character is killed by being stabbed with a blade and we see it sticking out of them for a few scenes until they finally remove it themselves and die. Overall, it's a pretty rough film in spots, so I would not encourage young ones to see this one.

Black Panther is a great superhero story and a more than worthy entry into the Marvel Cinematic Universe. My first impression is really high and while my feelings could possibly wane with repeat viewings, I'm pretty confident in saying this is one of the stronger superhero films in recent memory. Marvel Studios continue to turn in thoughtful, fun, and worthwhile superhero movies, and I can't wait to see what they give us next. (And don't forget: There is a mid-credits scene and a post-credits scene!)

- John DiBiase (reviewed: 2/17/18)

Parental Guide: Brief Summary of Content

Sex/Nudity: Agent Ross demands that Klaue hand over stolen vibranium to him, and so Klaue unzips his pants and reaches inside, in a way that is meant to make Ross uncomfortable. Klaue then pulls out a paper back with a cylinder inside; We frequently see men without shirts and in tribal garb.


Vulgarity/Language: Shuri playfully gives her brother the middle finger; At least 8 "S" words; 3 "h*ll," 1 "a" word, 1 "Oh my G-d"


Alcohol/Drugs: There is some drinking, like in a casino scene, but nothing significant to the story.


Blood/Gore: T'Challa fights a man has blood on his face. He's then stabbed in the shoulder and we see blood on the wound. He and the man continue to fight and the man has blood on his face as well; A man is shot in the back and we see a close-up of the bloody bullet wound. We then see someone push a small bead into the wound in a similar close-up shot; Klaue has a deep bloody gash on his forehead; A man is shot and we see blood on their shirt where a bullet wound is and blood on their shoulder and face; We see the face of a dead man with their eyes wide open inside a body bag (There is some blood on their face); A man is sliced on the arms and legs, leaving bloody marks. He also has blood on his face. He's then stabbed in the torso with some blood; We see a character with some bloody wounds that have dried; A man is stabbed with a blade but it's not bloody; When characters have the "power of the panther" removed from them, we see dark black veins pulse under their skin briefly; We see Klaue's arm is missing. It looks like he has vibranium covering the open wound from where he lost his arm during the events of Age of Ultron; We see the leader of a tribe who has a large plate in his lower lip, stretching it dramatically (and it looks rather gross.)


Violence: Lots of action violence. The film opens with two guys in an apartment hiding weapons and then being confronted by a Black Panther; T'Challa jumps out of a plane and attacks a caravan of terrorists in a jungle, beating them up; A woman is poisoned in her coffee by Killmonger, falls to the floor and convulses. Klaue and his men then come in and shoot everyone. He then tells a security guard that he can go free, and as he runs away, Klaue shoots him in the back, killing him; T'Challa and another man fight, slicing at and hitting each other. It ends with T'Challa holding him in a chokehold and forcing him to yield; We see flashbacks of the explosion in Berlin in Civil War that killed T'Challa's father; T'Challa and a couple Wakandans have a fight with Klaue and his men in a casino. It then moves to the streets for a car chase, with several cars getting destroyed and demolished in the process. It concludes with T'Challa threatening to kill someone while holding them by the throat, but his friends talk him out of it; A wall in an interrogation room explodes and a person is broken out. The thugs then shoot up the room where people are, killing some of them and injuring one; We see the close-up of a bullet wound and then again as a bead is pushed into it; A man shoots several people, killing them, and then hunts a man who gets away and shoots him, injuring him. They talk briefly before he kills the victim off screen; A man drags a body bag of sorts to lay at another man's feet. We then see the face of a dead man inside; A man kills an older man. Then two men fight a duel with brutal results. One man overpowers the other, stabbing and slicing the other man. The fight ends with one of them bloodied and beaten and being thrown off a cliff; We see a man with wounds being carried off on a manmade stretcher of sorts; There is a huge battle with lots of people stabbing and beating each other. Large rhinos attack as well. Black Panther struggles to take down ships trying to leave Wakanda while Ross mans a ship to shoot other ships down; There is a big one-on-one fight between two men that results in one of them being stabbed and killed. We see the victim pulling a blade out of their chest and then falling over dead; A man slices the throat of a woman, killing her, and other comic book style violence.

Disclaimer: All reviews are based solely on the opinions of the reviewer. Most reviews are rated on how the reviewer enjoyed the film overall, not exclusively on content. However, if the content really affects the reviewer's opinion and experience of the film, it will definitely affect the reviewer's overall rating.

To find out why we don't review R-rated movies, click here