Film Review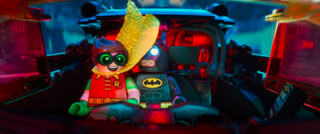 Since growing up with LEGO building block sets as a kid, I admittedly have a very soft spot for those creativity-cultivating little plastic pieces. Three years ago (Really?! It's already been three years?!), Warner Bros. and LEGO debuted The LEGO Movie, a zany, silly, frenetic and completely genius animated film centered around the world of LEGO toy bricks. It revolved around entirely new characters, while featuring cameos from some of the world's biggest superheroes, including Batman, Wonder Woman and Superman. Comedic actor Will Arnett brought Batman to life in a very spoofy way that worked well for the character in this setting. Still, it came as a little of a surprise that soon after the movie released (and to much success), news of a LEGO Batman movie was announced.
The LEGO Batman Movie is everything fans of the 2014 film can expect. Except, this time, the film is completely centered around Batman's character and his world portrayed entirely through LEGO pieces. It really is as if we're just given a glimpse into The LEGO Movie Batman's world. As such, there are countless moments of frenzied energy and mayhem with random humor and endless references to the Batman history and mythology. Some of it makes no sense in context and is entirely just for fans of the character, but the film treats Batman as if it's the same character as the Adam West Batman, Christian Bale's, Michael Keaton's and even Ben Affleck's Batman. Subtle references are even made to plot elements from the 1989 Batman and Nolan's The Dark Knight. Heck, the film even utilizes real-life footage from West's Batman to make a joke (as well as real-life footage from, oddly enough, Jerry Maguire and movie covers for films like Serendipity). It's fantastic. There are no rules to this universe and the sky's the limit. One of the most fun sequences in the film involves the Eye of Sauron, Voldemort, and several Smiths from The Matrix Reloaded joining other classic movie villains (*cough* King Kong) to aid The Joker in attacking Gotham City. Where The LEGO Movie quite literally took place inside the imagination of a child playing with LEGO bricks, The LEGO Batman Movie plays out in a similar fashion (without ever taking us out of this world to show a kid playing with LEGOs).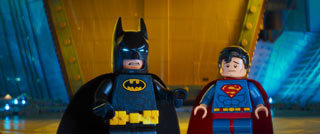 You don't have to have a previous, in-depth knowledge of Batman to appreciate the film, but it definitely helps. I'd say that if you loved the bulk of The LEGO Movie, then The LEGO Batman Movie is a perfect follow-up for you. I can't remember the last time I laughed so much at a movie, to be honest. At one point, even my 6-year-old son even turned to me with his hands folded and gleefully whispered to me, "I love this!" It's just nonstop fun. I was surprised, though, how much of the story focused on the fact that Batman / Bruce Wayne is a loner whose greatest fear is letting people get close to him. The story carries a very strong theme of family and relying on others; it's something kids can definitely learn from. It's usually a heavy theme, and there are a couple moments that get a little more serious, but the movie is really relentlessly silly, so even the weighty themes are kept light throughout.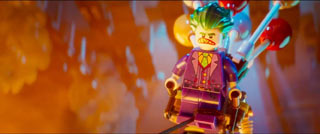 The content is fairly PG. There's so much crazy, nonstop action that it would take the better part of a day to write it all down in detail, but the violence always is involving LEGO pieces, so it's similar to what we saw in The LEGO Movie, except I don't believe there were any significant character deaths (The LEGO Movie had a character die and become a ghost at one point as a gag). There are a few jokes that almost border on gay jokes, but I don't think it's clear that the filmmakers are going for that. For example, Batman and Joker treat their rivalry as a relationship, and in one scene, when Joker tries to convince Batman that he needs him as an archenemy, their conversation sounds like a relationship break-up. There's even a joke about them not "shipping" each other. But the joke is pretty straightforward, keeping it about their hero/nemesis relationship and nothing underlying. Besides, the film makes it very clear soon after that that Batman has a thing for Barbara Gordon. On top of all of that, though, Batman tries to convince Robin that he and Bruce Wayne are two different people who share custody of him, which excites the naive Robin with the idea that he has "two dads." The language isn't bad, aside from some "rude humor" (including a gag where The Joker rubs his clothed butt on Batman's vehicles and wants to dub the Batmobile the "Butt-mobile" ... which my son absolutely loves), with the only real questionable language being a running joke that Batman's password into his Batcave is "Iron Man sucks."

Overall, The LEGO Batman Movie blew away my expectations. The teaser trailers didn't instill in me much hope, but the longer trailers seemed to capture the tone of the film a bit more appropriately. It's a wonderful action comedy film for the whole family and I definitely look forward to seeing this film again and again in years to come.

- John DiBiase (reviewed: 2/15/17)

Parental Guide: Brief Summary of Content

Sex/Nudity: Batman and Joker talk about their rivalry (and their "need" for each other) in a way that sounds like a dating relationship (but it's not); Robin rips off his pants to reveal small briefs at least once in the film; Robin thinks that Bruce Wayne AND Batman are two different people who share custody of him and he refers to having two Dads.


Vulgarity/Language: 2 "Sucks;" In one scene, Robin says the kids at the orphanage call him "Dick" (meaning that's his name) and Batman replies, "Kids can be so cruel"


Alcohol/Drugs: None.


Blood/Gore: None.


Violence: Lots of comedic action violence involving LEGO bricks and things exploding and buildings being destroyed; Gotham city is terrorized by lots of villains, etc.

** Disclaimer: All reviews are based solely on the opinions of the reviewer. Most reviews are rated on how the reviewer enjoyed the film overall, not on content. However, if the content really affects the reviewer's opinion of the film, it will definitely affect the reviewer's rating.