One album that was very much worth getting excited about in 2012 was Paper Route's sophomore effort, The Peace of Wild Things. Its electronic soundscape bore a distinct 80s flavor that didn't sound dated, but instead utilized a retro feel that helped take the music in the appropriate emotional directions. Born out of terrible heartache, there's a sense of searching and healing that is contained within The Peace of Wild Things. Songs like "Glass Heart Hymn" are poetic yet familiar to a lot of listeners, as vocalist/songwriter JT Daly sends up a lamenting prayer. It's an album that sounds poppy and accessible at times but is surprisingly deeper than most music in the genre. Check out The Peace of Wild Things and see Paper Route on tour with Anberlin this spring!
- John DiBiase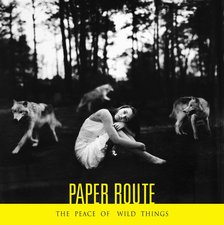 Paper Route
The Peace of Wild Things (2012)
Click here for our review of the album.
Our synopsis: "Electronic pop at its finest. A heartbreaking yet rewarding listen for fans of modern and retro electronic pop." (Recommended by JFH's John DiBiase)
Song Highlights: "You and I," "Better Life," "Sugar," "Glass Heart Hymn," "Letting You Let Go," "Rabbit Holes"
So, what are your thoughts on and experiences with the album The Peace of Wild Things? Do you recommend it? If so, why?

Comments
1. Bruce said...
My daughter and I saw Paper Route open for Anberlin in Atlanta and we were so impressed that we bought the CD. We had not heard them before and did not know what to expect out of the CD. The Peace of Wild Things more than exceeded my expectations. It is a wonderful compilation of unique songs with (some) underlying spiritual themes. Glass Heart Hymn is one of the best songs I have heard in quite a while and I would highly recommend this CD to anyone.
3. Ken said...
I bought Peace of Wild Things in anticipation of a Switchfoot show my daughter and I were going to, because Paper Route was opening. The album quickly became our most listened to CD. It has it all, great layered sound, lyrical depth, imagination. It's stuff the listener can connect to. I know the guys were wondering if the band would survive. I, for one, hope so. I'm in for the long haul!