Tonight, I sat down at my desk and got the sudden impulse to listen to one particular record. As I sat here wondering what the latest recommendation from us should be, it quickly became obvious.
The funny thing about Dakoda Motor Co. and their 1993 Myrrh/Word debut Into The Son, is that when I first saw the music video for "Grey Clouds," as a teenager, I hated it! It's funny to think that, before long, not only did their sound - and that song - grow on me, but they remain, to this day, one of my favorite listens. Into The Son is a raw surf rock record (classic "Jesus music" as some might say) when the California band was at its peak. Davia Vallesillo's vocals (and Chuck King's frenetic and varied drumming) are really what stand out on this record. While the band's message got more diluted over the years as guitarist Peter King suited up as an MTV video jock, DMC was never the same, but this debut still sounds great 16 years later (although the sophomore album, Welcome Race Fans has a few genuine gems). With the original lineup currently reunited and performing a few spot dates here and there, the hope for new tunes from this band begins to rise again... - John DiBiase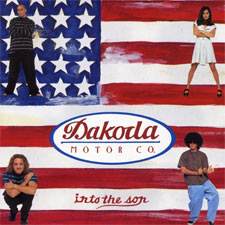 Dakoda Motor Co.
Into The Son (1993)
Click here for our album page.
Our synopsis: "Surf splashed pop/punk with passion and heart. I'll never tire of this album." (Recommended by JFH's John DiBiase)
Perfect For: Love, Loneliness, Faith, Fun
Song Highlights: "Wind An' Sea," "Freedom," "Ocean Seems," "Need A Love," "Son Dancer."

So, what are your thoughts on and experiences with the album Into The Son? Do you recommend it? If so, why?
Comments
I first heard of Dakoda (before they were Motor Company) at a concert in Southern California. It was Dakoda opening up for Uthanda (remember them?) and The Prayer Chain. I was mesmerized by Davia of course, but I also really dug the surfer rock sound that I heard that night. A friend of mine who worked at a music shop in Las Vegas got me the CD as soon as it came out - as well as the video - and I listened to that CD so much that I had him order me a couple to give to some friends. I became a Dakoda evangelist.

On a funny note, a friend of mine dared me to go find out where Davia worked (she left some hints in a couple of magazines) and ask her to marry me. So I went down to San Diego, found the Johnny Rockets she worked at, and asked her to marry me. She said no, but she did sign a bunch of stuff.

I liked the next CD, but when Davia left my interest also kind of left in the band, although I continued to follow Peter King since he was doing a bunch of MTV stuff.