JASON INGRAM SETS A GOSPEL MUSIC ASSOCIATION RECORD
WITH 11 GMA DOVE AWARD NOMINATIONS

Ingram Receives His Fifth Consecutive "Songwriter of the Year"
Honor at SESAC Christian Music Awards Last Night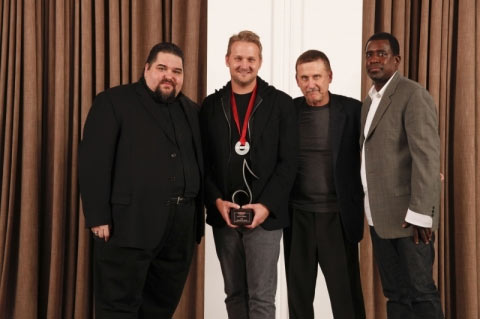 Pictured L-R at last night's SESAC Christian Music Awards are: Tim Fink, Jason Ingram, John Mullins, Trevor Gale
NEWS SOURCE: Provident Label Group
February 25, 2011
(Nashville, Tenn.) February 25, 2011 – Songwriter, producer and artist Jason Ingram (Essential Music Publishing, Showdown Publishing) set a Gospel Music Association record last week by being the only person in the history of the organization to receive 11 Dove Award nominations in one awards season. This industry-first recognizes the West Virginia-native's overwhelming impact on artists and songs spanning a variety of musical styles. In addition, Ingram was named SESAC's Christian Music Songwriter of the Year for the fifth year in a row, during a ceremony in Nashville last night.
"Jason is a creative force and someone we're proud to have worked with over the past several years," notes Terry Hemmings, President & CEO, Provident Music Group. "With the number of inspiring songs he's delivered through radio and for the church, it's not surprising he'd be honored by his industry peers with a record setting number of Dove nominations and his fifth SESAC Christian Music Songwriter of the Year honor. Jason truly deserves this recognition."
Tim Fink, SESAC VP of Writer and Publisher Relations, shares, "I can't recall the last time we had someone receive our Songwriter of The Year trophy five years in a row. Jason is an incredible talent as a writer, producer, artist and worship leader. He is inspiring and we are incredibly privileged to work alongside him."
Ingram gathered nominations in the following categories:

Song Of The Year (2) – "Hold My Heart" by Tenth Avenue North; "Lead Me" by Sanctus Real
Producer Of The Year – a joint nomination with Rusty Varenkamp
Rock Recorded Song Of The Year – "Anchor" by Satellites and Sirens
Pop/Contemporary Recorded Song Of The Year (2) – "Lead Me" by Sanctus Real; "Keep Changing The World" by MIKESCHAIR
Worship Song Of The Year – "Greatness of Our God" co-written with Rueben Morgan and Stu G.
Pop/Contemporary Album Of The Year (as producer) – The Light Meets The Dark by Tenth Avenue North
Rock/Contemporary Album Of The Year (as producer) (2) – Pieces of A Real Heart by Sanctus Real; Satellites & Sirens by Satellites & Sirens
Praise & Worship Album Of The Year (as producer) – As Long As It Takes by Meredith Andrews

Ingram has had a tremendous effect on radio in 2010 and 2011, racking up an impressive list of chart-topping songs, including:

Four No. 1 Songs:

"Lead Me" by Sanctus Real (No. 1 on AC Monitored for 9 weeks, No. 1 on AC Indicator for 5 weeks)
"Light Up The Sky" by The Afters (No. 1 on AC Indicator for 5 weeks, No. 1 at AC Monitored for 2 weeks and No. 1 at CHR for 7 weeks)
"I Will Follow" by Chris Tomlin (AC indicator No. 1)
"Your Love" by Brandon Heath (No. 1 AC Monitored seven weeks and counting)

Six Top 5 Songs:

"You Are More" by Tenth Avenue North (No.4 on AC Monitored, No.2 AC Indicator, currently)
"Healing Begins" by Tenth Avenue North (No. 4 on AC Monitored and #3 on AC Indicator)
"Light Up The Sky" by The Afters (No. 3 on AC Monitored)
"I Will Follow" by Chris Tomlin (No. 2 on AC Monitored)
"More Like Falling In Love" by Jason Gray (No. 4 on AC Indicator)
"Just To Be With You" by Paul Baloche (No. 2 on Inspo)

Five Top 10 Songs:

"Alive Again" by Matt Maher (No. 10 AC Monitored and No. 6 on AC Indicator)
"Healing Begins" by Tenth Avenue North (No. 6 on CHR)
"Greatness of Our God" by Natalie Grant (No. 7 on Inspo)
"Blink" by Revive (No. 10 on CHR)
"More Like Falling In Love" by Jason Gray (no. 9 on AC Monitored)

Ingram, who also counts vocalist and songwriter for the group one sonic society among his artistic pursuits, showcases what's great about Christian music, says Gospel Music Association chairman Ed Leonard. "He is an influencer across the creative community and I can't be more excited about this incredible accomplishment," shares Leonard. "Congratulations, Jason!"

While Ingram's presence is most immediately felt in the Christian and Worship music arenas, he is also gaining momentum internationally. Most recently his song "Just One Kiss," recorded by Nick Carter, climbed into the Top 10 in Japan.

About Jason Ingram
Jason Ingram has one of the most diverse and accomplished resumes in Christian music. Born in West Virginia, he spent part of his childhood in Dallas and later moved to Santa Cruz, Calif. Jason's father, Chip Ingram, is a prominent speaker/author, but the young Ingram knew early on that music would be his vehicle for sharing his passion. In 1999, he relocated to Nashville, Tenn. and his self-titled debut album was released in 2002 on Resonate/INO Records. The following year he became frontman for the critically acclaimed band The Longing.

In the past few years, he's become one of Christian music most successful and respected songwriters and producers. He's produced Tenth Avenue North, Sanctus Real, Meredith Andrews, Mikeschair, Paul Baloche, Brenton Brown, Carlos Whittaker, Jason Gray and Bebo Norman, among others, and his songwriting credits include, Brandon Heath's "Give Me Your Eyes," Hillsong's and One Sonic Society's "Forever Reign," Britt Nicole's "Set the World on Fire," Paul Baloche's "To The Cross," Matt Maher's "Alive Again" and two Tenth Avenue North songs, "Love is Here" and "By Your Side."

The latter was named Song of the Year at the 41st Annual GMA Dove Awards and was the No. 3 played Christian song of the decade (2000-2010) according to the Billboard Magazine. Ingram also picked up the Producer of the Year Dove Award, was Billboard Magazine's 2009 and 2010 Christian Songwriter of the Year. Further, Ingram is co-writer of back-to-back GMA Dove Award winning Songs of the Year (2009's "Give Me Your Eyes" by Brandon Heath and 2010's "By Your Side" recorded by Tenth Avenue North) , SESAC's Co-writer of The Year for the last two years (for his work on "Give Me Your Eyes" and "By Your Side") and recently received his fifth consecutive SESAC Christian Music Award for Songwriter of the Year.

# # #