Jamie Grace's Debut Single "Hold Me" Hits No. 1

New Music Video for "Hold Me"
Featuring tobyMac is Unveiled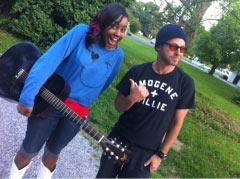 NEWS SOURCE: The M Collective
May 4, 2011
Nashville, Tenn. May 4, 2011… The stellar debut for newcomer Jamie Grace continues as her first single "Hold Me" featuring multiple GRAMMY ® winner tobyMac has garnered the No. 1 spot at CHR. This marks the first No. 1 for the Gotee Records' newcomer. "Jamie is a true songwriter, blossoming before my very eyes. She's such a natural, beautiful next step for our industry," explains tobyMac. "I have not been this excited to work with an artist in a long time." The song was also chosen as the iTunes ® Discovery Download late last month. To see a video of tobyMac calling Jamie Grace about her first No. 1 visit, http://www.youtube.com/watch?v=svhN2d-ou4k.
The news of the song hitting No. 1 coincides with the release of the music video for "Hold Me." The video not only features Jamie Grace, but tobyMac and GabeReal of DiverseCity. Viewers can catch the debut of the music video this week on www.Jamie-Grace.com.
"Hold Me" is from Jamie Grace's debut EP Hold Me e.p. Amidst the release of her critically acclaimed debut EP, she has been touring with the "Revolve: Dream ON!" tour and working on her full length album due out this fall with Gotee Records.
# # #
About Jamie Grace:
Hailing from outside of Atlanta in Lithonia, Georgia, Jamie Grace is a 19-year-old-college student who aside from her career and touring as a singer-songwriter, is also studying children's ministry. At age 11, Jamie Grace was diagnosed with Tourettes Syndrome, and has since traveled the country sharing her story and faith through music and speaking. Upon signing Jamie Grace, multiple GRAMMY ® winner tobyMac remarked "I have not been this excited to work with an artist in a long time."
For more info on Jamie Grace, visit the JFH Artists Database.