Audio Adrenaline and Hands & Feet Launch Kings and Queen's Capital Campaign
$250,000 BUILDS HOMES FOR OVER 100 CHILDREN


Watch Audio Adrenaline's "Kings & Queens" Music Video
NEWS SOURCE: Hands & Feet Project
November 13, 2012
The Hands and Feet Project, founded by Audio Adrenaline in 2004, cares for 100 orphaned and abandoned children in the southern region of Haiti. Hands and Feet strives to provide family-style care for each child, giving each boy and girl the opportunity to reach their God given potential. However, our Children's Villages have reached their capacity. Sadly, we've had to turn away hundreds of children in need just in the past few months.
The need is urgent! With your help, we can double our capacity to care by building two more Children's Villages over the next two years. You can help by contributing to the Kings and Queens Capital Campaign. 100% of the money raised through this campaign goes to provide children at risk a home of their own. Help Us Love the Least of These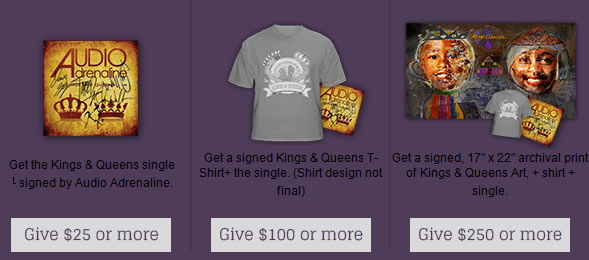 DONATE AND GET AN EXCLUSIVE BONUS!
Option One: Get the Kings & Queens single signed by Audio Adrenaline. (Click here)
Option Two: Get a signed Kings & Queens T-Shirt+ the single. (Shirt design not final) (Click here)
Option Three: Get a signed, 17" x 22" archival print of Kings & Queens Art, + shirt + single. (Click here)
Auction Coming Soon!
Auction items:
1. Porsche 911 Carrera
2. Two Private dinner party concerts with the Audio Adrenaline and Mark Stuart from Hands and Feet Project. (includes catered dinner for 50)
3. Three private guided tours into Haiti for groups up to 6. (includes round trip airfare from Miami, all Haiti travel and lodging costs, tour of Hands and Feet facilities, tour of Port au Prince, and surrounding beaches.
4. Various Artist Gift packs including tickets, meet-n-greets and various swag from some of your favorite artists like Toby Mac, Casting Crowns, Newsboys and more.
# # #
For more info on Audio Adrenaline visit the JFH Artists Database.


[2018]
Jan. | Feb. | March | April | May | June | July | Aug. | Sept. | Oct. | Nov. | Dec.
[2017]
Jan. | Feb. | March | April | May | June | July | Aug. | Sept. | Oct. | Nov. | Dec.
[2016]
Jan. | Feb. | March | April | May | June | July | Aug. | Sept. | Oct. | Nov. | Dec.
[2001 - 2015]
Visit our complete MUSIC NEWS ARCHIVE