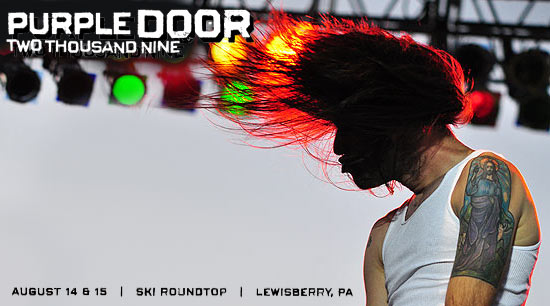 Purple Door Festival
8/14 - 8/15/09, Purple Door 2009 at Ski Roundtop, PA
Although the festival didn't add a Friday night until several years ago, 2009 marks the first year I was able to experience both days of the Purple Door Festival. This was also the first year that Jesusfreakhideout.com had taken part in co-sponsoring the festival, so fest-goers had the chance to stop by a special JFH tent throughout the weekend. To set up in time for the gates to open on Friday night, we arrived in the mid afternoon to get everything together, and of course to be there for when the the music began.
While music didn't kick off at the Main Stage until 6pm, the HM Magazine stage was the first of the festivities to begin, opening their stage up with a New Artist Showcase Winner, Rescue Is Possible. The stage would then continue with three more Showcase winners: Hyland, The Pledge, and Receiving The Ghost, before Essential Records rock act Pillar would close the stage at 8:10pm. Due to the JFH table and the Main Stage events, we only made it over to the HM Stage once on Friday for a sponsor spot right before Hyland and another right after The Pledge.
At 6pm, Ohio rock quartet House Of Heroes opened their standout set with "Lose Control" from their most recent record, The End Is Not The End. It's a fantastic way to not only begin their set, but to set the tone for the weekend. HOH puts on a fantastic live show and Purple Door '09 was no different. "Buckets For Bullet Wounds" from their self-titled debut followed, along with the appropriate and catchy "Friday Night." "If" and the epic "Code Name: Raven" from their latest album were up next, with the memorable "Leave You Now" and their hit, "In The Valley Of The Dying Sun" bringing their set to a close. Although somewhat short, again, it served as the perfect way to jump start Purple Door Fest right.
Chattanooga pop rock outfit Nevertheless were next, bringing selections from their two Flicker Records albums to the table. The newly independent foursome opened with the industry-inspired rocker "Cross My Heart," and lightened things up a bit for the poppy "Longshot." The guys shifted gears to the more serious again with "Losing Innocence" from their debut, Live Like We're Alive, and then performed another cut from In The Making..., entitled "It's True." They then broke out another oldie and fan favorite, "Lover" (a suprisingly mellow song for the Purple Door crowd), and then went into the inspiring "Sleeping In" before closing with another oldie, "The Real." With their set just mere days away from the release of a brand new acoustic EP, I was rather surprised that the guys didn't play anything brand new. Still, what they offered was clearly more familiar to their audience, which is probably why they opted to not skip the new stuff.
Artist Eric Samuel Timm created a live painting before the Purple Door audience, while members of the John Reilly Band offered some accompaniment. Reilly then performed a worship set after Timm (who made light about being on pain killers due to a broken arm, apologizing in advance if he said anything off color by accident - he was fine, though) gave an inspiring word to the audience. We caught some of Pillar's 8:10pm set at HM (unfortunately, we were only able to hear it from a distance), namely getting to hear set highlights like their cover of Collective Soul's "Shine" and their runaway hit "Fireproof." At 9:00pm, at Main Stage, Hip Hop artist Lecrae performed with DJ Official, offering up fan favorites and material he performed on the recent "Don't Waste Your Life" Tour (which was inspired by a great John Piper book by the same name). Lecrae was just part one of what Purple Door had dubbed the "Friday Night Dance Party," and after Lecrae's encouraging message and solid hip hop performance, Atlanta's Family Force 5 was up to bring the night to a fine finish.
Family Force 5 emerged on stage in their specially designed Summer Fest attire -- donning the same gear they sported at Creation East back in June. Their purple and gold football uniforms were a nice compliment to their frenetic stage presence. They opened with the title track from their latest record, Dance Or Die, and then ripped into an immediate fan favorite, "Kountry Gentleman." The dance anthem "Fever" preceded another fan favorite from their debut, "Drama Queen," before they broke out the rock-fueled highlight "D-I-E-4-Y-O-U." Front man Solomon "Soul Glow Activatur" Olds paused to reflect on Purple Door, mentioning it was their third time performing the festival and their first time headlining. Soli then encouraged a dance pit in the audience for "Numb" and they followed it up with "Party Foul." Despite what appeared to be persistent tech problems (which weren't noticeable to most of the audience, including myself, but were visibly bugging some of the crew and band members), they pressed on with the infectious "Supersonic," "Put Ur Hands Up," and "Radiator." There seemed to be a break at this point which felt like an encore was coming (but was most likely another tech issue), and with Hulk gloves on hands, Soli returned to the front of the stage for their hit "Love Addict," following it up quickly with "Get Your Back Off The Wall" before leaving the stage. Solomon came back out to encourage the audience to scream if they wanted the band to play more, and within minutes, Family Force 5 was back on stage to perform their set staple finale, "Earthquake." To our surprise, after the band said their goodbyes and announced they'd be hanging out afterwards, bassist Josh "Fatty" Olds asked the audience if he could pray for a moment, and offered a closing prayer over the Purple Door audience. It was a nice touch to end the evening.
Of course, I could be a little biased being that a few fantastic live acts played on the same night, but Friday Night at Purple Door was well worth going out of our way to attend this year. While I was only just learning how difficult it is to juggle covering an event with finding time for sponsor spots on stage and manning a JFH table all in the process, thanks to good company, great music, and sunny weather, it was a very enjoyable weekend.
SATURDAY...
Due to an unfortunate lack of sleep from Friday into Saturday, we were able to get a jump on the day and get over to Ski Roundtop to get the JFH table set up again and ready to go. Warehouse 54 Battle of the Bands Winner Oceans In Love was kicking off Main Stage at 10am sharp, so we were able to catch part of their set while reassembling our table (since the table was within earshot and view of Main Stage). As we walked in and we heard the sounds from the Main Stage, I actually began to wonder why it sounded like Stephen Christian from Anberlin's voice was coming from that direction. I then wondered if perhaps his side project Anchor & Braille was doing a set... but at 10am?! When I discovered it was Oceans In Love, it was a mix of surprise and relief. Their sound was nothing like Anberlin's, even if it sounded vocally similar, and they were a decent fitting for the morning to start the day. At the HM Stage, the other Warehouse 54 (a great venue in Manheim, PA) winner Ace Augustine had begun their set at 10:15, followed by Texas In July and Solid State's own Becoming The Archetype at 11:35am. Former Tooth & Nail act Spoken was up after that, followed by Gotee's I Am terrified and Facedown's War Of Ages.
Over at Main Stage, we caught a portion of High Flight Society's set after Farewell Flight, and then took advantage of our sponsor spot afterwards at Main to toss out some shirts into the fine Purple Door audience. Minnesota sibling punk rock trio Children 18:3 were next. The eccentric three always put on a great performance and while they seemed slightly rougher around the edge than usual, they still put on a great show. This was the longest set I'd ever seen from Children, as they performed about ten songs, and offered much more between-song banter than I'd ever heard from them before (during most of the short sets I've seen, they just play their set and leave without saying anything at all). After introducing themselves as "Children 18:3000," they opened with "All My Balloons," getting off to their usual strong start. They then continued quickly with "LCM," the anti-abortion anthem "We're All So Fond Of Dying," and "Time and Wasted Bullets." Their frenzied live show is always fun to watch, and you have to wonder - much like Family Force 5 - how they don't hurt themselves as they're flailing recklessly about stage. Well, towards the end of their set, it became visible that Lee Marie had a little bit of blood on the bridge of her nose where she or her brother David must have accidentally whacked her. But they kept pressing on as if nothing had happened, and they performed most of the rest of their self-titled debut album, including "Homemade Valentine," "Even Sleeping," "Samantha," and "Mock The Music." David then announced the next song as a brand new one about 'no longer running from zombies,' entitled "Cover Your Eyes." Seth Hostetter followed it with a tasty and impressive drum solo, and then they closed their set with a reprise of "All My Balloons" and a signature jam that they've been using to wrap up many of their sets with.
BEC's pop punk act Run Kid Run followed, who also managed to work a little worship into their set, while Cross Movement Records' Everyday Process and R-Swift followed. At this point, the Main Stage took a break, so if anyone wanted music, their best bet was either the HM or Gallery Stage. The Gallery Stage, which featured only one set on Friday with Shawn McDonald (who offered up a solid acoustic set at 8:10pm), opened at 10:30am on Saturday with Facedown Records' Abel, followed by Reilly again and Gotee Records' hip hop/R&B vocalist B.Reith. Unfortunately, Project 86 vocalist Andrew Schwab was speaking at The Forum during B.Reith's set, so I was only able to catch a few minutes of it before having to return to the JFH table. B.Reith's vocals sounded great live, so I'm looking forward to experiencing a full set from him soon. At 12:55, Rainchildren performed at Gallery, followed by John Mark McMillan at 2:50pm and Deal Vail at 3:40pm. Deas Vail's piano-flavored indie rock translates even better live, and I was happy to at least catch them perform "White Lights" before the close of their set.
At 4:30 (after our HM Stage sponsor spot), it was a delight to get to see Seabird again over at Gallery. We hadn't seen them since they performed the JFH showcase during GMA Music Week in April, and as Seabird prepares for their sophomore album release - hopefully before the end of the year - it was great to hear them perform some new stuff. They opened with the title track from their debut, 'Til We See The Shore, and continued with "Black N Blue," "Apparitions," and "Rescue." The foursome then played two brand new cuts, "Beautiful" and "Believe Me," before we had to rush over to HM Stage for their closing act.
I arrived at HM just a few minutes before the last act of the night was to perform. The Showdown had just played their high voltage metal set, and now Orange County rock band Project 86 was ready to make their grand return to Purple Door. Five years ago was when the band had last played Purple Door when a mud-slinging moment had rendered the stage covered with mud and thousands of dollars of equipment damaged. Needless to say, it wasn't going to be anytime soon that Project would make a re-appearance at Purple Door. The rock act opened quite powerfully with one of my favorites, "The Forces Of Radio Has Dropped A Viper Into The Rhythm Section," and pushed on with "The Hand, The Furnace, The Straight Face." The always delicious "Sincerely, Ichabod," was next, followed by "Safe Haven," and the first of a couple brand new songs, "Two Glass Eyes" and "The Butcher." At this point, vocalist Andrew Schwab paused to talk to the audience about the importance of the next song, expressing how the song was a recfocusing and a return to what matters most in life to him. He encouraged the audience to sing along to the chorus of "Return return return," and hopped down from the stage to hang over the barrier into the audience for the duration of the song. He then returned to the stage and announced "Illuminate," followed by "Dark Angel Dragnet." As the set wound down, they broke into the fan favorite "Stein's Theme," and exited the stage. An encore was rather inevitable at this point (which was great, because I didn't want their set to end). The crowd was passionately captivated by Project's performance and one significant song remained unplayed. With that, Schwab and band returned to the stage for one last song, taking things out with a bang with "Spy Hunter."
We quickly headed back to Main Stage for Fireflight's 6:15 set, which, as we walked over, had already begun just a couple minutes early. They opened with "The Hunger" from their most recent release, Unbreakable, and reached back an album for "Serenity." After "Stand Up," Dawn Richardson took a moment to share a word of encouragement about insecurities and overcoming them, reading a scripture passage and elaborating briefly before moving into their hit song "You Decide." "You Gave Me A Promise" followed, along with "Liar," and they closed their short but rockin' set with "Attitude" and "Unbreakable."
After Fireflight, my wife Amy and I grabbed dinner during the speaker time slot, which we later found out would not be Jamie Tworkowski as scheduled, but instead, Anberlin vocalist Stephen Christian! According to one of our guys, Kevin, who heard the message, Stephen talked about missions and his family during his time slot. Then, worship leader John Mark McMillan followed.
At this point, all other stages were closed, which left the Main Stage to be the only place where music was at. This gave Disciple prime audience exposure, and the hard rock band opened their incredible set with "Rise Up." These guys just seem to get better with time and their show hit the stage like a freight train. "Whisper So Loud" from their latest album followed, along with the heart-pumping "Game On," and the catchy anthem "3-2-1." The highlights didn't end there, though, with the title track from Scars Remain next, "Ransom Me," and their popular power ballad "After The World" (which kind of broke the momentum, but fans dig it). Their smash hit "The Wait Is Over" was surprisingly not their set closer, as the first track from Scars Remain, "Regime Change" did the trick quite nicely.
mewithoutYou was an odd successor to Disciple. They're the kind of indie band that you just have to "get." Unfortunately, I've never been one of those lucky enough to be able to appreciate it. While I do appreciate the fact that these guys do something incredibly different and unique, I'm not one for dissonant, rather whiney vocals or anti-melodies. The band has acquired a faithful fanbase over the years, so more power to them, but admittedly, it does sound a bit bizarre for anyone (even a goofy band like Family Force 5) to shout lyrics over and over like "Oh no! No more timothy hay" - especially when they do it seriously.
Before all too long, the Philadelphia based indie folk rock band was done and Orlando natives Anberlin were finally taking their headlining spot. I remember catching these guys for the first time live at Purple Door 2003 in the afternoon, so it was a little surreal to get to see them wrap up the festivities. Opening with "The Resistance" from their most recent album, New Surrender, Anberlin carried themselves like a headliner well. And with strict security placed around the stage (particularly for photographs), they certainly felt like a major label act too (it's a common thing for Columbia and Universal-signed bands to enforce such restrictions). The catchy Christian radio single, "A Whisper And A Clamor" followed, along with "Disappear," and "Breaking." These guys have so many solid, catchy songs, that they don't really have a problem selecting a strong set list. "A Day Late," from Never Take Friendship Personal was next, followed by "Adelaide" and "Paperthin Hymn." They slowed things down a bit for "Inevitable" and "The Unwinding Cable Car," before pumping things back up a bit for "Hello Alone" and the fantastic "Dismantle. Repair." To take things out on a rocking note, they closed with "Godspeed," and the band's radio hit "The Feel Good Drag" (which is far from their best song, but probably a great way to musically finish).
With the end of Anberlin's set, came the end of Purple Door Festival 2009. While I've attended the fest on several occasions over the past decade of its fourteen-year run so far, this was by far one of the strongest years for music and one of my favorite line-ups. We certainly hope to have Purple Door 2010 on our list of events for next year. And we hope to see you there!
--
John DiBiase
, 8/20/09
Purple Door 2009 Photo Gallery
click on an image for a bigger size
**vertical images cropped for thumbnails**
Jesusfreakhideout.com Table (Kevin, Rebekah, Erin, & Tim): Friday & Saturday
Gallery Stage
House Of Heroes: Friday, 6:00pm Main Stage
Nevertheless -- Friday, 6:45pm Main Stage
Rev Eric Samuel Timm -- Friday, 7:20pm Main Stage
Shawn McDonald -- Friday, 8:10pm Gallery Stage
Lecrae -- Friday, 9:00pm Main Stage
Family Force 5 -- Friday, 9:50pm Main Stage
Abel -- Saturday, 10:30am Gallery Stage
High Flight Society -- Saturday, 11:30am Main Stage
B.Reith -- Saturday, 12:05pm Gallery Stage
Andrew Schwab -- Saturday, 12:20pm The Forum (*photos by Kevin Chamberlin)
Children 18:3 -- Saturday, 1:25pm Main Stage
Run Kid Run -- Saturday, 2:15pm Main Stage
Deas Vail -- Saturday, 3:40pm Gallery Stage
The Showdown -- Saturday, 4:10pm HM Stage
Seabird -- Saturday, 4:30pm Gallery Stage
Project 86 -- Saturday, 5:10pm HM Stage
Fireflight -- Saturday, 6:15pm Main Stage
Disciple -- Saturday, 7:50pm Main Stage
mewithoutYou -- Saturday, 8:50pm Main Stage
Anberlin -- Saturday, 7:50pm Main Stage
*all photos by
John DiBiase
(unless otherwise noted) and are the property of
Jesusfreakhideout.com