Resort to Prayer
"In return for my love they are my adversaries, but I resort to prayer."
-
Psalm 109:4 AMP
I often hear from believers who are in relationship with people who are bitter, angry, and vindictive. Some of these difficult people are family members that they just cannot bring themselves to cut off. So they are constantly met with opposition, criticism, and accusations that wear them down, and even harm their health and well-being. To make matters worse, when these precious people look for help and support from their other loved ones, their pain is often minimized, and even ridiculed.
If you are one of these hurting people, let me assure you that I have some understanding of how you feel. The last time I was in this kind of situation, and I sought the Lord for answers, He led me to a very powerful principle in Psalm 109:4 (AMP): "In return for my love they are my adversaries, but I resort to prayer." Being hurt by our own loved ones is some of the worst kind of hurt that we will ever experience on this earth. Feelings of betrayal and rejection can shake us to the core. And it can affect our whole outlook on life. But there is hope. If we will learn to "resort to prayer" – earnestly and diligently seeking God for His love, wisdom, comfort, and courage – He will show us exactly how we should respond to gain the victory in our situation.
Many times, the Lord will lead us to distance ourselves from a loved one's hurtful behavior. We can do that physically by limiting our exposure to them. When that's not possible, we can often distance ourselves from these difficult people emotionally. We detach ourselves from them in an emotional sense, and we remain guarded in all of our dealings with them. Jesus said: "Behold, I am sending you out like sheep in the midst of wolves; be wary and wise as serpents, and be innocent (harmless, guileless, and without falsity) as doves. Be on guard against men [whose way or nature is to act in opposition to God]." (Matthew 10:16-17 AMP) The Lord offers us His protection, but He expects us to be on the alert for people who mean us harm.
One translation of Psalm 109:4 (NKJV) says, "In return for my love they are my accusers, but I give myself to prayer." Giving ourselves to prayer – seeking God's will and wisdom when we are faced with opposition – can bring peace, victory, and blessing. The Lord wants to help you deal with your own adversaries and accusers. Will you earnestly seek Him today?
Prayer: Lord, whenever I am met with contempt, criticism, or vindictiveness, I pray that my first response will be to "resort to prayer." As I seek You, give me all the wisdom, comfort, and courage I need to do Your will, and reveal Your love for me in fresh, new ways. Show me which people I need to love from a distance. And surround me with believers who will support and encourage me. Thank You that as I follow Your will and Your wisdom, You will prove Yourself to be my mighty Vindicator and Rewarder! (Isaiah 54:17)
-
J. M. Farro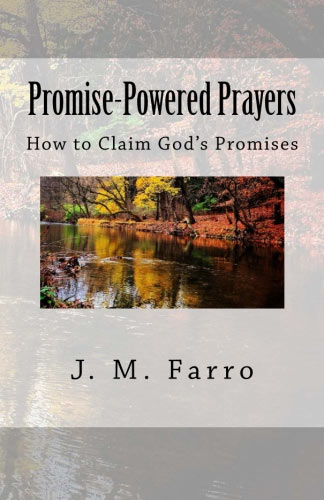 Promise-Powered Prayers Paperback Book

**To order J. M. Farro devotional books on ETSY.com using a credit card, PayPal, or Etsy gift card, Click Here. Books sold through ETSY can be signed and personalized by the author at your request. To place an order on Amazon.com, Click Here.
Full List of Devotionals
The devotionals aren't just limited to weekly! All previously featured devotionals are archived here for your convenience and easy access.
Click here
to view many more archived, Spirit-filled devotionals about everyday situations written by J.M. Farro!
Connect with J.M. Farro

*To place an order for J.M.Farro's books on Amazon.com,
Click Here
.
*Subscribe to
J.M. Farro
's FREE audio Podcast via
RSS
*
Follow
J. M. Farro on
Twitter
!
*Visit her
official website
at
JMFarro.com
!
*Send any questions or comments you may have to
J.M. Farro
via our
Contact Form
!