The Desires of Your Heart
"Delight yourself in the Lord, and He will give you the desires of your heart."
-
Psalm 37:4 ESV
Have you ever thought about all of the rich and famous people who committed suicide, or who cut their lives short by abusing alcohol or drugs? I have. And I believe I know one of the many reasons why these people end up this way. They never receive the true desires of their hearts. They may attain some measure of "success," but God can never give them the deep desires of their hearts because they don't have a personal relationship with Him.
Psalm 37:4 says that when we delight ourselves in the Lord, He will give us the desires of our hearts. What does it mean to delight ourselves in Him? When I asked the Holy Spirit this very question, He brought Second Corinthians 5:9 (NIV) to my remembrance: "So we make it our goal to please Him." When we live our lives focused on pleasing God above everyone else, including ourselves, we will be delighting ourselves in the Lord, and He will keep His promise to give us the desires of our hearts. That doesn't mean that He will indulge every whim of ours, but that He will satisfy all of the desires in our hearts that are good and godly, and that will bring glory to Him.
Another Scripture about this subject is found in Psalm 145:19 (NIV): "He fulfills the desires of those who fear Him; He hears their cry and saves them." Here, God reveals that He is eager to fulfill the desires of those who hold a deep reverence for Him, and He will answer their prayers, and rescue them in times of trouble. The Passion Translation says it this way: "Every one of Your godly lovers receives even more than what they ask for. For You hear what their hearts really long for and You bring them Your saving strength." Hallelujah!
The Amplified Translation of Psalm 37:4 says: "Delight yourself also in the Lord, and He will give you the desires and secret petitions of your heart." There are desires in your heart right now that you don't even know are there. But God knows, because He put them there - and He will answer these "secret petitions" of yours as you live your life for Him!
Prayer: Lord, work in my heart so that I will always make it my goal in life to please You in all things. Fill me with a deep reverence for You, Your ways, and Your Word. Align my desires with Yours, so that they never conflict with Your plans and purposes for me. Thank You for hearing what my heart really longs for, and giving me even more than what I ask for!
-
J. M. Farro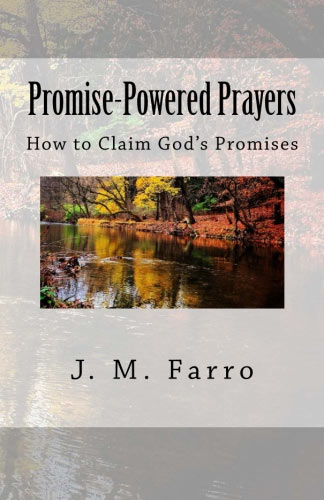 Promise-Powered Prayers Paperback Book

**To order J. M. Farro devotional books on ETSY.com using a credit card, PayPal, or Etsy gift card, Click Here. Books sold through ETSY can be signed and personalized by the author at your request. To place an order on Amazon.com, Click Here.
Full List of Devotionals
The devotionals aren't just limited to weekly! All previously featured devotionals are archived here for your convenience and easy access.
Click here
to view many more archived, Spirit-filled devotionals about everyday situations written by J.M. Farro!
Connect with J.M. Farro

*To place an order for J.M.Farro's books on Amazon.com,
Click Here
.
*Subscribe to
J.M. Farro
's FREE audio Podcast via
RSS
*
Follow
J. M. Farro on
Twitter
!
*Visit her
official website
at
JMFarro.com
!
*Send any questions or comments you may have to
J.M. Farro
via our
Contact Form
!