Peace is Protection
"A heart at peace gives life to the body, but envy rots the bones."
-
Proverbs 14:30 NIV
As I was going about my business the other day, the Lord spoke to my heart saying, "Peace is protection!" As I sought Him during my devotional time, He showed me some Scriptures to help me understand this principle.
Proverbs 14:30 (AMP) says: "A calm and undisturbed mind and heart are the life and health of the body, but envy, jealousy, and wrath are like rottenness of the bones." Suddenly, I understood what the Lord was trying to tell me. When we maintain "a calm and undisturbed" mindset as we face each day and all that it brings – when we avoid envy, jealousy, and wrath (anger) – we are ministering "life" and "health" to ourselves. And we are literally protecting our hearts, minds, and bodies.
As we look at other translations of this marvelous verse, we can glean more insight from it. The NLT version reads: "A peaceful heart leads to a healthy body; jealousy is like cancer in the bones." The Living Bible says: "A relaxed attitude lengthens life; jealousy rots it away." And the Message Bible says: "A sound mind makes for a robust body, but runaway emotions corrode the bones." Think for a moment what "runaway emotions" means. We are talking here about some of the most destructive emotions we can have, including anger, jealousy, envy, malice, spitefulness, and bitterness. While displaying these emotions can do others harm, they will mostly harm ourselves, and that's the main point that this Scripture is trying to make.
Jesus didn't die so that His followers could suffer the same fate that those who reject Him do. One reason He sacrificed Himself was so that we could enjoy the kind of peace that only the Prince of Peace can give. He said: "Peace I leave with you; My [perfect] peace I give to you; not as the world gives do I give to you. Do not let your heart be troubled, nor let it be afraid. [Let My perfect peace calm you in every circumstance and give you courage and strength for every challenge.]" (John 14:27 AMP) When we are facing dark and painful times, if we will allow the Savior's "perfect peace to calm [us]," and to give us the "courage and strength" we need for "every challenge," we will lay hold of the victories and rewards that He has in store for us. And we will experience the divine protection that only His peace can give!
Prayer: Lord, today I ask You to teach me how to resist "runaway emotions" and all of the destruction they can bring. Grant me "a calm and undisturbed mind and heart" that constantly ministers life and health to my body and every fiber of my being. Thank You that as I walk in the peace that You bought for me on Calvary, I will have the courage and strength I need for every challenge I face!
-
J. M. Farro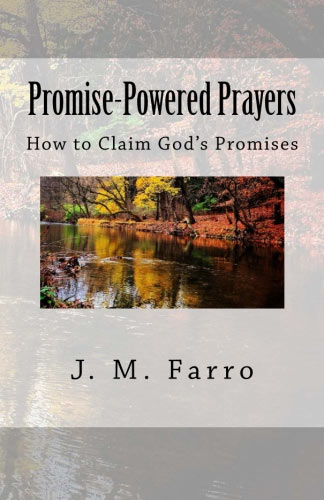 Promise-Powered Prayers Paperback Book

**To order J. M. Farro devotional books on ETSY.com using a credit card, PayPal, or Etsy gift card, Click Here. Books sold through ETSY can be signed and personalized by the author at your request. To place an order on Amazon.com, Click Here.
Full List of Devotionals
The devotionals aren't just limited to weekly! All previously featured devotionals are archived here for your convenience and easy access.
Click here
to view many more archived, Spirit-filled devotionals about everyday situations written by J.M. Farro!
Connect with J.M. Farro

*To place an order for J.M.Farro's books on Amazon.com,
Click Here
.
*Subscribe to
J.M. Farro
's FREE audio Podcast via
RSS
*
Follow
J. M. Farro on
Twitter
!
*Visit her
official website
at
JMFarro.com
!
*Send any questions or comments you may have to
J.M. Farro
via our
Contact Form
!