How to Help Change Your Nation
"Nevertheless, the righteous will hold to their ways, and those with clean hands will grow stronger."
-
Job 17:9 NIV
Some years ago, the Lord led me to the verse above, and He instructed me to pray that all of the righteous people in my nation would "hold to their ways," so that those of us with "clean hands" would "grow stronger" all the time. Then, we would see our land totally transformed for the glory of God. The Amplified translation says it this way: "Yet shall the righteous (those upright and in right standing with God) hold to their ways, and he who has clean hands shall grow stronger and stronger."
We get it wrong when we focus on the wicked too much, and expect them to change. We think that ungodly people are the key to healing our nations. But the truth is that we believers are the ones who have the responsibility to change and be transformed. You see this truth in the familiar Bible verse that says: "If My people, who are called by My name, will humble themselves and pray and seek My face and turn from their wicked ways, then I will hear from heaven, and I will forgive their sin and will heal their land." (2 Chronicles 7:14 NIV) Do you see where the onus is? It's on God's people to repent and change their ways.
One reason why countries like the United States are moving further away from God is that there aren't enough Christians holding to righteous ways. Too many of us are compromising our biblical convictions, and aligning our thoughts, words, and actions with the world, instead of the Word. Instead of standing out, we are blending in with our culture and society. It's hard to tell the Christians from the non-Christians a lot of the time. Is it any wonder that things are getting darker?
Scripture promises, "[The Lord] will even deliver the one [for whom you intercede] who is not innocent; yes, he will be delivered through the cleanness of your hands." (Job 22:30 AMP) When we are holding to righteous ways, we can intercede for the lost and wicked, and see many of them turn to God. Then, they will be a part of the solution, instead of a part of the problem in our societies. So let's be quick to confess our sins, and to ask the Lord to forgive and cleanse us. (1 John 1:9) And let's make serving God with wholehearted devotion our number one priority!
Prayer: Lord, please use me and my fellow followers of Christ to touch and transform our nation in mighty ways. Cause Your Holy Spirit to convict us of our sins, and make us quick to repent and leave our wrongdoing behind. Fill us with a holy boldness to speak for You in ways that will influence our culture and society for good. Thank You that as we hold to our righteous ways, You will make us mighty world-changers for Christ!
-
J. M. Farro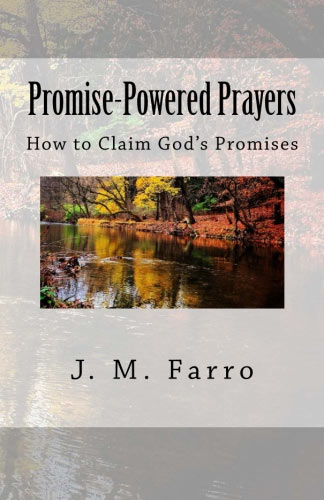 Promise-Powered Prayers Paperback Book

**To order J. M. Farro devotional books on ETSY.com using a credit card, PayPal, or Etsy gift card, Click Here. Books sold through ETSY can be signed and personalized by the author at your request. To place an order on Amazon.com, Click Here.
Full List of Devotionals
The devotionals aren't just limited to weekly! All previously featured devotionals are archived here for your convenience and easy access.
Click here
to view many more archived, Spirit-filled devotionals about everyday situations written by J.M. Farro!
Connect with J.M. Farro

*To place an order for J.M.Farro's books on Amazon.com,
Click Here
.
*Subscribe to
J.M. Farro
's FREE audio Podcast via
RSS
*
Follow
J. M. Farro on
Twitter
!
*Visit her
official website
at
JMFarro.com
!
*Send any questions or comments you may have to
J.M. Farro
via our
Contact Form
!