God Sees Your Future

"I am God, and there is none like Me. Only I can tell you the future before it even happens." - Isaiah 46:9-10 NLT


A lady that I know asked me for advice concerning a major decision that she needed to make. I have ministered to her many times over the years, but I wasn't sure that I was making any lasting impression on her. So when she told me that she was praying and asking the Lord for His guidance about this matter, I knew that the seeds that I had planted over the years had taken root.

This woman had been in business for herself for 30 years. She was currently renting her place of business, and she just got word from her landlord that she had to vacate the premises within the next two months. Should she look for another place to rent? Or should she go to work for someone else? I understood her quandary, because her decision was going to affect her, her husband, and her two children for years to come.

I told this lady that if she wanted God's best for her life, then she needed to tell Him that. I explained to her that while the Lord can see "the end from the beginning," we can't. (Isaiah 46:10 NASB) Compared to God, we are very shortsighted. I like to say that while God sees the "big picture" in every situation, we can only see a "snapshot." As we spoke, I could tell that this woman was terrified that she would make a mistake that she would regret for the rest of her life.

We can't make decisions for other people, but we can point them in the right direction. We can tell them that God created them with very unique and specific plans and purposes in mind, and that He will keep them on course as they seek His will for all of their decisions and circumstances. When I have a decision to make, I always think of God's declaration in Isaiah 46:9-10 (NLT): "I am God, and there is none like Me. Only I can tell you the future before it even happens." My husband, Joe, and I have been together for almost 45 years, and I know that he loves me dearly. But he can't see the future, so while I often ask him for his input when I have a choice to make, I still go to God first, and I allow the Lord to have the final say.

The Amplified translation of this verse says that God declares "the end and the RESULT from the beginning." There are consequences attached to every decision that you and I make. If we want the consequences to be positive, rather than negative, then we must consult the Lord - and follow His lead - in order to avoid getting the kind of results that we are going to regret later on. Do you want God's best for your life badly enough to consult Him in everything, and to submit to His will?

Prayer: Lord, forgive me for the times I've missed out on Your blessings because of my lack of faith. Guard me from the spiritual laziness and apathy that have the potential to rob me of the good plans You have for my life. Thank You that as I demonstrate my faith with persistence and determination, I will be richly rewarded, and You will be glorified!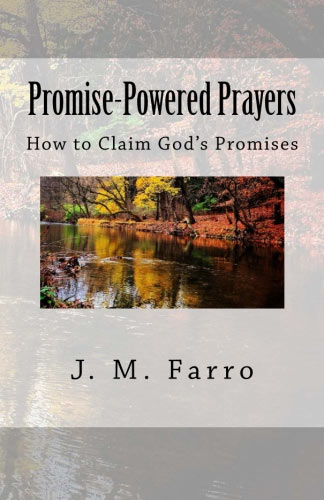 Promise-Powered Prayers Paperback Book

**To order J. M. Farro devotional books on ETSY.com using a credit card, PayPal, or Etsy gift card, Click Here. Books sold through ETSY can be signed and personalized by the author at your request. To place an order on Amazon.com, Click Here.

The devotionals aren't just limited to weekly! All previously featured devotionals are archived here for your convenience and easy access. Click here or the above title image to view many more archived, Spirit-filled devotionals about everyday situations written by J.M. Farro!
GET CONNECTED with J.M. FARRO!

*To place an order for J.M.Farro's boosk on Amazon.com, Click Here.
*Subscribe to J.M. Farro's FREE audio Podcast via RSS
*Follow J. M. Farro on Twitter!
*Visit her official website at JMFarro.com!

*Send any questions or comments you may have to J.M. Farro via our Contact Form!