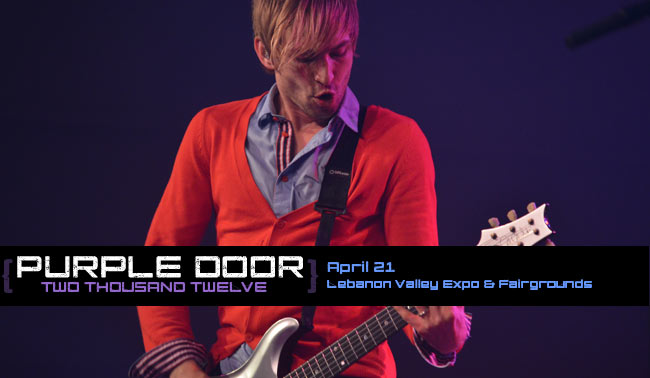 Purple Door Festival 2012
4/21/12, at Lebanon Fairgrounds in Lebanon, PA
When you think of Christian music festivals and the go-to parts of the U.S. for music festivals, even though it's been the home of Creation Festival since its inception, I wouldn't naturally select Pennsylvania as a festival hot spot. However, for years now, festivals like Creation East, Uprise (once known as "Vertical Fest") and Purple Door have really been some of the best festivals for Christian music. Out of the premium bunch, Purple Door has grown into what can probably be considered a mini-Cornerstone Festival (Illinois), which is known for focusing on harder and underground music. However, with the economy and ailing music industry causing that renowned festival to downsize, it's not surprising that Purple Door has had to rethink their format for 2012 as well.
Purple Door Festival began about seventeen years ago in Lancaster, PA as a one-day festival. It featured the hottest up and coming indie and underground talent, and that's something that hasn't changed as they've continued to feature some of the best in the biz each year. It eventually expanded to a two-day, one afternoon/evening and one full day, format but were forced to reduce the festival to one full day once again for 2012. On top of that, the festival has always been in August, but due to the late summer competition, the powers that be decided to move Purple Door to April. Also, the weather was problematic last August, causing the evening lineup to be moved indoors, so this is the first year that, except for the skate park, all of Purple Door Festival was held inside at the Lebanon Fairgrounds in Lebanon, PA.
The festival opened its gates at 10AM to concert goers eager to face the day's onslaught of heavy music. For those not into lots of hardcore/metal acts (like myself), there's still a handful of rock and even a little hip hop available as well. The inside setup was nice; the area that had been used for hospitality last year was home to the vendors and artist merch tables. We had a JFH table there again this year, and certainly appreciated the solid floor as opposed to the dirt floor outside in an open (but still covered) barn from last year. The only downside to maintaining a merch booth is having to split time between manning the table and watching shows. So please be warned that I wasn't able to catch quite as many shows as I would have liked to (even if it was to be just for a couple songs). Main Stage was in the big warehouse/gynasium where Main Stage had been moved to last year after the skies opened up. The secondary stage was moved to where the Relevant Stage was last year, which, this year, was the LBC (Lancaster Bible College) Insider Stage.
The multiple stage setup still poses the age old problem of overlapping set times, but it's something that you kind of have to suck up and accept in the festival setting. At 10:55am, As Hell Retreats served as a stiff cup of coffee to music fans over at the Main Stage, while indie experimental artist Allistair performed at 11:10am at LBC. Gideon took the stage at Main at 11:45, while Ocean Is Theory played at 11:55 at LBC. In The Midst Of Lions was on the docket to play the festival at 1:20pm at Main, but rumor has it that the band has split up, so local hardcore act My Heart To Fear substituted for them (Meanwhile, The Beggar Folk performed at 12:40 at LBC). I was able to catch a few minutes of their hard-hitting set, including their fan favorite "The Witching Hour." I then caught some of Sleeping Giant's intense set. Vocalist Thom Green is one of the most passionate frontmen I've seen in some time, and his authoritative and inspirational speaking between songs was both convicting and exciting. In stark contrast, the soulful hip hop/pop blend of former Gotee Records artist B.Reith started at 2:30pm at LBC. Reith's audience was certainly more modest than Sleeping Giant's, but he clearly attracted those who weren't quite up for the intensity of the other band. Brian performed entirely by himself, with the aid of some backup tracks, and took a few opportunities to bust out his acoustic guitar as well. While I was there, B. played "Two Steps Forward," from his new album How The Story Ends; "Go On," from his debut EP, The Forecast; "Next Move," another new track which included crowd participation; an acoustic rendition of "Not Who I Am" followed, and "Made for More" close behind. It was a good set, although his audience seemed a lot more lively when he last performed Purple Door two years ago.
At 3:15pm, Project 86 served as the "afternoon headliner." With a more modest crowd than most evening headliners get, the band's lead vocalist and chief songwriter Andrew Schwab emerged in the audience to perform their lead-off song, a brand new one from their forthcoming self-released new album, Wait for the Siren, "Fall Goliath Fall." It's a great crowd pleaser, although definitely a sound change for the band (it had a bit more of a theatrical feel--almost akin to Skillet--than P86 is accustomed to). I'm eager to hear what the recorded version might sound like. Schwab then took the stage for another new song (which only had a working title at the time), and then followed it with the intense fan favorite, "Spy Hunter." With a bit more production this time around than last year (actually, last year's was supposed to be outdoors, but was one of the sets that was moved inside due to rain), and a seemingly tighter band of players behind Schwab, it was easily one of Project's most passionate and engaging performances since Randy and Steve had departed the band several years ago. "The Butcher," from Picket Fence Cartel, was next, followed by the classic "Me Against Me" and Picket's "Destroyer." For the more pop-laced hard rock tune "Evil (A Chorus of Resistance)," Schwab asked the audience to lock arms and jump simultaneously, and then followed up the song with a heartfelt message imploring the audience to support the mission work of Mocha Club. To close, Project 86 offered up two more fan favorites, "Safe Haven" and the doozy of an anthem, "Sincerely, Ichabod."
Meanwhile, at 3:30pm, Sparrow's latest signing, Bellarive had taken the stage at LBC, but I missed it in favor of P86. Mike Mains and the Branches followed at 4:30pm, while the Main Stage was closed down for an hour or so. I'd hoped to catch the Branches for at least a few minutes since their show last year was pretty engaging, but they had just finished when I arrived at LBC. However, I was there in time for all of House of Heroes' 5:30 set at LBC. After we gave a brief plug on stage for JFH (and some sweet HOH prizes we were giving away that day), the foursome from Ohio opened with "Code Name: Raven" from their album The End is Not the End. This was the first time I was seeing the band since guitarist Jared Rigsby left and bassist Eric Newcomer moved over to guitar, allowing original bass player and songwriter A.J. Babcock to return. The foursome were still tight, and it was great to see them mix up their set well with old and new favorites. Suburba's "God Save The Foolish Kings" followed, along with "If," before vocalist Tim Skipper briefly mentioned their upcoming new album, Cold Hard Want. And with that, they launched into (what might be my favorite track from the album) the lead-off track, "Out My Way." Another new rocker followed, "Remember The Empire," before the slower "So Far Away" from Suburba and the oldie "Serial Sleepers," from their self-titled album. The debut single from Cold Hard Want, "Touch This Light," was a welcomed set addition, and then the Suburba hit "Elevator" followed, along with one final new one, "Suspect," before they closed with one of their most recognizable songs, "In The Valley of the Dying Sun." Actually, it was just before HOH's set that a torrential downpour slammed into Lebanon Fairgrounds--at about the exact time as the year before, too. It just confirmed how wise the decision was to move the festivities inside for 2012.
Unfortunately, House of Heroes' set overlapped with Abandon Kansas's 6pm set at Main Stage. I made it over there just as they were beginning the stellar "Give and Take," which they merged into "Jesus Paid It All." Vocalist Jeremy Spring shed his signature glasses and was getting lost in the poignant lyrics of the song and the worship that followed. I wish I could have caught more of their set, but I had to leave soon after they began another great song, "Heaven Come My Way." House of Heroes' set had signified the end of the LBC Stage events, leaving Main Stage to be the only place for happenings from about 6:30 - on. After Abandon Kansas played, For Today's vocalist Mattie Montgomery offered up a talk as the evening's event speaker, and was followed by local act The Disciples, from Teen Challenge. I opted to spend some time at the table and relieve some of our other team members, so I only got a few minutes to briefly check out For Today's blistering set at 8:30pm. But to close the evening was one of my all-time favorite live shows, Family Force 5, so I was able to tear myself away from the table for the duration of their set.
When I walked into the building that housed the Main Stage, Family Force 5 was well into their lead-off song, "Can You Feel It," the arena anthem that kicks off their latest album, III. While a couple of the guys had a collegiate look going with sweaters and slacks (or dress shorts, in Derek's case), the Olds brothers seemed to have their own independent stage clothing attire, which is pretty unusual for a band who usually have a theme of some form on stage. However, the guys were in the thick of a spring acoustic tour and this festival date was a rare chance for them to plug-in and perform their usual raucous show. The silly dance song "Wobble" was up next, followed by a few party classics, "Put Your Hands Up" and "Supersonic," from their debut album, Business Up Front, Party In The Back. Another new one, "Paycheck," followed, and then "Radiator" and "Dance or Die" from their sophomore album, Dance or Die. At this point, the guys pulled up some stools and whipped out the acoustic instruments for a short unplugged set. They began with the love song Solomon penned for his wife, "You Got It," and proceeded to play another new one, "Mamacita," and then concluded the acoustic set with "Cadillac Phunque." It gave the guys a nice break from the mayhem, which they resumed with reckless abandon for almost another full-length set's worth of songs. "Kountry Gentlemen," "Get On Outta Here," "Fever," "Drama Queen," "Get Your Back Off The Wall," "Earthquake" and "Love Addict" all followed suit before the end of their set. Each song included classic live show moments -- like Soli's custom Hulk gloves for "Love Addict" and Jacob's dancing while standing on his seat behind the drum kit during "Earthquake." They left the stage after "Addict" and returned with Solomon completely encased in a plastic bubble for "Ghostride The Whip." He rode the "hamster ball" into the crowd where it was surfed across the top of the audience as he sang the song, getting tossed around in the process. Although it wasn't the biggest crowd to get the full effect out of the ball, it was undoubtedly a highlight of the night.
With the conclusion of FF5's set came the conclusion of Purple Door Fest 2012. While things may have seemed truncated and lessened this year, the passion and heart of Purple Door wasn't. It's still a great and affordable day of music and well worth checking out. Visit www.purpledoor.com for more info and for details on 2013's event as they become known!
--
John DiBiase
, 5/10/12
Purple Door 2012 Photo Gallery
click on an image for a bigger size
**vertical images cropped for thumbnails**
My Heart To Fear: 1:20pm Main Stage
Sleeping Giant: 2:15pm Main Stage
B.Reith: 2:30pm LBC Insider Stage
Project 86: 3:30pm Main Stage
House Of Heroes: 5:30pm LBC Insider Stage
Abandon Kansas: 6:00pm Main Stage
For Today: 8:30pm Main Stage
Family Force 5: 9:50pm Main Stage
*all photos by John DiBiase and are the property of Jesusfreakhideout.com