It's a sad day when you see a band call it quits. Contrariwise, the day that you hear that a member of said precious band decides to embark on a new journey, is quite exciting. Such is the case with Carter Frodge from, the now disbanded, Everyday Sunday. His new venture as
Life of Carter
is one that may get fans of Everyday Sunday's latter days pumped for some high caliber music with this fantastic self-titled EP.
Opening the album is the upbeat synth-led anthem "All We Need." Instrumentally, it is beautifully polished and full of energy, with a sound that resembles a hybrid of Postal Service and the industrial sound that permeated Skillet's Invincible. However, the track is pure pop and could easily sound like something filling airwaves of mainstream radio. "Brand New" introduces listeners to a more "God focused" track as it focuses on the transforming power in the heart of a believer once their life is surrendered to the Lord. It would be easy to actually imagine this song being used in many student ministries around the country. "We're The Colors" continues that high energy pop with a more artistic thread, as Carter sings about the unifying bond that those made in the image of God share while not coming from a similar background. It's a gentle handling of serious content that needs to be addressed on a daily basis.
Offering something in a completely different direction for listeners are the relationship based "Without Warning" and "I Think I'm Afraid." Both tracks feature such gripping catchiness, while not being overly mature in content, they are enjoyable easy-listening tracks. "Without Warning" focuses on the intense emotions that accompany the process of falling in love with someone, which for many listeners is relatable, albeit a little silly. The latter track deals with the tug-of-war that comes with commitment, making these two tracks an excellent pair for any young person in the throes of a budding romantic relationship.
Overall, Life of Carter provides a venture that is easy to get excited about. As this is only a short snippet of a debut, it will leave listeners wanting more. I'm interested to see how the band's music will evolve and the lyrical depth that will develop over time. If this is just an introduction, it will be easy to become a fan with future releases. Well done, Life of Carter!
- Review date: 1/14/18, written by
Ryan Barbee
of Jesusfreakhideout.com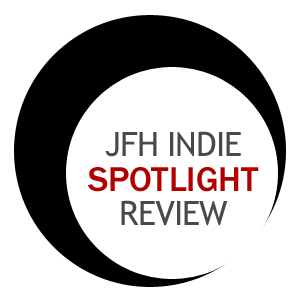 Record Label:
Mosaic Rain Records

Album length:
1 track: 3 minutes, 31 seconds

Street Date:
October 19, 2017

Buy It:
iTunes

Buy It:
AmazonMP3
All We Need (3:58)
Brand New (3:37)
We're the Colors (2:59)
Without Warning (3:43)
I Think I'm Afraid (3:14)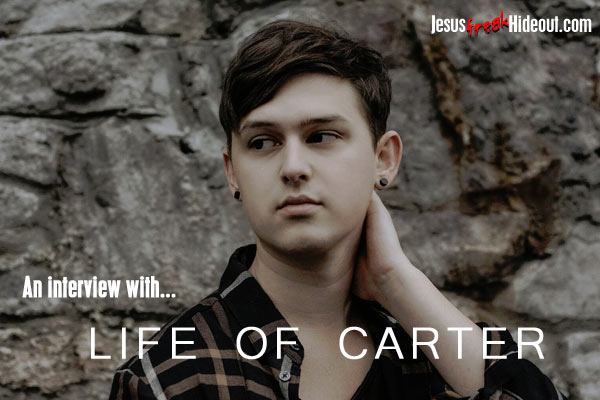 Jesus Freak Hideout (Ryan Barbee): Dude! Well done!!! What's the story behind the new venture as Life of Carter?
Carter Frodge: Great question! So, I had started my career in a band called Everyday Sunday from Columbus Ohio. I got to tour all over the world with the band and play in nearly every state. It truly was a very exciting start to my career, but as time went on, I started to feel the calling to pursue something new. Something that I believed could have a bigger impact than just playing guitar in a band. That being said, I decided to part ways with the band and start a project called Life of Carter. This was no easy venture! Due to leaving the band, I had no way of making money, so I picked up a job as a night janitor. I was scrubbing toilets at night, and writing songs during the day. While all this was happening, God started to give me a clear vision of what this music project is supposed to do. As Life of Carter, I desire to bring hope to the hopeless, inspire those who are not, and let every single person know that Jesus is the answer to your problem. I want to make the best art I can possibly make, but more than that, I want people to know how freaking important they are, because they are a child of God.
JFH (Ryan): Now this may get personal but what's the background of "Without Warning" and "I Think I'm Afraid"? They both cover those trying emotions of a relationship, so… what's it all about?
Carter: I was the guy that really wanted to stay single in his early 20s. I wanted to only focus on my career and ministry and didn't desire to have any girl distract me from that. But as we all know, life doesn't always pan out to what we "plan".

"Without Warning" is about me meeting a girl named Sydney from Indiana. I met her at a show I was playing, and I remember thinking, great, I'm 100% going to date this girl. It was amazing. Sometimes love comes when we don't expect it at all, but I think that's when its the most special.

"I Think I'm Afraid" is probably the most personal song I have ever written… Although love is fun, beautiful, and deeply meaningful, it also comes with some unexpected hardships. When I wrote the song, I was in a place of true insecurity. Love was scaring me. I thought about what could go wrong, if I would mess up, and if I could truly be someone's "forever".
JFH (Ryan): With bands like One Republic changing the music scene, releasing music spontaneously on their own schedule, are there any plans for more Life of Carter music in 2018?
Carter: YES. I have so much music in the works for 2018, as well as some new content that I am so excited to share.
JFH (Ryan): If we were to check out your recently played artists on your Spotify/Apple Music account right now, who and what would we find?
Carter: I really love the new Maroon 5 record, but I'm on the verge of overplaying it haha. I think some of the songs off the new TS record are incredible! That album got a lot of flack, but it's really good. I also listen to Hillsong United a ton, especially in the mornings.
JFH (Ryan): I grew up in the 90's, so the album artwork is a total throwback for me. What's the inspiration behind it?
Carter: I do a lot of connecting on Instagram with other artists, and there is this amazingly talented dude in Spain named Sergi Rodriguez! I asked him to create something spacey and one of a kind. I wanted it to be bold and obvious that it's my cover art. It was less about a meaning, more about getting people to notice it :)
JFH (Ryan): If you guys could go on tour with anyone, and I mean ANYONE, at this very moment, who would it be with and why?
Carter: Twenty One Pilots would be insane. Besides the fact that I'm a fan of them as artists and as people, I really love the whole cult following behind what they have built.