Progressive rocker Scott Miller, AKA
Pilgrimsprog
, has released another collection of inspired songs. With this project the theme is entirley based on the Christian life and the fear of death, thus the aptly titled,
Do You Have Thanatophobia?
Those who are familiar with Miller's previous release,
Pilgrimsprog
, will know to expect his straightforwardness and very eclectic sound. Musically, it combines different genres, from 80's metal to grunge to adult contemporary. Vocally, Miller's voice is clear and leans more toward adult contemporary, so the music doesn't always match perfectly with his voice, but what Miller may lack in an aggressive voice is made up for with the tone of the music. "Thanatophobia" features dueling guitars that is reminiscent of Stryper. "Detour" and "Ceiling of Brass" show a softer and almost Bob Dylan-esque sound for Pilgrimsprog. This sound actually fits Miller's vocals very well and complements his straightforward lyrics. A major highlight on the album is the percussion; songs like "Pray" and "Forgive" really showcase the clarity of the drums. Like Pilgrimsprog's previous album, it is a hodgepodge of musical styles but there is most definitely a sign of growth; fans of progressive classic rock might really enjoy this sound and enjoy the honest message of the band. I wouldn't be surprised if we hear from Pilgrimsprog again soon. - Review date: 7/16/14, written by
Ryan Barbee
of Jesusfreakhideout.com

Record Label:
None

Album length:
11 tracks

Street Date:
September 20, 2013

Buy It:
iTunes
Galatians 5 (2:50)
Scandal (3:13)
Thanatophobia (3:33)
Pray (4:53)
Detour (2:48)
Ceiling of Brass (Acoustic) (3:31)
Faith Hope Love (4:43)
Forgive (3:58)
Scandal (Acoustic) (3:14)
Thanatophobia (Acoustic) (4:20)
Beautiful (Acoustic) (2:55)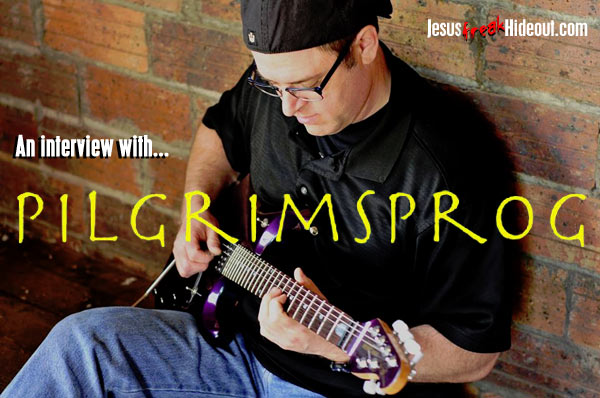 Jesus freak Hideout (Ryan Barbee): Why the title "Do You Have Thanatophobia?"
Scott Miller: Thanatophobia is the irrational fear of death. In one week in Spring 2011, I heard/read several stories about people obsessed with the fear of death, including one elderly lady who had her dead twin sister and her dead husband exhumed. She laid them out in the living room and took care of the bodies each day. Because she was not a Christian and she had no hope.

The album was going to just be called "Thanatophobia," but I stumbled on the eyeball stock photo for the CD and a question sounded more interactive/challenging.
JFH (Ryan): What song had the most effect on you as a songwriter?
Scott: "Scandal". This idea came from D.A. Carson's book "Scandalous" and 1 Cor 1:23: "but we preach Christ crucified: a stumbling block to Jews and foolishness to Gentiles," (NIV). The word for "stumbling block" in Greek is "skandalon," meaning it was scandalous teaching. Yet, we don't act like it is scandalous teaching.

I had several Christians get very upset with this song, thinking that I was calling the Gospel a scandal, like I was agreeing with the unbelievers. But my pastor had taught about that subject just last year and approved of the message.

I play this song as the last song of the live set - "now you have heard it, you must decide, what will you do with this one who's called Christ?"
JFH (Ryan): There seem to be some slight style differences on this album. Any particular inspiration behind it?
Scott: Content/topic inspiration comes from what I am reading about/thinking about at any given time (examples Thanatophobia and Scandal explanations above). "Pray" came as a reminder to myself to pray more. "Forgive" started as a prog song about writer's block (never write a song about writer's block). After a year of writer's block, I changed the topic to forgiveness. Incidentally, "Forgive" is now one of the most popular from the album and gets played on radio the most often. On 3R-Radio, it is currently at 5 weeks in the top 20 countdown, and currently at #2.

My musical inspirations are Dream Theater and Rush. The Thanatophobia album is less prog and has less organ than the first Pilgrimsprog album, but still has alot of prog nuance. One reviewer called it "accessible prog". I was shooting for songs that I could play in a band or live.
JFH (Ryan): Are there any future plans for later releases? If so, what theme are you hoping to take on?
Scott: I am currently working on a new release, "Here I Am", which will be released in Fall 2014. The first single - "On That Day" was just released, and is on Amazon and iTunes. It is along the same vein as the Thanatophobia album, but some say it is heavier.

The new album will be a nice mixture of rock songs, like "On That Day," and prog songs with organ, synth, etc. It will have two prog epics. One of the epics is called "Chronicles of Job" and will be multiple parts dealing with Theodicy and why bad things happen to good people, or at least people who have not seemingly done anything to overtly deserve it.
JFH (Ryan): What phobia, if any, do you have?
Scott: Being unemployed. Music is my passion on the side, but not my main gig. :)
JFH (Ryan): What has God been teaching you lately?
Scott: I am reading the book of Job. I bought a ESV Reader's Bible, which is more in book format, suppresses some of the verse numbers, instead showing a range of verse numbers at the top. It is a good format for reading Job. One remarkable thing about Job is that he asks "who will defend me" with God, like he is on trial. It is remarkable in Job 19 that he says (v. 25) "I know that my redeemer lives, and that in the end he will stand on the earth."

This book/topic appeals to me, because I have had some recent uncertainty in my job. And I am becoming more aware of God's Grace because of it.

Thanks for the opportunity to interview with you, Ryan! Thanks for the thoughtful questions.