The beauty of art is how it can be communicated in multiple styles and formats - transcending language, culture and stereotypes. Storytelling through music is an excellent example of this multifaceted expression of art; albeit an ambitious endeavor. Joining in the depths of artful expression is indie artist
Andrew McLeod
with his introspective narrative,
Stargazer
. The image of a sea voyager exploring the depths of his soul is the overarching theme, seeking hope in the midst of depravity. "Dark Waters," "Lifeboat" and "Journey's End" really showcase the nautical imagery, acknowledging the tumultuous condition of the artist's humanity and pleading for God's help. Musically, these tracks are complemented with aggressive instrumentation and some gut-splitting screams. Contrasting those aggressive tracks are the elegant piano driven "Resuscitate Me" and "Stargazer." They are the most hopeful, as these songs clearly look at Christ's sufficiency despite our fallen state, but also are some of his stronger songs. Furthermore, with these more emotional ballads, they display McLeod's gift for finding catchy hooks and melodies that grip heartstrings. "The Shore" is a clear conclusion of this chapter in Andrew McLeod's story as it is a soft, yet clear, reminder of God's presence during suffering. Overall, McLeod's effort is deeply sincere and endearing to those looking for a new artist to follow. The music is quite special without being chained to any particular genre; it's given to a theatrical bent without sounding overdone or obnoxious. Lyrically and melodically the album feels young, but not immature whatsoever. It's very reflective - melancholy yet hopeful - and carries a large aspect of wonder. The only thing the album suffers from is semi-low quality production (producer, mixing and mastering) and a few moments where the vocals could be stronger. Nevertheless, there are many signed acts that couldn't produce an album with this much heart or artistry in it. Listeners should take note of Andrew McLeod and we should be interested to see where this artist could go in the future. Until then, give this album a shot; you may be pleasantly surprised. - Review date: 4/30/17, written by
Ryan Barbee
of Jesusfreakhideout.com

Record Label:
None

Album length:
11 tracks

Street Date:
March 24, 2017

Buy It:
iTunes
Capsize Pt. II (5:53)
Dark Waters (feat. Samuel Hayes) (3:36)
Lifeboat (4:26)
Debris (feat. Colin MacDonald) (3:36)
Resuscitate Me (4:51)
Sunset (1:04)
Stargazer (feat. Abbie McLeod) (3:22)
Nightmare (feat. Ben Grube) (4:00)
Journey's End (feat. White Chocolate) (4:06)
Restore (4:09)
The Shore (feat. Judah Sargent) (3:58)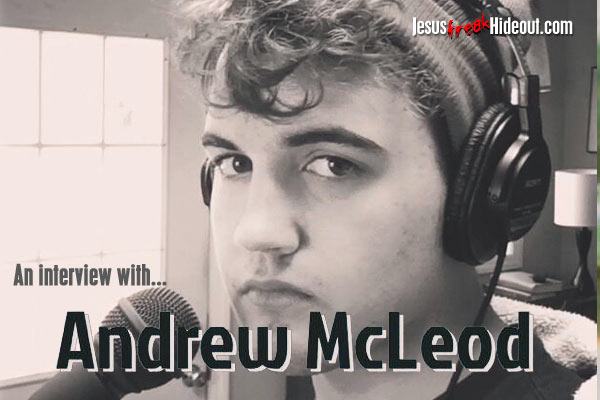 Jesus Freak Hideout (Ryan Barbee): First off, well done with Stargazer! It sounds like there's a lot of backstory; can you share a little bit of the inspiration behind the album?
Andrew McLeod: Hey, thanks for taking the time to do this interview. It means a lot to me. So Stargazer is an album that is a direct follow up to my debut album, Path of Wounds. Both albums are tools that I used to express my frustrations, my questions, my interpretations of relationships, and how I personally dealt with these things. Stargazer is an album less focused on the how I got myself into all the troubles described in my debut release, and more on how I got out. Sometime after the Path of Wounds was released, I noticed that many people were wondering if there was ever an end to all of those trials. Many people said that they loved my music, but it made them feel sad because it was never resolved and that is when the idea of Stargazer was born! The truth is I am past most of those issues and so it seemed that Path of Wounds was a misrepresentation of who I am today. The last song on that record was called "Capsize" and I decided to finish the story which that song started. So this album tells the story of how my ship sank to the bottom of the ocean, how hopeless it seemed, but how God was sovereign and in control of the everything. Then it shows how God rescued me and brought me back to the safety or "The Shore."
JFH (Ryan): I saw that you started playing piano at 6 years old. That's awesome! What else do you play on the album?
Andrew: Piano has been my primary instrument for most of my life but over the past few years I have picked up the guitar, bass, and drums. On this album, I played the piano and synths, as well as the drums and bass. My brother, Josh, played all of the guitars. It was cool to do it that way because he and I were able to come up with more ideas for the guitar parts and it made the record more interesting.
JFH (Ryan): What is your favorite track on the album and what is the story behind it?
Andrew: To me the whole album feels like one epic song. But, if I had to choose a favorite track, it would be the title track, "Stargazer." This song sits in the track listing at a turning point in the album where I start to see how God was with me through it all. This song is probably the most worshipful song that I have written as it tells about how majestic and mysterious God truly is. When I wrote it, I was just in awe of how small and insignificant I am compared to Gods majesty and yet he chose to love me and save me from myself. It was also really fun to feature my sister on this track.
JFH (Ryan): With summer on the horizon do you have any plans to do a tour or play local gigs to showcase your work?
Andrew: Yeah, actually. I am playing a local show in May! I hope to play several local gigs before school starts back up. It will be interesting to see how we could pull that off, but I trust God to provide the means to play some shows this summer if that is his will.
JFH (Ryan): What do you hope to accomplish with your music? Both today and in the future.
Andrew: I hope to bring this music to more people. I plan to have a career in the music industry. As of right now, I am not quite sure whether that will be playing in a band, or being an audio engineer. I'm still trying to decide these things but I trust God to show me what he would have me do.
JFH (Ryan): Sometimes I end my reviews with just a fun unusual question… so here goes… if you had the option of having Stargazer become a series of novels or a feature film what would you choose? And no… you cannot choose both. ;)
Andrew: Wow! That is a great question. Though a film would be awesome, I would have to go with a series of novels. I have always wanted to be an author. I love to convey stories whether through music or poetry or just writing out ideas. I think Stargazer could make for a thrilling book series.