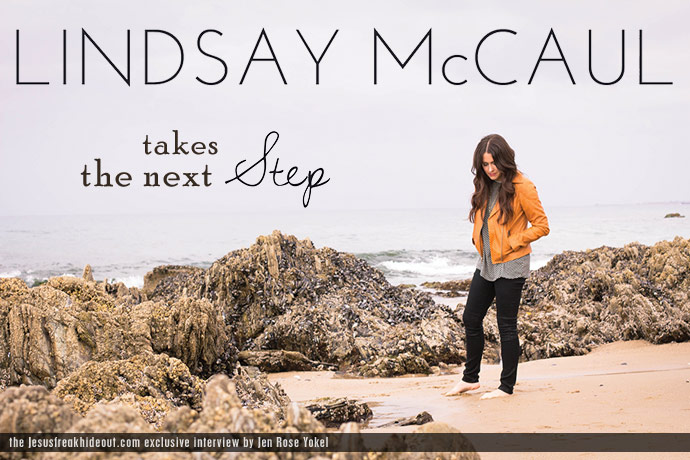 It's been a challenging two years since singer/songwriter Lindsay McCaul's national label debut. But with a new label home in Centricity Music, McCaul is back with a new studio album, titled
One More Step
, and a new outlook on life and he spiritual walk. JFH's own Jen Rose Yokel caught up with Lindsay to discuss the past two years and what's ahead...
This interview took place on: 7/25/14.
JFH (Jen Rose Yokel): Well, how've you been? We did this interview thing a couple years ago!
Lindsay McCaul: I know! It's been crazy! I've been good. I was writing a lot right after my last album came out, and I wrote probably 70+ songs for this album, trying to get the right songs and the right feel and the right collection. So right after my last album came out in 2012, my dad passed away less than a month later.
JFH (Jen): I do remember when that happened.
Lindsay: Yeah, so it's just been a learning experience and... gosh, a lot has happened. I moved from Chicago to Nashville, I switched record labels, I came on staff at my church here in Nashville as a worship leader... so there's just been a lot of things that have happened. My brother-in-law passed away, so it's been a crazy year. But it's really cool to see God be really faithful through that, and just be close.

There's a song on my new album called "With the Brokenhearted," which is based off of Psalm 34:18, one of my favorite verses. It says, "The Lord is near to the brokenhearted." Brokenhearted people, when they're in the middle of it... most of the time they don't feel like God is close. They feel like He's far. They feel like God has forgotten them, and He's not watching or He doesn't care or whatever, but I love that God specifically put that in the Bible so we can read that and know even when it feels like He's the farthest, He is close to us. He is here and near. Romans 8:28 says, "He works all things together for good for those who love Him and are called according to His purpose." So that has been a really amazing faith booster to sense His presence close and see Him working things for good, even if it's difficult things. So it's... been a crazy couple years. *laugh*
JFH (Jen): Wow, so a lot has happened in a couple years, huh?
Lindsay: Yeah, it's been crazy. Crazy but good.
JFH (Jen): When did you move? I didn't realize that you weren't in Chicago anymore.
Lindsay: Yeah we moved like literally... I think it was... the end of May in 2012. So we just kind of realized all the tours I was on were based out of Nashville, so it felt like God was calling us down to Nashville and it was the right timing, so we moved down here.
JFH (Jen): You'd been in Chicago since college, right?
Lindsay: Yes, I'd been there since Moody, so I think I lived there 11 years total. It was a lot, yeah.
JFH (Jen): Any interesting experiences or challenges involved with moving so soon after releasing the album and everything?
Lindsay: You know, it felt like a natural transition, because I'd already been coming down to Nashville a couple years to work with my record label and for tours and that kind of stuff, so I really had a great community here already just from visiting so often. I'd come down a couple times a month from Chicago, so it was actually pretty easy. It was probably the easiest change over those two years. I had a lot of friends here, and I'd already been attending the church where I'm on staff now as a worship leader, so it was really cool to see people come around us and make us feel welcome. We love our little house. It's great!
JFH (Jen): It's nice too that you don't have to keep leaving your husband every couple weeks and running back and forth!
Lindsay: Seriouslyyyyy.... that was the hardest thing about still living in Chicago. He was up there sometimes, and I'd have to be out on tour. Since we moved down to Nashville, he's been able to come out on tour with me every once in a while, and when I come home from tour on my days off, he's here. We're at home. It's been really awesome.
JFH (Jen): So you wrote, like, 70 songs after your last album. Can you tell me about the process of creating the new one, One More Step? Did you have a concept in mind of what you wanted it to be?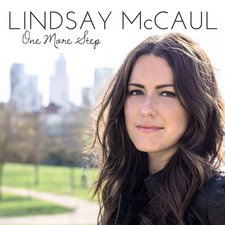 Lindsay: I didn't when I first started. I wrote so many songs for this album... I just wrote and wrote and wrote. But it was really cool how as we were picking the songs for the album, it felt like this theme kind of emerged of really trusting God today. Like, the day he's prepared for us. Life is a race, yes. It's a marathon. But also sometimes we just need to be focused on the next step we're taking in faith with the Lord and just trusting Him with today. And focusing on where we are and not trying to get ahead of ourselves.

I learned a million things from seeing my dad go to be with the Lord, but one of the things that was really powerful in my life was realizing that none of us have tomorrow. I was sitting on the hospital bed with my dad in the last couple weeks of his life, and I said, "Gosh, Dad. You're looking back on a lifetime lived. What have you learned? What wisdom do you have?" And he said something that I will never forget. He said, "Everybody knows they're dying, but nobody thinks they're dying." It just really reminded me of the verse Psalm 90:12: "Teach us to number our days that we may gain a heart of wisdom." So what does that look like? What does it look like to number our days? I think it means recognizing that God says don't worry about tomorrow. Tomorrow has enough trouble in it, so don't worry about that. Focus on today. My grace is sufficient for today, my mercies are new every morning. He's prepared today for us.

Not a single person on earth knows that they have tomorrow guaranteed. Anything could happen to any one of us at any moment. But God is here today, and we have Jesus, and that's the hope that we can hold on to is His presence in our life and living our lives for Him. And what has He set before us today? Who are we interacting with in this moment? Is it the woman at the grocery store who needs some encouragement, or our kids, or whatever it is God has put in front of us? Sometimes our ordinary lives can seem so unglamorous when we think about ministry, what is that like? Is it being on a stage? All these things that we sometimes equate with ministry, especially like in our celebrity obsessed culture.

But what is real ministry? It's doing what Jesus did with the people He encountered on the road somewhere. There are a lot of stories that say Jesus was on the road to Bethlehem and He encountered a leper, or He was on the road to Jerusalem and He encountered a blind man. I think a lot of people thought His real ministry was coming up in the towns he was heading toward, but Jesus knew that His real ministry was the people He was encountering on the way, like the woman who touched the hem of His garment. People thought that was unexpected, but Jesus knew that was going to happen.

So I've just been trying to focus on what God has for me here, in this moment, and what is He teaching me today, and how can I serve Him today and be His arms and hands and feet in this moment that He has entrusted to me. So a lot of the songs on the album emerged from that, and it was really cool to see that come out in my final time with my dad. There's a song called "The In Between" about being content where I am now and trusting what God is doing and that He is sanctifying me -- He has sanctified and is sanctifying me -- and changing me to be more like Jesus. A lot of songs have that theme running through them.
JFH (Jen): It was definitely very noticeable on "One More Step"... that song really stood out to me. Would you mind sharing more about that one?
Lindsay: It was probably the song on the album that is closest to my heart. It's about my dad and I was a little nervous leading up to writing it. I didn't know if I was gonna write a song about my dad because I was wondering what if I don't do it justice, putting our relationship in a song, or what if I don't like this? What if it doesn't say what I want it to say?

When the time came, I was writing with a guy named Jeff Pardo who produced a large chunk of my album. He's a great writer, and he said, "Y'know, I think we should write something about your dad." And I just felt peaceful about it, so we started writing and made it a personal story song. It was about the different seasons I went through with my dad and realizing that time and our relationships here on earth are so precious. God has us here to sharpen one another and point us to Jesus.

It's funny... I wasn't sure if people would connect with that song because it's so personal to me and my story and my dad's story, but it's been really really cool to see God use that while I was out on the "Brandisa Tour" with Brandon Heath and Mandisa last spring. It was really cool to see people who had maybe lost a parent connect with it, or people realizing they needed to mend some relationships because they realized none of us know how long we have. It's been really humbling and awesome to see God work through that song in a way I didn't expect.
JFH (Jen): It's a really personal song, but it's really relatable too.
Lindsay: I hope so...
JFH (Jen): I know I was listening and -- of course, second verse was about your wedding and I just got married, so.... that was emotional.
Lindsay: Awww! *laugh* It's funny. I haven't written any love songs for my husband, and when he heard that one he was like, "I finally made it into a song!" *laugh* I'm glad you like that song.
JFH (Jen): I think sometimes going personal might feel a little self-indulgent, but I think that's where the truest songs come from. So... yeah, I like it. Do you have any other favorites or particularly meaningful songs on the album?
Lindsay: I love "With the Brokenhearted"... it's close to my heart as well. That verse has meant so much to me while I was seeing my dad go to be with the Lord, and my brother-in-law as well earlier this year. Right when we were recording that song, he passed away, so it's been kind of a testimony song for our family. God has been really close to us and good to us still, even through pain and hurt. He is using all things together for good like he promises, and it's really cool to see that.

My other favorite songs... I love "The In Between" because it feels like a journal entry to me. I mean all of my songs do, but I feel like that one especially does. I was reading through Philippians 1:6: "He who has done a good work in you will be able to complete it" -- and, man... I can look back on my life and see how God has been so faithful in so much of my life, but sometimes there are moments where I'm like, "ugh! I feel like I'm not learning anything! Why am I so thick-headed! *laugh* There are all these things You're trying to show me and I feel so far away from where You want me to be." That verse was just really comforting to me, like God saying, "I know where you are." Another one of my favorites is Psalm 103:13-14, and it says, "As the father has compassion toward his children, so the Lord has compassion toward us. He knows our frame and remembers we are dust." I love those verses because it feels like God saying, "I made you out of dust. You're finite human beings, and I love you and use the things around you to shape your heart today, in this moment. I'll have you in 20 years on the beautiful journey of knowing Jesus and following Him." So that song is close to me, close to my heart. They all are. They're all like my little kids to me. *laugh*

"Mess Like Me" kind of goes along with "The In Between," saying, "Lord, I fall so much, and I'm so human, but God loves us in our messes and our struggles to surrender our will and follow Him." So... they're all close to my heart...
JFH (Jen): Well that's understandable. *laugh* So what are you gonna do with all those other songs now? You've got like... sixty something?
Lindsay: I know, I know... my manager was like "we are not in the business of seventy songs on an album."
JFH (Jen): That's probably quite a process too, narrowing it down...
Lindsay: Yeah that is so hard. I just really had to trust the team God has put around me and know that they are really wise people. We'd bring it up a lot and we were like, "Okay, we're just going to pick our favorites." It's just a big process.
JFH (Jen): You've got good people behind you... I was kind of happy to see that you signed with Centricity.
Lindsay: Thanks! I know, I love them! They're so awesome and it kind of feels like a big family, so everybody is great. It's been a really awesome new partnership with them. They're just wonderful. John Mays, my A&R, is like, one of the wisest, godliest men I know. Even when I was at my former label, he was always championing me and encouraging me to keep writing and press on. It's been really awesome to be on the same team. I'm really blessed to be there.
JFH (Jen): And now you're going to tour with your labelmates?
Lindsay: Yes, I have a fall tour with Jason Gray and Unspoken and Carrollton, and I'm soooo excited! I've been such a fan of Jason's music for a long time, and I'm just getting to know the Unspoken guys and the Carrollton guys and they are both like phenomenal bands. Live, they're such incredible performers, so I'm like... this is gonna be such a fun tour. Not only are they amazing artists but they're really, really great people too. So I'm so excited about that.
JFH (Jen): That's cool! When does that tour start?
Lindsay: Um, late September. I think it's the last week of September and it goes into November a little bit. We'll be coming to the East coast and a little bit of the Midwest, I think.
JFH (Jen): I think... there was something else. Oh yeah, do you still collect hoodies? *laugh*
Lindsay: Oh my gosh YES. I do. Most definitely. *laugh* My husband had to put me on a hoodie freeze for the past couple months.
JFH (Jen): NO! *laugh*
Lindsay: And then we were somewhere in a store, and there was this hoodie that was the cutest thing ever and on sale. So he was like "ooooookayyyyyy..." And I was like "YES! My hoodie freeze has lifted!" *laugh*
JFH (Jen): See, now that I live up north, I'm probably going to develop the same habit. Our honeymoon was in Maine and I totally bought a hoodie there. I'm gonna need these!
Lindsay: Yes, you are!
JFH (Jen): I will never amass quite the collection you have though.
Lindsay: I do have a lot, yes.
JFH (Jen): Unless your husband made you get rid of some. *laugh*
Lindsay: No! I've probably given like... two away recently, but out of my vast collection it's barely a dent. I just love them! They're the best. You're gonna love hoodies. I love that you remembered that.
JFH (Jen): Well, while we're on the subject, do you have any advice for me? You know, someone else that moved from Florida to the North...
Lindsay: Ohhh, um... get lots of hoodies. Also, get an ice scraper for your car and a blanket for your trunk, 'cause you just never know. One time the heat went out in my car, and I was soooo glad someone had told me to put a blanket in my trunk. I covered my little self up and I drove home in the fa-REEZING Chicago winter with no heat.
JFH (Jen): *laugh* Oh, that's why my husband has a blanket in his trunk. And he has a massive ice scraper with a brush thing on it.
Lindsay: Yes! Smart guy. You're ready. You're gonna love it. And it'll make you like Florida that much better when you go visit.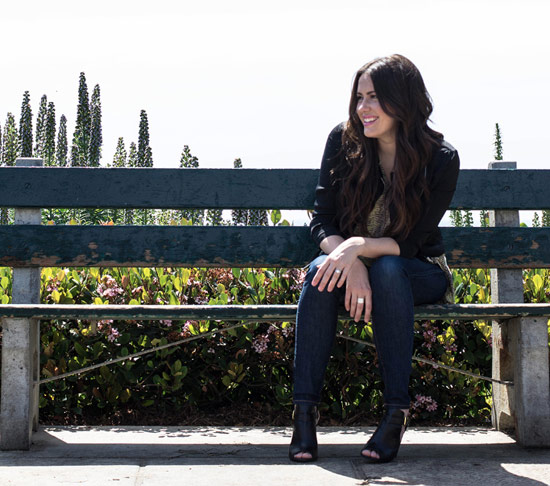 Lindsay McCaul's latest album, One More Step is available August 19, 2014 wherever music is sold!