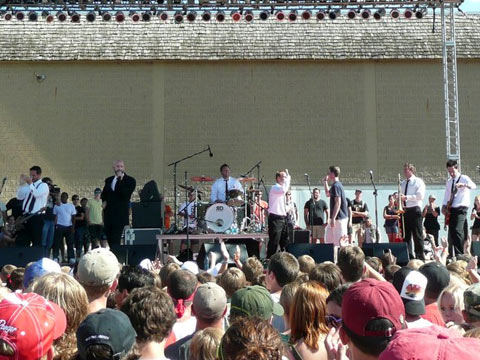 Ian DeVaney onstage with the Supertones at Sonshine Festival, giving Darren a high five!
Favorite Band/Artist: The O.C. Supertones
Featured Fan: Ian DeVaney
Location: Duluth, MN
When/Where Was The Above Photo Taken: Sonshine Festival 2010
What About This Artist's Music Speaks To You: Their upbeat music and their uplifting, Bible-based lyrics!
Favorite Album by This Artist: Reunite
Favorite Song by This Artist: "Who Can Be Against Me?"
Favorite Live Show Experience: Hanging out with the band backstage before their show at Sonshine Festival, getting introduced onstage (I manage their official fb page), and dancing like crazy at their show in the 90 degree weather!
Number of Times Seen This Artist Live: 1
Favorite Piece Of Merch/Item You Own From This Artist: A signed "Reunite" poster.
Website: Facebook
Submit your photo and reasons why YOU'RE a fan for a chance to be featured here!