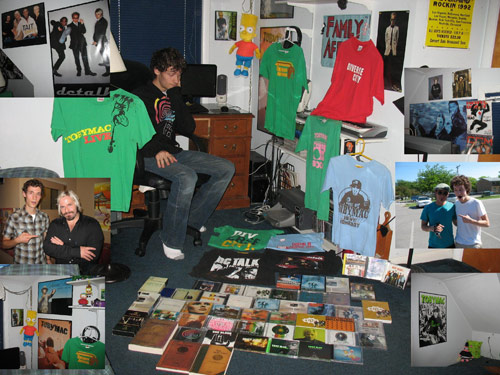 John D'Agostino - "Me in my room with MOST of my dc talk merch. The photos on the sides are other parts of my room which I couldn't fit into one picture. Then me with Kmax and tobyMac"

Favorite Band/Artist: DC Talk
Featured Fan: John D'Agostino
Location: Arlington Heights, IL
When/Where Was The Above Photo Taken: My room, at a Chicago signing (w/Kevin Max), and backstage at Shinefest 06 (w/tobyMac)
What About This Artist's Music Speaks To You: My older brother gave me his Jesus Freak CD when I was third grade, and I haven't heard anything better to this day.
Favorite Album by This Artist: I hate to say Jesus Freak because that's everyone's answer, but... Jesus Freak. And as far as solo projects go - either Momentum (TobyMac) or The Imposter (Kevin Max).
Favorite Song by This Artist: "I Luv Rap Music".... just kidding. It changes daily, every song has been my favorite song at one time.
Favorite Live Show Experience: The WHOLE dc talk solo concert in '01. They all came out before the show for a radio interview and Toby gave me a high five (I was 10).
Number of Times Seen This Artist Live: dc Talk: 1, tobyMac: 10 (and I just preordered tickets to another one in November)
Favorite Piece Of Merch/Item You Own From This Artist: Jesus Freak CD - it's what started it all for me.
Your Website (Facebook/Twitter/Blog): http://www.youtube.com/watch?v=KdbPg4eQq7c - A video about my journey to meet Kevin Max (which also features some shots of my room)
Submit your photo and reasons why YOU'RE a fan for a chance to be featured here!