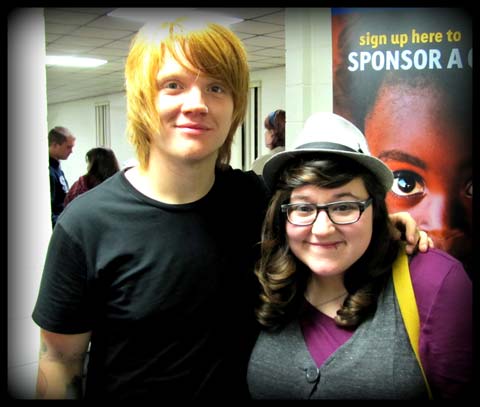 Whitney Guyer and Aaron Gillespie

Favorite Band/Artist: Aaron Gillespie
Featured Fan: Whitney Guyer
Location: North Carolina
When/Where Was The Above Photo Taken: Central, SC
What About This Artist's Music Speaks To You: I think Aaron is real in a way that a lot of artists aren't and you can hear that in his songs. His voice is amazing and his heart is even better. Never a disappointment.
Favorite Album by This Artist: Anthem Song
Favorite Song by This Artist: "Earnestly I Seek Thee"
Number of Times Seen This Artist Live: 2
Favorite Live Show Experience: Being front and center during the show and then meeting him afterwards.
Favorite Piece Of Merch/Item You Own From This Artist: The Almost Monster shirt or Aaron Gillespie Feather shirt
Website: Tumblr

Submit your photo and reasons why YOU'RE a fan for a chance to be featured here!