GRAMMATRAIN TO RELEASE NEW STUDIO ALBUM IN 2009
Band recording for the first time in over a decade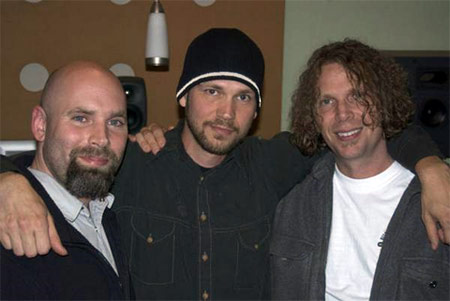 NEWS SOURCE: Grammatrain/JFH, a Jesusfreakhideout.com report
February 2, 2009
**February 3rd update... After posting this, Pete shared with us, "I'm not sure if you've followed me much musically over the last several years, but I've been fairly upfront about the fact that I don't consider myself a Christian any longer. I realize this is kind of a touchy subject with people who were/are fans of grammatrain and of me as a solo artist. Obviously, that's going to set the tone for this record to be different than our albums of the past and quite likely much of its reception." Stewart doesn't speak for Grammatrain's other members, as far as their spiritual status (they both consider themselves to be Christians), but this clearly changes the direction of Grammatrain since their years on Forefront in the mid to late 90's...
February 2, 2009... In 1998, Forefront Records hard rock trio Grammatrain played their final show together after only two studio albums. This past Fall, the guys reunited for the first time which has spawned a creative awakening for Grammatrain. As the band is currently in the studio recording a brand new album, Jesusfreakhideout.com talked to vocalist/guitarist Pete Stewart about how the band got back together and how the new tunes are shaping up...
"We are currently working on material for a full-length album," Stewart says. "We have two shows on the calendar--March 26 in Seattle (which is being filmed) and April 4 in Germany. I'm not sure if we'll do any more shows beyond the two we have booked now or not.
How this happened... One afternoon last Fall, the three of us got together in Seattle. It was literally the first time that we had all hung out in ten years... in fact, since our last show in 1998. We had an absolutely great time--catching up, laughing, remembering both highlights and horror stories from the past. Eventually, we kind of kicked around the idea of working on some new songs. A few days later, I was thinking about how much fun we had being around each other and called the guys up about maybe doing a show together. That shortly turned into two shows, and we've been working on material for an album since then.
We're about halfway through the writing process for the album now, and we're going to print up a small batch of 5- or 6-song pre-release CD's that will be available at both shows. I'd imagine the full-length record will be done this Fall.
It's a pretty interesting and actually very enjoyable scenario to be in. We were a band for five years, and now it's been twice that long since we've played together. Our lives have all gone down different paths, and in a lot of ways we're not the same exact people we were fifteen years ago when we started this band. And yet--and this is the part that is currently kind of amazing me--there's this familiar underlying sound that just kind of automatically happens when the three of us combine our instruments and musical brains together. I wouldn't have thought that would have happened as effortlessly as it has.
That's not to say that the album sounds just like our old stuff. I don't want to get too descriptive yet, but there's definitely a darker, heavier edge to it than our other records have, both musically and lyrically... and at the same time it's somewhat more melodic in places. It's as it should be... it's a sound that reflects who we are today. I have no idea how many people will be interested in or accepting of a new Grammatrain record, although I've honestly been a little surprised at how much positive early response that we've already seen. I can say that we are certainly proud of the music and that we're certainly enjoying making it... and I think, for us, that's good enough."
For the latest on the band, visit www.myspace.com/grammatrain
For more information on Grammatrain, visit the JFH Artists Database


Grammatrain in the Studio
###

[2019]
Jan. | Feb. | March | April | May | June | July | Aug. | Sept. Oct. | Nov. | Dec.
[2018]
Jan. | Feb. | March | April | May | June | July | Aug. | Sept. | Oct. | Nov. | Dec.
[2001 - 2017]
Visit our complete MUSIC NEWS ARCHIVE