MICHAEL TAIT TO JOIN NEWSBOYS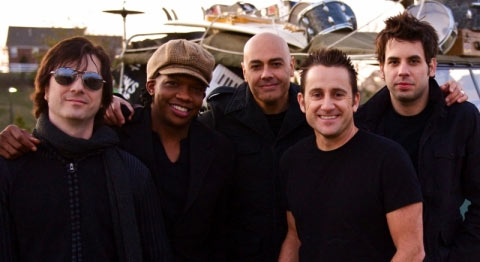 NEWS SOURCE: Savvy Media
March 9, 2009
(NASHVILLE, Tenn.) March 9, 2009— After 22 years and more than 2000 shows, newsboys frontman Peter Furler will no longer front the band in concert. Michael Tait will be touring with the band as lead singer with Peter making special appearances throughout the year.
Peter will continue with the band and his trademark songwriting and production will remain as he focuses his professional career toward future newsboys recordings.
Michael has been on the road with the band over the past weeks working alongside Peter in what has been a positive and enjoyable experience for both parties. It has been a graceful process that both Peter and Michael have worked through as they prepare to make the change in the coming weeks.
Peter states "newsboys to me has always been a mission, and I entrust Mike, Jeff, Jody and Duncan to continue all that is in store for us as a band. I'm looking forward to focusing on the band's studio career and spending time in my own bed after many years in a tour bus and hundreds of thousands of miles on the road."
Wes Campbell, newsboys manager explains, "While the decision to replace Peter on the road was a painstaking one, when the idea of dc Talk vocalist Michael Tait was presented it was a no-brainer to all of us. No one can replace Peter, but we know Michael will bring a new attitude, energy and vocal style that will thrill our audience. To be able to continue a world class show and still have Peter behind the scenes guiding the career and making of newsboys music is a huge opportunity for all of us. It's amazing that after many years of touring with dc Talk in the 1990s that in 2009 our paths would cross once again. It's an exciting time for all of us."
"For years, dc Talk and newsboys have been family and thus shared the same loyal and adoring fans, says Michael Tait. "When I received the initial call from newsboys to consider joining the band as lead singer, I was speechless! I immediately sought wise counsel and flooded the heavens with endless prayers for insight and vision, and I soon received a clear and definite peace. Last weekend, I had the opportunity to perform my first show as newsboys' frontman to an audience of 12,000 people. I was completely wrapped in love and support by newsboys' fans, who are clearly the best fans on the planet. Now I know this is exactly where I belong in this new and wonderful moment in my life's history. This is a definite highlight of my career and for my 20+ years of walking with Jesus, and I am humbled, proud and privileged to call myself a newsboy."
In the coming days Peter will be releasing a personal statement on the band's website in more detail.
The band has recently finished recording its new studio album, In The Hands Of God, which features Peter as lead vocalist on the entire album. Street date for this record is May 5th.
With five gold albums, sales exceeding six million units, more than 20 No.1 radio hits, and a mantle of Dove Awards as well as Grammy nominations, newsboys has achieved phenomenal success in its two decades together. Known for its amazing live performances and groundbreaking tours, the band continues to sellout festivals and concerts worldwide, satisfying diehard fans and winning new ones in the process.
Founded in 1999, Inpop Records is home to a variety of artists including newsboys, Superchick, Shane & Shane and Mat Kearney, among others. For more information, visit www.inpop.com.
For more information on Newsboys, visit the JFH Artists Database.
For more information on Michael Tait, visit the JFH Artists Database.
###

[2023]
Jan. | Feb. | March | April | May | June | July | Aug. | Sept. | Oct. | Nov. | Dec.
[2022]
Jan. | Feb. | March | April | May | June | July | Aug. | Sept. | Oct. | Nov. | Dec.
[2001 - 2022]
Visit our complete MUSIC NEWS ARCHIVE