BEC RECORDINGS' SEVENTH DAY SLUMBER SET TO RELEASE NEW STUDIO ALBUM, THE ANTHEM OF ANGELS, ON NOVEMBER 15TH
"ONE OF THE MOST HONEST RECORDS WE'VE MADE"
– Joseph Rojas

SEVENTH DAY SLUMBER TO HEADLINE FALL TOUR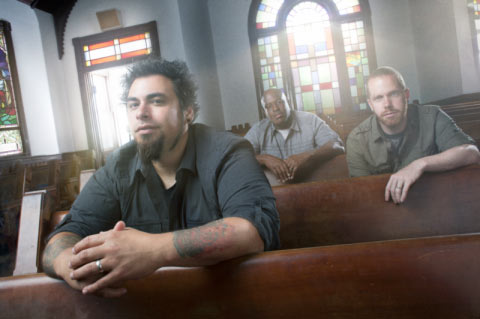 NEWS SOURCE: Merge PR
August 19, 2011
Seattle, Wa – August 19, 2011—Since 2005 when Seventh Day Slumber signed to BEC Recordings, they have not only found chart success and a string of top ten singles, they've seen the power of music and the gospel to change lives. This fall, the band will release their eighth studio album, The Anthem of Angels, on November 15 on BEC Recordings. Frontman Joseph Rojas states that this is one of the band's most honest records they've made in their career.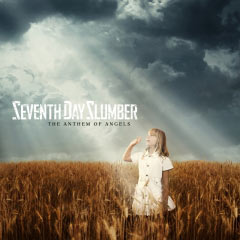 "We've opened ourselves up more, and been vulnerable. On this record, we pull no punches," shares Rojas.
Honesty and candor have been trademarks of Rojas's path from the depths of a cocaine-fueled suicide attempt through miraculous salvation in the back of an ambulance to the top of the Christian music charts. Seventh Day Slumber has long been heralded as a band that refuses to sugarcoat the struggles of real life. As the band has matured over the last 15 years, they've faced new-found challenges head on, and today their perspective and relevancy are as strong as ever, and their anthems of praise are even more profound.
The debut CHR radio single, "Love Came Down," is currently going for adds and is New and Active on the National Christian Audience chart. This song was written about trusting God even in the middle of overwhelming circumstances. In addition at Rock radio formats, the single "Never Too Far Gone" is also currently going for adds.
"I've struggled in my own life with feeling like I couldn't hear the voice of God clearly, especially in the middle of stressful situations," states Rojas. "You may not be able to hear God as clearly as you would like to at times but you should take confidence in the fact that Your God is always in control!"
Seventh Day Slumber fans love to sing along with their music, perhaps because it's so meaningful to them, and, as Rojas promises, "The Anthem of Angels has so many songs you can sing along to. You'll hear catchy melodies and hooks and big riffs. From beginning to end, it's a full rock worship experience."
Seventh Day Slumber will take this full rock worship experience on the road this fall as they headline their own tour along with opening acts Southbound Fearing and Cory Lamb. The "Small Town America Tour" will begin September 3 in North Carolina through November.
Seventh Day Slumber "Small Town America Tour" + Solo Dates for Fall 2011
*All dates subject to change
**Seventh Day Slumber Solo Dates - in Bold
Friday 8/19/11 Soddy Daisy, TN Freedom Worship Center
Saturday 8/20/11 Sylva, NC The Bridge Park
Friday 8/26/11 Franklin, TN Full Life Assembly of God (with Cory Lamb)
Saturday 8/27/11 Piggott, AR Emmanuel Baptist Church
Sunday 8/28/11 Owensboro, KY Calvary Temple Church
Saturday 9/3/11 Shelby, NC Malcom Brown Auditorium
Sunday 9/4/11 Boone, NC Holmes Center
Monday 9/5/11 Rockmart, GA Holly Springs Baptist Church
Friday 9/9/11 Paris, TX Calvary Chapel Paris
Saturday 9/10/11 Midland, TX Grande Communications Football Stadium
Sunday 9/11/11 Ft. Worth, TX Turning Point Church
Friday 9/16/11 Elizabeth, IN South Central High School
Saturday 9/17/11 Coldwater, MI Eby-Klein Youth & Family Center
Sunday 9/18/11 Warren, OH First Assembly of God
Friday 9/23/11 Lakewood, NJ Calvary Lighthouse
Saturday 9/24/11 Morrisonville, NY Clinton County Fairgrounds
Sunday 9/25/11 Mifflintown, PA Central Juniata (CJEMS) Building
Wednesday 9/28/11 Inola, OK Inola High School
Saturday 10/1/11 Grove, OK Grove Civic Center
Sunday 10/2/11 Blue Springs, MO Blue Springs High School
Wednesday 10/5/11 Fort Smith, AR Fort Smith River Park
Friday 10/7/11 Maywood, MO Hester Community Church
Saturday 10/8/11 Calistoga, CA Napa County Fairgrounds
Sunday 10/16/11 Williamsport, MD Springfield Farm Barn
Friday 10/21/11 Austin, TX Club Realm
Saturday 10/22/11 Breckenridge, TX Breckenridge High School
Wednesday 10/26/11 Artesia, NM Faith Baptist Church
Saturday 10/29/11 Corpus Christi, TX Calvary Chapel of the Coastlands
Friday 11/4/11 Piqua, OH Piqua Christian Church
Saturday 11/5/11 Piqua, OH Piqua Christian Church (morning & afternoon worship only, no concert)
Monday 11/7/11 Huxley, IA Grace Evangelical Free Church
Thursday 11/10/11 Missoula, MT Wilma Theatre
Friday 11/11/11 Livingston, MT Livingston Civic Center
Saturday 11/12/11 Idaho Falls, ID Christ Community Church
Sunday 11/13/11 Weiser, ID Weiser High School
Tuesday 11/15/11 Prineville, OR Crook County High School
Friday 11/18/11 Victorville, CA International Center of Revival Church
Monday 11/21/11 Safford, AZ New Life City Church
Sunday 12/18/11 Tifton, GA Tifton United Methodist Church (with Cory Lamb)
Saturday 12/31/11 Pittsfield, MA Lakeside Christian Camp
Friday 1/27/12 Arlington, TX Arlington Convention Center
Saturday 2/25/12 Santa Ana, CA Templo Calvario
For more info on Seventh Day Slumber, visit the JFH Artists Database.