REBECCA ST. JAMES POSES THE QUESTION AND OFFERS THE ANSWERS FROM HER NEW BOOK "WHAT IS HE THINKING??" LIVE ON TODAY'S '700 CLUB' –CBN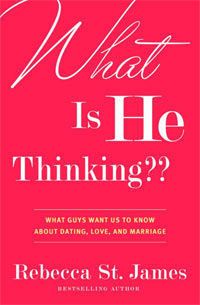 NEWS SOURCE: MorningStar PR
October 7, 2011
(Nashville, Tennessee) –October 6, 2011 –"Best-selling Christian author" is a well-earned introduction for Grammy® Award winning Christian singer Rebecca St. James whose ninth major book release "What Is He Thinking??" will be the centerpiece of her live appearance on today's Friday, October 7 edition of CBN's "700 Club."
Now in bookstores nationally, Rebecca's latest book explores the changing values and trends in the ever- important relationship issues of dating, love, and marriage. The honest and relevant "guy talk" gathered from Rebecca's year of interviews in preparation for the book will be welcome wisdom to a world of young women trying to figure out the modern day "mysteries" of the male mind.
Apparently, a field guide to men is still very much needed. According to the New York Times, the number of single women in America has exceeded the number of married women with only 49% of women married and living with a spouse. "I have to wonder if that is why so many single women I know feel the urgency to get married. That can create lots of undue pressure on themselves, as well as the guys in their lives," writes St. James.
Stressing the importance of remaining pure in pre-marriage relationships, What Is He Thinking?? offers some much needed encouragement for singles.
"In the heart of all of us, I believe that there's a longing for adventure. It's not just guys that love to live a new story and go on a journey. That's what dating can be, girls . . . an exciting adventure," shares St. James. "Yes, it is scary at times and tough to navigate—but it is worth it! And God is shaping us in the process."
Following her own good advice on dating and waiting for God's best, Rebecca has recently embarked on her own personal new journey—this one into marriage with Jacob Fink on April 23, 2011.
CBN's "700 Club" can be seen in approximately 96% of U.S. homes and is carried by ABC Family, FamilyNet, and the Trinity Broadcasting Network in addition to numerous local television affiliates. The program has a daily viewership of an estimated 1 million viewers. For local market viewing information, resource: http://www.cbn.com/700club/
Resource Rebecca St. James online at: www.rsjames.com
Rebecca St. James records for the Provident Label Group. Her latest CD release I Will Praise You is available through all music retail outlets.
Book Details:
What Is He Thinking?? What Guys Want Us To Know About Dating, Love and Marriage
Rebecca St. James
Pub Date: September 2011
ISBN: 978-0-446-57267-5 Format: Trade Paperback, 5 ½ x 8 ½ , 192 pp
$14.99
###
For more info on Rebecca St. James visit the JFH Artists Database.