Skillet Rocks Late Night Audiences with their Performance of
"Rise" on CONAN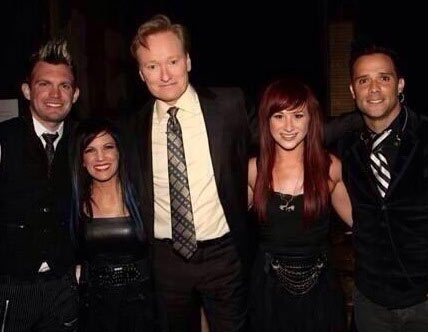 From L to R: Seth Morrison, Korey Cooper, Conan O'Brien, Jen Ledger and John Cooper.
Photo Credit: WB Productions/Team Coco
NEWS SOURCE: The M Collective
July 12, 2013
Nashville, Tenn. (July 12, 2013) - GRAMMY® nominated and platinum selling band Skillet rocked late night audiences last night with their single "Rise." The single is the title track off of their new album RISE which debuted at No. 4 on the Billboard 200 last week and holds the No. 1 spot on the Billboard Hard Rock Albums Chart and Christian Albums Chart this week.
Click below to catch a video of Skillet's performance last night on CONAN.
About Skillet:
RISE follows the band's 2009 blockbuster, Awake, which was recently certified platinum for sales in excess of one million copies in the U.S. It's worth noting that Skillet was the only active rock band to achieve platinum certification in 2012, and were one of only three rock bands (the other two being Mumford & Sons and The Black Keys) to strike platinum in 2012.
Awake debuted at No. 2 on Billboard's Top 200 Album Chart and No. 1 on the magazine's Top Modern Rock/Alternative Albums Chart. In addition, the record hit No. 1 on the iTunes® Top Albums Chart, garnered three Billboard Music Awards and spawned four hit singles including the No. 1 Active Rock smash and gold-certified "Awake & Alive," the gold-certified "Hero," "It's Not Me It's You" and the platinum-certified "Monster." "Monster" lived up to its name, selling more than a million copies and hitting Top 5 at Active Rock radio (the first in a string of multiple Top 5 active rock hits), while its companion video has generated over 47 million YouTube views. The hook-happy "Hero" was featured in season-long spots for NBC's NFL Sunday Night Football and served as the official theme song for WWE's Royal Rumble Pay-Per-View. The band toured endlessly in support, playing to sold-out crowds across the country, which earned them a spot on Pollstar's Concert Pulse Chart of the Top 50 Tours for fall of 2010. Awake followed the band's 2006's gold-selling album, Comatose.
Over the course of the past few years have sold more than two million units in the U.S. alone, racked up more than 150 million YouTube views and amassed a diehard following (dubbed Panheads) whose members number in the millions, including over 4 million on Facebook alone.
Official Sites: Official Site: http://www.skillet.com/
Facebook: https://www.facebook.com/skillet
Twitter: https://twitter.com/skilletmusic
YouTube: http://www.youtube.com/user/skilletband
###
For more info on Skillet visit the JFH Artists Database.