Skillet's "Lions" Latest In Series Of
Radio Chart Climbers
"Comatose" fifth Skillet Single to be honored with
RIAA Gold Certification

Platinum-selling group to headline
Air1's "Positive Hits" fall tour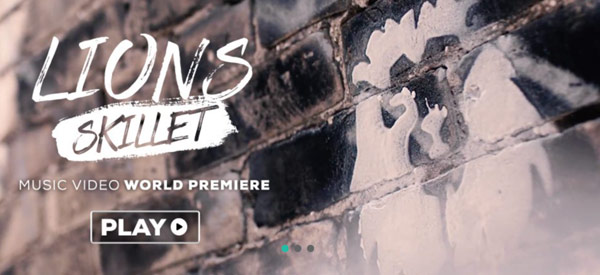 NEWS SOURCE: The M Collective
July 24, 2017
Nashville, Tenn. (July 24, 2017) – Less than a month after being released to radio stations nationwide, Skillet's "Lions" has already trekked to No. 6 on the Christian Hot AC chart while the newly released song is currently No. 29 on the Christian Airplay chart. Air 1 exclusively unveiled the lyric video for the powerful track from their ninth full-length album, Unleashed (Aug. 2016).

This marks the fourth single off of their latest album to be released to Christian radio formats. "Stars" topped the Christian Hot AC charts earlier this year alongside "Feel Invincible" reigning as a mainstay on top of the Christian Rock chart with "Back From The Dead" currently charting at No. 4 within the format. Continuing their mainstream success, "Feel Invincible" placed in the No. 1 spot at both Active (Mediabase) and Mainstream (BDS) Rock while "Back From The Dead" was a top 10 hit on the Mainstream Active Rock chart.

"The Bible tells us to be strong and courageous. Lots of times, we don't feel very strong and courageous. In fact, we feel very weak," shares frontman, John Cooper. "However, the Bible tells us that we are more than conquerors, and that the battle belongs to the Lord. I hope this song encourages you to have faith instead of fear."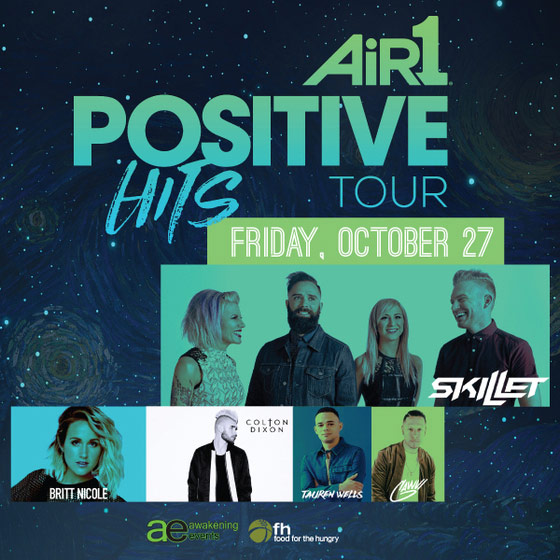 Joining the ranks of such hits as "Hero" and "Awake & Alive," "Comatose" recently was named RIAA Gold Certified. This marks their fifth track to receive that distinction. The song is found on their platinum selling album of the same name.

Known for their dynamic live show, the GRAMMY® nominated band has spent much of the summer months on the "Serenity of Summer" tour with Korn amidst festival stops. Skillet will take their international "Unleashed Tour" to Canada in Sept. before headlining Air 1's "Positive Hits" with support from Britt Nicole, Colton Dixon and Tauren Wells through Nov. For the latest tour routing and for tickets, visit www.Skillet.com.
About Skillet:
Skillet has cemented its place as one of the 21st century's most successful rock bands. Selling more than 11 million units worldwide, the Wisconsin quartet have received two GRAMMY® Award nominations amidst a host of other nods and honors. Comatose (2007) saw RIAA platinum certification, with a recent RIAA Gold certification of the single, followed by their platinum-certified release of Awake in 2009 which won the multi-platinum selling group a Billboard Music Award. Their double-platinum single "Monster" is "the eighth most-streamed rock song of 2015" with nearly 100 million plays on Spotify to date, earning the distinction of becoming "the best-selling digital single in the history of Christian Music." 2013's Rise bowed at No. 4 on the Billboard Top 200 upon release and received resounding and eclectic acclaim from the likes of USA Today, New York Times, Revolver Loudwire and more. Their ninth and most recent LP, Unleashed, debuted at No. 3 on the Billboard Top 200 Album Chart and continues to make waves with hits including "Feel Invincible," "Stars," "Back From The Dead" and "Lions."

Get Connected With Skillet:
Website: www.skillet.com
Facebook: https://www.facebook.com/skillet/
Twitter & Instagram: @skilletmusic


###
For more info on Skillet, visit the JFH Artists Database.



[2018]
Jan. | Feb. | March | April | May | June | July | Aug. | Sept. | Oct. | Nov. | Dec.
[2017]
Jan. | Feb. | March | April | May | June | July | Aug. | Sept. | Oct. | Nov. | Dec.
[2016]
Jan. | Feb. | March | April | May | June | July | Aug. | Sept. | Oct. | Nov. | Dec.
[2001 - 2015]
Visit our complete MUSIC NEWS ARCHIVE