RUSTY SHIPP RELEASE NEW SINGLE "MAN MYTH LEGEND"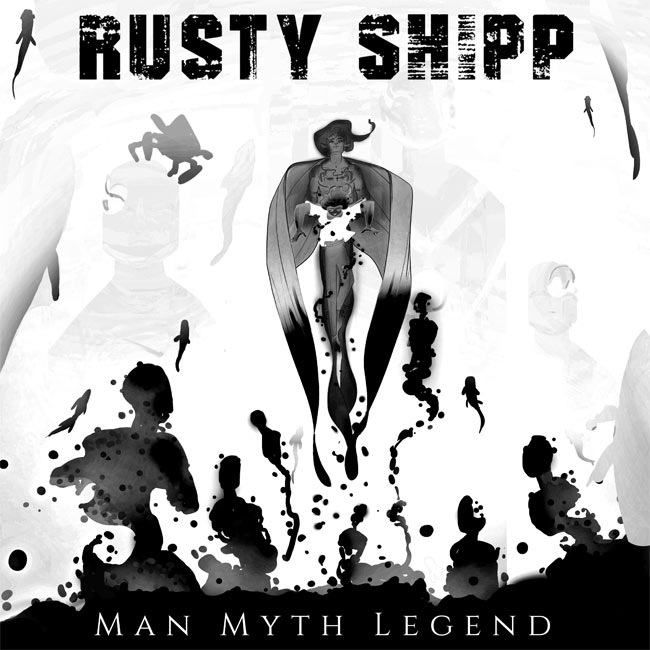 NEWS SOURCE: Merge PR
March 3, 2022
Continuing the story of Rusty Shipp's upcoming story-based, concept album "Dark Side of the Ocean," their latest single "Man Myth Legend" hones in on the band's surf punk sound that surfaced in former songs such as "Detonator" and "Caligynephobia." The lyrics are a clearer glimpse into the concept story of the new album which describes an underwater kingdom of angels who encounter the souls of sailors that have sunk down from the surface -- such as the narrator in the previous single, "Bottom of the Barrel." Alarmed at the increasing rate of souls sinking down to their domain at the bottom of the ocean, they decide to risk the potential danger and ascend to the ocean's surface to find out exactly what is causing the growing frequency of humans' drowning.
To cut through all the conceptual imagery at the surface and dive in to what this song is really about, singer and founder of the group, Russ T. Shipp, gave the following statement about the underlying message of the song: "All conceptual narrative and nautical imagery aside…this song was written as a response to much of the explosive division that arose during the pandemic. The direct application to life from "Man Myth Legend" is that in our lives we often see glimpses of something troubling, or hear of people doing something dangerous or that seems to be in opposition to something we believe, but we often don't have the courage to go check out things for ourselves and meet the people involved to get to know them and see what's actually going on and why those people do what they do. It's easier and more convenient to try and keep things so cut-and-dry, black-and-white, and just write people off as the enemy. But it's much harder, riskier work to step into the grey, and give people the benefit of the doubt, and think of them as fellow humans just coming from a different place to get their own needs met. To engage with 'opponents' humbly and respectfully, to listen and learn from them about where they're coming from and why they do what they do, is certainly awkward and uncomfortable, but the rewards of that hard work are greater than the rewards that come from playing it safe in our comfort zones, and indeed the results of that hard work are necessary to our overall survival as people."
Accolades: "Bottom of the Barrel," the first single from the upcoming album, broke through the Top 25 list on Christian Music Weekly's Rock chart making its chart debut at #21. It also was just added to RadioU's Top 10 Most Wanted Songs (per listener requests), and was added to a rock and metal compilation from For The Rock. The video was premiered exclusively for an early release on CCM Magazine this week and was featured prominently in the CCM Magazine weekly newsletter. To promote the single, the band did many interviews for radio and online publications (Effect Radio, RadioU, 102.9 The Buzz--Nashville's FM Rock station, and more).
Rusty Shipp is a Nashville-based hard rock band that combines Beatlesque melodies, surf and grunge riffs, and philosophical lyrics to create what they call Nautical Rock 'n' Roll.
RUSTY SHIPP
Man Myth Legend (single)
RELEASE DATE
March 3rd, 2022
CREDITS
Produced & Engineered by Stephen Leiweke at Yackland Studio in Nashville, TN.
Mastered by Alex McCollough with True East Mastering.
FOR FANS OF
Muse
Foo Fighters
Royal Blood
Thrice
WEBLINKS/SOCIALS
###
For more info on Rusty Shipp, visit the JFH Indie Artists Database.