Allen Thomas Releases Second Project of 2023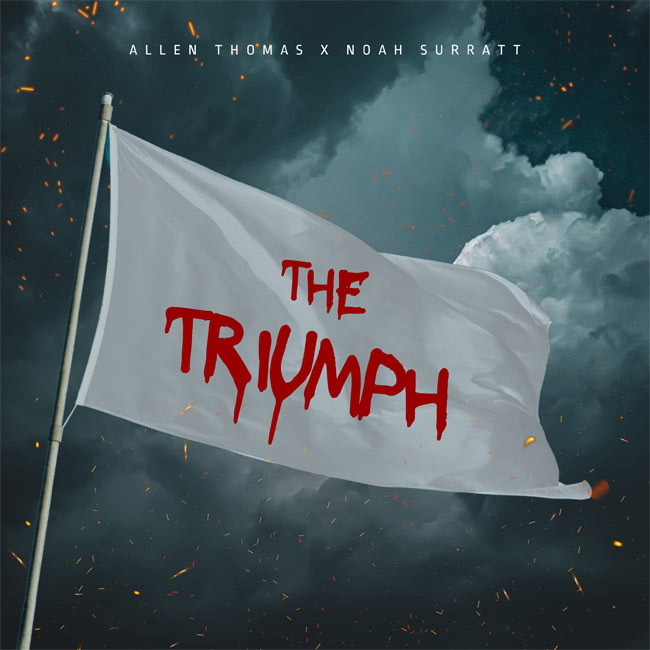 NEWS SOURCE: FIVETWENTY COLLECTIVE PR
August 1, 2023
San Antonio, TX - "No, despite all these things, overwhelming victory is ours through Christ, who loved us. And I am convinced that nothing can ever separate us from God's love. Neither death nor life, neither angel nor demons, neither our fears for today nor our worries about tomorrow - not even the powers of hell can separate us from God's love." [Romans 8:37-38]
One of the hardest things in life to do is to show grace and mercy to someone who is undeserving of it. To forgive and to love someone who is not repentant of their actions. But this is the character of Christ. Despite what we are worthy of, He calls us his own and pleads on our behalf. Is there anything more incredible or unbelievable? Yet, all that is asked is that we believe. When we embrace truth we get to experience The Triumph over this world.
This is music from a place of victory.
Allen Thomas and Noah Surratt collaborate to illustrate this theology on their new 5-song EP. The Triumph hits digital streaming platforms on August 15, 2023.
"I was hopelessly headed for defeat, without a glimpse of chance for a comeback. But thanks be to God!" - Allen Thomas
After moving to San Antonio, Texas, Thomas and his wife attended the church where Surratt led worship. The duo began developing a relationship and soon teamed up on the record "Mercy." Originally released on Thomas' 2020 album 'The Least Greatest,' the song has not only been given new life in 2023 but became the catalyst for an entire project.
Featuring production from RJ Full Range and Lazy Rida Beats, The Triumph is a well-conceived EP from start to finish.
Life is not without purpose. It is a battle that will have a winner and a loser. While some may choose to turn a blind eye to this, Allen Thomas and Noah Surratt address it head-on. One thing that is safe to say, anyone who listens to The Triumph will walk away clearly understanding what's at stake.
The project is more than just an important message. It is packed full of attention-grabbing beats and highly-skilled vocal performances. From lyrical artistry to melodic runs, The Triumph features a variety of soundscapes to connect with a wide audience. It is truly a rare example of getting a "big bang" from a "small package."
Make sure to add "Mercy Remix" to your favorite playlist!
Support Allen Thomas: Linktree | Twitter | Instagram | Facebook | TikTok | YouTube | Spotify | Apple Music
Project Details
Title: The Triumph

Artist: Allen Thomas

Release Date: August 15, 2023

Production: RJ Full Range, Lazy Rida Beats

Engineering: RJ Full Range, Jacob M. Productions

Features: Noah Surratt
Track Listing
Mercy

Betty Crocker

Warrior

Battles

Mercy Remix
About Allen Thomas
Born in Southern California, God found Allen Thomas in 2009 through a radical encounter and he has never been the same since. The world enticed Thomas to use his gift to glorify evil, but the Lord lead him to preach Sermons Over Beats. Narrow Is the Road that has been a "White Knuckle Ride", with some "Beautiful Scars" along the way.
Thomas' purpose, and calling from God, is to preach the Gospel of Jesus Christ without compromise.
Jesus is the only way to the Father and OUR great commission is to spread the Good News that He still saves. Thomas humbly uses his platform in obedience to Christ until the work is well done in Jesus' Name.
###