Nate (formerly of Worth Dying For and currently of Kingdom) and Rachel Parrish join the influx of husband and wife duos flooding today's music scene. Their project, simply titled PARRISH, has released their debut self-titled EP. The couple give listeners six worship tracks with a folk/Americana soundtrack. While most of these groups are saturated in the folk genres they all seem to vary. PARRISH plays heavily to the Americana and country aspect. Musically, the album is certainly a pleasing listen, especially for fans of roots music. The EP is also on point vocally. Nate's voice is a perfect fit for this type of music. Rachel's vocals can at times sound a bit shrill -- the early parts of "Death Was Buried in Its Grave" for example -- but are overall very pretty and fitting. From a lyrical standpoint, everything is Christ-centered and keeps worship in mind. The highlights are undoubtedly "In the Storm," "Skin and Bone" and the completely striking rendition of "Nothing But the Blood." The hymn gets a complete overhaul including: a new rhythm, a completely different arrangement of the verses, and the original chorus is turned into a bridge. The song is still widely used in traditional churches today and it appears the duo put a lot of thought and consideration into this recording.

PARRISH has a lot of other groups to contend with in the same niche they've placed themselves into, but their strong focus on the Americana aspect of music has them ahead of many in this reviewer's book. I hope to see the couple continue to make music together in the future and release a full-length album sometime soon. After the beautiful display shown on "Nothing But the Blood," I personally wouldn't even mind a full album of reimagined hymns, but that certainly isn't meant to take away from their original material. I'm completely on board with the husband and wife musical groups that have begun to take over indie music. These artists are producing some of the most quality and top-notch material around. PARRISH isn't flawless, but they most definitely have offered up a positive addition in that category. - Review date: 8/8/15, written by Michael Weaver of Jesusfreakhideout.com

Record Label: None


Album length: 5 tracks


Street Date: June 16, 2015


Get It:
Noisetrade
Death Was Buried In Its Grave
In The Storm
Refuge
Lord I Come To Thee
Skin And Bone
Nothing But The Blood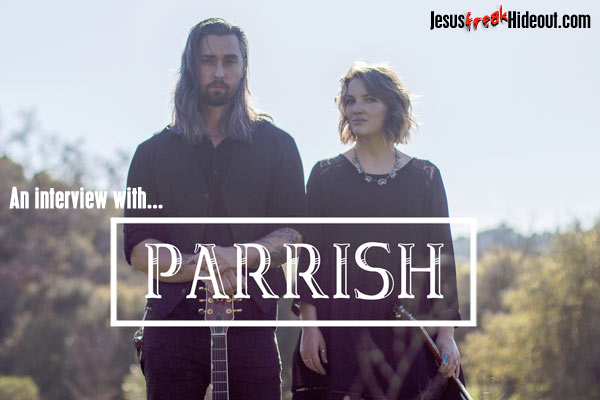 JFH (Michael Weaver): You have both been in the music industry for a while. Has doing a project together been something you've always wanted to do?
Nate Parrish: Definitely, it just made sense. We are both musicians, we're married, but it has been a challenge for sure. When we met, she was touring around as a singer/songwriter and I was playing in Worth Dying For getting ready to go on our first national tour, so the timing made it a little difficult, but here we are! We don't fight much, but when we do, it's usually over music! She was a music major in college and has a background in classical piano, whereas I am a self taught musician with a background in punk rock, so it makes an interesting mix.
JFH (Michael): Is PARRISH intended as a side-project to Kingdom, or it just something you are doing simultaneously?
Nate: Actually, we had just finished tracking the PARRISH album on a Friday in February and started tracking the Kingdom album three days later, in the same studio, with the same producer, my brother in law Matt (Math) Bishop. So it was literally simultaneous! As far as both bands existing at the same time, that's the plan! I love playing in Kingdom and I'm excited to see where PARRISH can go. Rachel and I are looking forward to getting out there and leading worship and continuing to write and record.
JFH (Michael): What lead you to the Americana sound? It's different than what you've done in the past.
Nate: I have always been a fan of guys like Johnny Cash, Bob Dylan and guys like that, my momma raised me right! Before joining Worth Dying For, I was playing shows as a singer/songwriter and was heavily influenced by the songwriting of Mike Ness and Social Distortion. I've always loved combining country and folk with the attitude of punk rock. When I met Rachel, she was doing her own solo music as a singer/songwriter and it just came naturally when we wrote together that it had that kind of folk/country sound. It's in our bones.
JFH (Michael): My favorite original song is "In the Storm." Could you share some background on that song?
Nate: That's my favorite too! That song was written way back in 2010 in one of the most difficult times in our lives. We had just gotten married and were looking for a house to buy while temporarily living with Rachel's parents. My band was about to release our big sophomore album, life was going just as we planned… you can guess where this is going. The same day our offer on a house was accepted, my band was dropped from the label, essentially ending my stream of income. Then a week later, Rachel lost her job. So we found ourselves both without jobs, newly married and living with her parents, super lame. In the midst of all of this, I rediscovered my faith and started writing songs again. Not to finish an album or because I had a contract to fulfill, but because it's the only way I knew to get through it. It was by far the easiest song I have ever written, it was also the first time I sang in front of Rachel. That song for me signified the next chapter of my life by taking me back to my roots, musically and spiritually.
JFH (Michael): The arrangement and execution of "Nothing But the Blood" is absolutely fantastic. Was it something you really had to work at, or was it just something that came to you one day?
Nate: I remember sitting on the coach thinking we needed to cover a hymn, and nothing but the blood came to mind immediately. I picked up my guitar, had a melody line in my head and 5 minutes later it was done. I had Rachel listen to it to make sure it didn't suck, she tweaked a few notes and there ya go!
JFH (Michael): What is another hymn you'd like to do in the future?
Nate: Rachel is basically a hymnologist; she loves hymns. We really like Johnny Cash's "My Mother's Hymn Book" album. It would be sweet to do an arrangement of "Old Rugged Cross."
JFH (Michael): How important is it to you both to keep your lyrics worship-focused, even though the music is a little outside of the norm for most worship artists?
Nate: We approach our songs as worship songs, even though musically speaking, they may be out of the norm for congregational worship. Lyrics are very important to us because at the end of the day we want people to hear and learn and be able to engage in an encounter with Christ. So if you ask us, we will say our songs are worship. They may not all be for congregational worship services, but they all point to Jesus. Honestly, a lot of modern worship is ambiguous and could easily be about a boyfriend or girlfriend; we're not into that. We never try to write certain songs for certain audiences necessarily; we just write songs about Jesus that we would want to hear.
JFH (Michael): Does PARRISH have any shows planned?
Nate: We have a few coming up this fall, we would love to play more, so if you're reading this... get on it!
JFH (Michael): What do you hope God is able to accomplish through this EP?
Nate: We hope that it can be a bridge between Jesus and whoever is listening. Music is the greatest vehicle for communicating a message. Our message is that there is hope and redemption at the cross of Christ.
JFH (Michael): And just for kicks… What's your favorite piece of gear right now and why?
Nate: Rachel has recently picked the Ukulele; she's already shredding away on it! I used to be pretty resistant to the ukulele thing, it seemed too cutesy to me, but I'm coming around to it. Plus, she's really cute when she plays.