K. Sparks
Seasons Theme

Street Date: February 20, 2016
Style: Rap / Hip Hop

It used to be that, when an independent artist put in a lot of work, put out some albums, and started receiving more and more exposure, they would eventually get signed to a label and become a household name. These days, it's pretty common to exist as a nearly-unheard-of artist, no matter how many festivals you perform at or what radio stations have given you airplay. Such is the case for New York's K. Sparks, who has been working for years in the independent hip hop field, and is now releasing his third full-length album, Seasons Theme.

K. Sparks aims to be a very culturally relevant artist, using each and every song to make not only a statement about the culture we live in, but a statement about what's wrong with it. But Seasons Theme is also about more than that, as K. also speaks openly about trials that he's gone through and makes them relatable to the listener. On a couple of different occasions here, he makes mention of the nearly back-to-back loss of his mother and then brother; though I haven't personally experienced that exact situation (nor will have likely most of his listeners), K. uses this as a reminder that difficult circumstances and tragedies are inevitable in life, but that it's only seasonal.

On the cultural side, there are several tracks where K. talks about one of today's hot-button issues: racism and the idea of white privilege. At various points, you can hear an audio track from an unspecified news program where a woman lists some statistics that she believes supports the theory and a sample of the altercation between Eric Garner and the police officer that choked him. These coincide with the track "#TRENDY," in which K. not only condemns the actions of racists but also people who only deal with justice by posting about it on social media ("We get mad for a minute then it's back to the grind, and we just do it for the [Insta]gram and we just do it for the Vine, backlash stunting with your pants sagging after this, hashtag fronting we some bandwagon activists"). Though he's specifically applying it to one scenario, it applies across the board with any number of injustices and these "bandwagon activists."

Musically, K.'s vision for the album has resulted in a stylistically-diverse album. His flow is very modern, which can be a bad thing at times (depending on who you listen to), but it's clear that he puts forth effort into it. The beats and music are mostly modern, with a hint of old school flair, and some really jazzy undertones. "Brother (Calvin's Song)" features a tender, piano-led beat, while other tracks like "Jazz Theory" and "Him vs Her (Seasons)" feature a solid, classic hip hop that reminds me of the production styles of Theory Hazit or Sean Patrick. Some of the samples are a little much, like in "Fake Is The New Real," or how at least half of "Him vs Her (Seasons)" is comprised of samples a few different shows, including The Cosby Show and Martin. But these are minor setbacks in the long run, and the album's music and production is pleasing to the hip hop fan's ears.

I'm very leery of independent hip hop these days; everybody thinks they can rap and everybody has something to say. Thankfully, this time it's coming from a talented emcee who actually can produce a quality product. It's not a perfect album, but it's easily better than some of the other artists who actually get a mainstream audience's attention. Fans of artists like Trip Lee or JGivens may want to give Seasons Theme a listen. I doubt you'll be disappointed.

- Review date: 3/9/16, written by Scott Fryberger of Jesusfreakhideout.com


Record Label: None


Album length: 15 tracks: 56 minutes, 32 seconds


Street Date: February 20, 2016


Buy It:
iTunes

Buy It:
AmazonMP3

Buy It:
Google Play

Buy It:
Bandcamp
Spring (Theme) (5:11)
Jazz Theory (4:00)
Make It Look Easy (Because) (3:12)
Summer (interlude) (2:04)
Fake Is The New Real (3:30)
Come Again (2:45)
Brother (Calvin's Song) (3:36)
Fall (interlude) (2:18)
Numbers (4:20)
So Cold (feat. BxRod) (3:31)
#TRENDY (4:35)
Pardon My Back (3:46)
Winter (interlude) [feat. Jenn Tam] (2:38)
Him vs Her (Seasons) (7:46)
(Bonus Track) Black Caesar (3:19)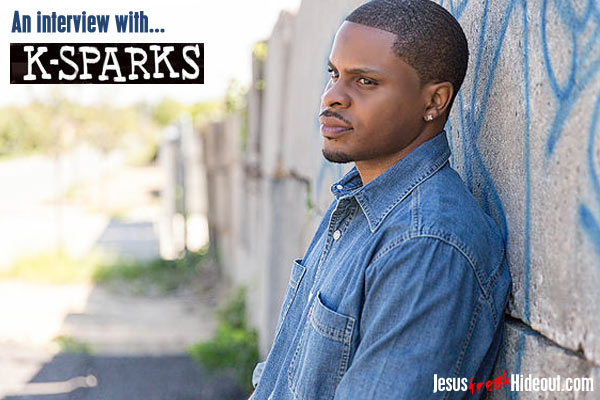 Jesus Freak Hideout (Scott Fryberger): I'll start with the obligatory question: what inspired the stage name K. Sparks?
K. Sparks: When I was young, I grew up in South Jamaica, Queens, New York. It was full of massive poverty, people selling narcotics, and gang violence. Growing up in that neighborhood and those communities affects you, sometimes to the point you become numb, so myself and others decided to rap as escapism. At one point, it seemed everyone in my neighborhood was either gang-related, playing basketball, or rapping, because those were the only outlets we envisioned. Those that rapped all tried to come up with their own nicknames. I used to always start off the rhyme cyphers because the elders used to tell me to spark the cypher. People began calling me Sparks, but I had to figure out a way to personalize it more so I added the K since my government name begins with that letter.
JFH (Scott): Seasons Theme is a stylistically versatile album, with a nice blend of old school and new school hip hop. Is this strictly a result of having different producers, or were all the beats made specifically for this album?
K. Sparks: The production was crafted specifically for the album. I knew the vision and wanted to execute it sonically, so my producers sent several tracks and ultimately went through a hundred beats until we made the final selection.
JFH (Scott): Are there any particular rappers (or music artists in any genre) that inspire you to write?
K. Sparks: I tend to listen to musicians outside of the hip hop realm because I like melody and harmonies. Artists like Miles Davis, John Coltrane, Robert Glasper, and Esthero take me to another place musically. Musicians like them influenced my perspective to think outside the box and no longer view my voice as merely a mode of rapping, but as a tool that's another instrument within the song. That's why I utilize different intonation and connotation when creating content.
JFH (Scott): What sparked the idea for the title and theme of Seasons Theme?
K. Sparks: I felt that the depth was needed. The goal was to create a piece of art with a content-driven storyline. I wanted people to know regardless of where you are in life, we all transition through seasons. Within the past three years, I experienced a lot of seasons. My mother passed away from breast cancer, and then not too long after that, my brother's body was found in a hotel. When I got that phone call, it was surreal, because I had just seen him two days before. I couldn't disregard those emotions of anger and frustration. Music has always been my outlet and therapeutic, so I channeled those emotions into my art; it was a natural progression. Every song has a creative direction that fits a specific season. Ultimately, the album created itself from life experiences, with the premise that we have to forge through various seasons. If not, we can become stagnate.
JFH (Scott): If a potential listener asked for your recommendation for just one song from Seasons Theme, what song would you pick?
K. Sparks: "#TRENDY" would be my recommendation. I wrote that song to provide perspective. Since recent events in the news, people have become bandwagon activists. They equate making a post on social media about present issues to doing something tangible. The premise of the song is for people to truthfully examine the intentions behind their behavior. Change starts with self. I can't preach against brutality, and then turn around and kill people within my own community with gang violence. That behavior is hypocritical.
JFH (Scott): Have you shared the stage with any notable artists?
K. Sparks: I've shared the stage with Kendrick Lamar, Q-Tip, KiD CuDi, Joe Budden, Lords of the Underground, and others.
JFH (Scott): Do you have a favorite book of the Bible?
K. Sparks: The book of John. Specifically the verse "he that is without sin among you cast the first stone". A lot of times Christians forget no one is perfect and often judge. If you're in a place of understanding, you need to allow others to grow and do the same.
JFH (Scott): What would you like your listeners to get from listening to your music?
K. Sparks: We all experience different seasons in life that range and sometimes don't always feel good, but the feeling of being uncomfortable elicits change. If people are sick, they want to feel better. If they're struggling financially, they have a desire for prosperity. If we never experienced challenges, we wouldn't be able to appreciate the latter. That's what this album is about: experiencing different seasons, yet appreciating the journey along the way. Ultimately, when it's all said and done, life's not about the destination, it's about the journey.