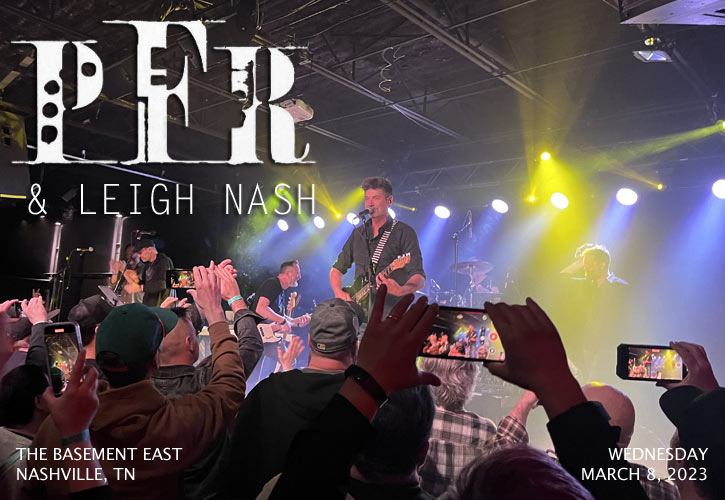 PFR, Leigh Nash
3/8/23, at The Basement East in Nashville, TN
Every music enthusiast has an artist/band or two that just really moves them, even decades after first hearing their music. I've learned, as I've gotten older, that these kinds of personal relationships with music are rare and quite special. I was just a teenager when I first saw PFR live in concert in 1994. It was literally maybe my second or third live concert experience of my life, but I had already been a growing fan of their music, having loved their self-titled debut album and its follow-up, Goldie's Last Day. At this small and intimate show at The Youth for Christ Center in Lancaster, PA, I was introduced to brand new music from their forthcoming third album, Great Lengths, and it would make my Christmas Day that year to receive it Christmas morning (thanks to a technicality where our local Christian bookstore put it out on shelves ahead of its December 26th release day. "Oops!"). As I've grown up since then, and PFR disbanded just two years later, then reunited a few years after that just to disband again, their music has never ceased to mean something very special to me and speak to my spiritual walk. So when I heard last year they were reuniting to play a show in their origin state of Minnesota, I was excited by the prospect of them maybe performing more shows. And thankfully, they've done just that by adding a special Nashville show in March of 2023.
It's been well over a decade since I last visited the Nashville area. With the demise of GMA Week, there really hasn't been much of a reason for us to make a trip to the Volunteer State. But, to make a long (and probably uninteresting) story short, I decided to make the trek solo to Nashville once again, in hopes of experiencing this once-in-a-lifetime event at The Basement East firsthand. Joining the original PFR trio on stage was Leigh Nash to open the show, as well as several classic CCM names who leant their talents to both performing acts for the evening.
It didn't surprise me that most of the audience seemed to be my age or older, but it was especially fun to look around at the Nashville audience and spot the who's who of 90's-thru-current-day CCM in attendance. From MercyMe's Bart Millard to Jason Gray, Andrew Peterson, Superchick's Tricia Brock, VOTA's Bryan Olesen, and members of bands like Citizen Way, Jars of Clay, and Big Tent Revival (among others), it felt a lot like being at a GMA showcase than just your usual concert.
Sixpence None the Richer frontwoman Leigh Nash opened the night. She was accompanied on stage with none other than her Sixpence mastermind guitarist and songwriter, Matt Slocum, as well as Nashville-based session musician (among other acclaims), Chris Donahue, and The Choir's Steve Hindalong. From the start, the evening felt like a celebration of friendship and music, and the audience was clearly delighted when Leigh opened her set with Sixpence's popular cover of "There She Goes." Leigh was in rare form this evening, cracking jokes and telling stories. She radiated excitement about the night and it was obvious that the audience was feeling it too. Opening with "There She Goes" generated cheering and applause from the crowd. Afterwards, Leigh made sure to make it clear that this would be a set of her solo music, and to not expect much from the Sixpence None the Richer catalog. With that, she launched into "Between the Lines" from her first solo album, Blue On Blue (and it's one of my favorites from that collection). She followed the pop tune with a series of songs from her first country album, The State I'm In, performing "The Spider and the Moth," "Dreaming Out Loud," and "Tell Me Now Tennessee." With the latter song, Leigh expressed her love and longing for her home state of Texas and how that song was birthed out of that heartache. She performed her single "God Gave Me Horses" next, sharing a story that inspired the song about a prison inmate named Duane whose job it was to care for horses. It's a song she wrote right after meeting him in person. At this point, Nash ran to the side of the stage and tearfully embraced her husband Stephen Wilson in the audience, who she wasn't sure would be able to make it. It was around this time that Slocum began fiddling with his guitar, and strummed a few chords from Sixpence's "Melody of You." When Leigh returned to the microphone, he stopped, but the singer urged Matt to play the song, which was met with cheering from the audience. To close her brief set, the foursome performed Sixpence None the Richer's biggest hit to date, the iconic "Kiss Me," which also drew excitement from the audience.
A quick set change brought about a short intermission, and it was around 9pm when the Minnesota trio PFR took the stage. For the first time ever (to my knowledge), however, the PFR guys - Joel Hanson, Patrick Andrew and Mark Nash - were joined on stage by two members of Jars of Clay: Charlie Lowell on keys and Stephen Mason on guitar. These skillful additions helped the band's beloved songs have a fuller sound than what the trio could usually accomplish live, and it helped make their set all that more unforgettable.
While it's been 28 years since I last saw PFR live in person, I did catch at least one of their live stream reunion performances about 11 or 12 years ago. Yet, it was still certainly surreal to be standing in the audience as the sounds of "Wonder Why" from their 1994 album, Great Lengths, began to fill the air of The Basement East. The crowd erupted with excitement as the song began, and it proved to be such a bizarre and incredile experience to be seeing one of my all-time favorite bands of my youth in concert again. I felt like a teen again, and judging by the unbridled enthusiasm of others around me (some who are in or have been in high profile bands, too), I wasn't the only one. The title song from their debut album, Pray for Rain was next, followed by "Great Lengths" and the lead off track from PFR's 2001 reunion album, Disappear, "Amsterdam" (for which Hanson joked that you should never name an album Disappear, because that's what they did after releasing it). Joel and Patrick frequently joked and bantered a bit between songs, which was always entertaining (and used to be one of my favorite parts of their live shows). The guys have always had a unique blend of humor and spiritual poignancy, which was something I had appreciated from the start. "Falling" was next, and Joel forgot the words to some of the song, but was able to pick it up with the help of some enthusiastic fans. "By Myself" from Goldie's Last Day followed, and then the Mark-Nash-penned (which is a rarity) "Grace of God" was next. Two favorites that probably were rarely heard from the stage came in the form of Them's "Anything" and The Late Great PFR's "Forever" (a track exclusive to that album, which I'd just adored). But then, something unique and truly special happened. Joel introduced the next song as one the band had not written, but kind of discovered from another artist. The band then used it and adapted it for their own sound. So the song's original writers, Gordon Kennedy and PFR's frequent album producer Jimmie Lee Sloas, joined the band on stage to singalong. It was a pretty unique and surprising moment, but then again - we're in Nashville, here!
Disappear's "Closer," Them's "Say" and Great Lengths' "Blind Man, Deaf Boy" all followed, and then Joel announced the next song as a cover song they used to often play live. And since Sixpence None the Richer also made their cover of this song popular, Leigh Nash joined PFR on stage to perform Crowded House's "Don't Dream It's Over," for a highlight of the night. "Gone" and "Satisfied" came next, and then Gordon and Jimmie rejoined the band for the crowd pleaser (and one of my absolute favorites) "Merry Go Round." With its conclusion, the band left the stage, leaving all of us hoping - and cheering - for more.
The guys didn't make us wait too long before they returned to the stage. Fans started calling out song titles for the band to play, and when Them's "Garden" was requested, Joel sang a few words before he asked the audience to sing it. Patrick then briefly sang the chorus before the band officially continued on with their set. They then launched into a cover of Wings' 1976 song, "Let 'Em In," and segued into the fan favorite, "Goldie's Last Day." Jimmie and Gordon joined the band again for what felt particularly like a celebration and a grand finale. It was bittersweet to say the least, and while I think most of us could have listened to these guys play all night, the conclusion of "Goldie's" signaled the end of the night as well. As the guys walked off stage, drummer Mark Nash leapt onto the back of Joel who gave him a piggyback ride off the stage. They're still kids at heart; some things never change.
It was relatively late by the time the show ended, but the PFR trio and Leigh Nash hung around for a bit to talk to people after the show. It was such a surreal event that still feels a little dreamy. It was an incredible experience that I'm thankful I had the opportunity to witness... and wouldn't mind being a part of again. Here's hoping this isn't the last we've heard from this legendary CCM band.
--
John DiBiase
, 3/12/23 and 3/18/23
Leigh Nash Set List

01. There She Goes
02. Between the Lines
03. The Spider and the Moth
04. Dreaming Out Loud
05. Tell Me Now Tennessee
06. God Gave Me Horses
07. Melody of You
08. Kiss Me


PFR Set List

01. Wonder Why
02. Pray for Rain
03. Great Lengths
04. Amsterdam
05. Falling
06. By Myself
07. Grace of God
08. Anything
09. Forever
10. That Kind of Love
11. Closer
12. Say
13. Blind Man, Deaf Boy
14. Don't Dream It's Over (w/ Leigh Nash)
15. Gone
16. Satisfied
17. Merry Go Round

Encore
18. Let 'Em In (Wings Cover)
19. Goldie's Last Day

PFR, Leigh Nash Photo Gallery
click on an image for a bigger size
**vertical images cropped for thumbnails**
Leigh Nash
PFR
Leigh Nash - Live Videos (iPhone)
PFR - Live Videos (iPhone)
*all photos by John DiBiase (taken with an iPhone 13 mini, for convenience) and are the property of the photographer and Jesusfreakhideout.com