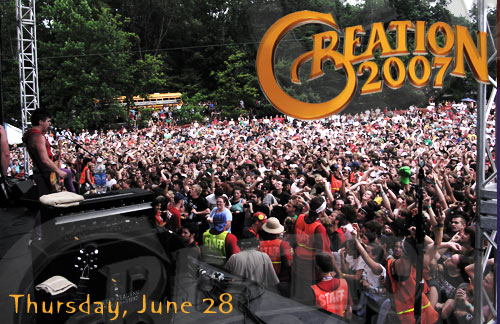 Britt Nicole, Family Force 5, Fireflight, KJ-52, Disciple, Day of Fire, Project 86, Pillar, David Crowder Band, Third Day
6/28/07, Mt. Union, PA at the Agape Farm
The first full day of Creation East is always an adjustment. In many cases, Wednesday night can be a rude awakening for your feet and body if you're not used to a lot of walking. On top of that, because of the heat and humidity, you're likely to leave the fest (either to return to your campsite or drive to a hotel) completely sweaty, grimy, and feeling dirty, so Thursday is a mix of feeling refreshed and the dread of the pending filthiness. But when you see your favorite acts perform, somehow these sacrifices seem all that much smaller. For example, on the Fringe Stage, Atlanta crunk rockers Family Force 5 were the stage's 2007 inaugural act at noon. It just doesn't get much better than that.
When we arrived, newcomer Britt Nicole was performing on the Main stage, offering up a catchy blend of pop, rock, and hip hop - all cuts from her recent debut, Say It. Nicole was definitely new to the festival setting, but she performed with enthusiasm and professionalism that made her set a fine choice for Thursday morning. She opened her brief set with "Believe," continuing into "Good Day," "You," "Set The World On Fire," and the bouncy pop of "Holiday." As the sounds of the latter drifted into the background, we were making our way over to the Fringe stage where indie act Unspoken was wrapping up their set. 2007 was the first year Creation festival let fans vote for indie acts to play what they dubbed "The Generator Stage," giving up-and-coming acts a chance to play early each day before the popular mainstream acts began at noon. Their unique blend of styles was interesting, but their show was definitely unrefined. No matter, however, for the main event was just minutes away...
Around noon, Family Force 5 could be seen on stage tweaking things through sound check, readying the audience for their signature wild show. Soon they tore into "I Love You To Death," a new track from the Spring rerelease of their debut, Business Up Front, Party In The Back. It was the first time I'd heard it live and only one of the few times they'd performed it live. Their frenzied show was underway, with an eager crowd looking on. The Fringe stage audience is separated by a black metal fence, lined with volunteer festival security on the other side, filling a narrow space between the audience and the stage. I was shocked, and watched in horror as the metal fence slowly began to collapse under the weight of the fans pressing against the stage, with an unsuspecting security volunteer sitting beneath it. It all happened while I was in the photo pit standing right next to it, and there wasn't a thing to stop the fence with a mass of fans piled against it. Luckily, no one appeared to be seriously injured and the band didn't miss a beat (whether or not they even noticed this happened). Their set was a strong selection of favorites from their debut, including "Replace Me," "Drama Queen," "Kountry Gentleman," and expectantly, "Love Addict." At one point, vocalist Solomon Olds (aka Soul Glow Activatur) donned his custom silver painted Hulk gloves and a Transformers Optimus Prime helmet and continued performing "Numb." By the time "Earthquake" shook the audience, the guys invited a group of fans back on stage for "Supersonic," and they each wore biker helmets as they danced across the stage. Family Force closed with a brand new, unreleased song, "Whatcha Gonna Do With It," featuring each member on a mic as they danced around singing to a backup recording. They were the perfect act to launch the Fringe stage and a highlight of the entire festival.
Orlando rock band Fireflight followed with their brand of alt rock. The previous time I saw the female-fronted band live, vocalist Dawn Richardson was nursing a black eye she accidentally received while dancing on stage with Family Force 5. Richardson was back in form and the fivesome launched their one o'clock set appropriately with "Action." "Serenity" and "Something New" followed, before the audience was given a special treat. Because Day Of Fire was also on the lineup for the day, vocalist Josh Brown was in attendance, allowing him to guest on Fireflight's single "You Decide," which Brown recorded with the band. As they were in the middle of "It's You," we decided to walk back to the Main stage where KJ-52 had been performing since one o'clock. Here to review his performance is JFH staff member, Justin Mabee...
After years over at the Fringe stage, and a test mini-set on the Main stage in 2005, Christian rap staple KJ-52 has finally graduated. After a little bit of what KJ likes to call "hip-hop exercise," the rapper and his band went right into the first single from The Yearbook, "Do Yo Thang." Most of the rapper's shows incorporate a majority of his big party hits, and this show wasn't much different. A decent mix of songs from each album followed, with "Push Up," the signature "Rock Wit It," and "Do Ya Got That?" In between songs, KJ did his traditional old school mix, where he tries to dance and many times, it just doesn't work. Then his drummer started playing games with him on stage, beginning different songs that were completely off of the next song. KJ kept threatening to fire him on stage right there, but it all turned out to be just a good time of fun for everyone present. One thing that the rapper does every show that can get very entertaining is a game he plays with the audience, called Stump the Rapper. Each show, he picks three objects to rap about, and if he messes up or can't do it, the person gets a free CD. This time around, he rapped about a bottle of Mountain Dew (complete with drinking it on stage), fake Paris Hilton sunglasses (which he wore while rapping), and a bottle of sunblock. The crowd didn't get him this time, but he said they were close. KJ continued his set with the classic "Gimme Dat," and that led into two more tracks from his newest album, "It Ain't Easy" and "You Can Still Come Back." As his time was winding down, the rapper finished his decent set with a classic from Collaborations, "47 Emcees."
Right after KJ's set on Main stage, rock/metal act Disciple were also given their first spin at the larger audience, with their previous years taking place at Fringe only. The guys always put on a tight, energetic show, and from the get-go with "Regime Change," Creation East was given a rocking set. Here's Justin again with his thoughts on their set...
Disciple always puts on a good show, and after a couple years on the Fringe stage at Creation, they were able to get an afternoon spot on Main this year. The Main stage also gave them the chance to do a couple more songs, which seemed to be pleasing to everyone in attendance - even the headbanging moms (which was quite odd to see)! The band started with the album opener from Scars Remain, "Regime Change," and followed it up quickly with "Rise Up." It seems that every concert the band does, they pick one song from their older albums to play. This time around they chose "Back Again," a hit from their album of the same title. Then as the next song started playing, lead singer Kevin Young said that it was dedicated to all the troops in Iraq and Afghanistan, and led right into the beginning of the furious sounds of "Game On." The title track from their newest album quickly followed, as did a list of other hard-hitting songs, like "Someone," the rock ballad "After The World," and "Shine Down." Another hit, "Into Black," from their self-titled mainstream album followed, and as the band started to wind their set down, they plowed through their final song, the hit "The Wait Is Over." The only other time I saw Disciple live, it was mostly the same set, but nevertheless, they have a stage presence that keeps you coming back for more.
Surprisingly, Disciple's set had begun a good fifteen minutes early, so when my wife and I had left almost midway through Disciple's set, Day Of Fire was just about to begin over at Fringe at 2pm. I hadn't seen a full DOF set since they toured with Third Day nearly two years ago. What unfolded before the sea of rock fans was a strong rock set, with DOF's Josh Brown leading the way. Even if the band's post-grunge sound displayed on their albums may not be your cup of tea, a Day Of Fire show is certain to be entertaining. Even from their opener "Wake Me," Brown has an intensity in his stage presence and is one of the more engaging frontmen in the genre. Their set mixed selections from their two Essential Records releases, including "Run," "Regret," "Hole In My Hand," "Jacob's Dream," the standout rocker "Love," the hit "Cornerstone," and "Cut and Move."
Sadly, at 3pm everyday, the festival shuts down to force everyone to watch one of the several speaker seminars across the grounds. I can understand why this is done, but it forces people to either listen to one of the messages or, if they're camping, to return to their camp to find something else to do. But all merch areas, food areas, and music are shut down during this time. If once a day isn't enough, it happens again in the evening for the final speaker who presents his message from the Main stage. The problem with closing food vendors at this time, is if you're spending the day trying to see overlapping shows between the Main and Fringe stages and there really isn't a lot of downtime, you're forced to wait an hour during the speaker's time slot whether you want to listen to them or not. And the speakers range in style of delivery. If you've grown tired of the kind of guys who yell or scream at large audiences to get their message across and get their audience's attention, you're definitely out of luck. However, good messages and speakers with something to say can certainly be found at Creation East - you just have to choose wisely when you have the choice. Lead singer Joseph Rojas from Seventh Day Slumber shared his testimony at the Fringe stage before their set at 4pm, while festival-goers had four more seminars to choose from elsewhere, including from Ron Luce and Bob Lenz.
Sometime around 4pm, the skies opened up again, and a torrential downpour covered Creation East again. We ducked into a merch pavilion while the rains heavily soaked the grounds. After about fifteen - twenty minutes, the rains had completely stopped, the sun was back out, and it was back to business for everyone. We made it to the Fringe area just in time around 5pm for Project 86's incredible set. The band ended up putting on one of the highlight shows of the week, not surprisingly. They opened with "The Spy Hunter," and vocalist Andrew Schwab came running out on stage with a bandana over his face and a black hoodie over his head. The audience was fired up and the stage security had to be in top form. When the crowds get too intense, kids can sometime get trapped between overzealous fans and an unforgiving metal barricade. This results in fans being pulled from the audience by security, and sometimes they look as though they'd just been trampled by a stampede. Every day there's at least one or two shows where this happens - even over at Main stage - and it keeps the security on their toes. But the rock show must go on, and Project played a healthy mix of cuts from five of their six records, continuing with "The Hand, The Furnace, The Straight Face," and a personal favorite, "The Forces Of Radio Have Dropped A Viper Into The Rhythm Section." While their latest record, Rival Factions is a much more melodic album for the now-trio, they picked some of the best tracks from it for their live show. "Slaves To Liberty" followed, along with "Safe Haven" from Songs To Burn Your Bridges By, and their new album's first single, "Evil (A Chorus Of Resistance)." For the first time I've heard it live, the guys performed "My Will Be A Dead Man." Several times during the set, Schwab stepped off the stage, stood on the barricade, and hung over it into the audience screaming along the words to their songs. The crowd loved it, and security held Schwab in place to keep things from ending prematurely due to injury. As the set progressed, the winds picked up again, and it began to rain increasingly heavier, and Schwab stepped back into the audience to share the elements with them. After "Put Your Lips To The TV," they closed surprisingly with the classic "Stein's Theme," which left the enthusiastic audience screaming for more. Even more surprisingly, the festival let the band return for a two-song encore, as they performed "One Armed Man (Play On)," and "Hollow Again" to end their set.
Flicker rock act Pillar was next, and here's Justin Mabee for his thoughts on the band's show...
After arriving late due to heavy traffic, Pillar took the Fringe stage after Project 86's encore set. After addressing the crowd and explaining about the traffic problems, the band slammed into their old hit, "Fireproof." Because of time restraints, the whole set the band did seemed very rushed and cut down, with lead singer Rob Beckley barely taking time to talk to the crowd during breaks of songs. The forceful rocker "Bring Me Down" followed, as did "Hypnotized." Fans seemed quite disappointed as the band explained that they only had a few songs left in their set. A new song, "Awake" from The Reckoning quickly came and went, as did the screaming choruses of "Simply" and the smash hit "Everything." Almost inevitably, "Frontline" followed to mark the band's last song, and they left the stage. After some prodding from the crowd and making sure it was okay with the Creation staff, the band returned, and launched into their final song of the night, the scream-laden "Tragedy," also from the new album. Overall, it was a short set from a great band, and was a less than momentous way to end the Fringe stage festivities for the day.
While Project and Pillar rocked the Fringe stage,
Ayiesha Woods
and
Salvador
were performing Main, followed by a brief worship set from
Tim Hughes
. We took the post-Pillar show opportunity to grab some dinner before they closed the food vendors down for speaker Ron Luce's message at Main. Around 9ish, we went back to Main stage for
David Crowder Band
's impressive worship set. For one last time, here's Mr. Mabee on the DCB show...
After a concert-filled day, I headed over to the main stage to see David Crowder Band perform. It had started to drizzle, but that didn't keep most of the 75,000 people at Creation away. David Crowder and his band immediately took the stage, for they had done their sound check hours earlier. Only addressing the crowd quickly, the band went right into an old worship favorite from their first album, "Undignified." The crowd, especially those at the front, knew they were in for a fantastic set of worship and fun. Without missing a beat, David Crowder instructed the audience after the song to repeat after him the chorus to the next song, "No One Like You," and in his signature way, he said their first time was "pretty, but not good enough." Finally by the third try, the audience had the part down, and the beginning riff to the song opened. "Foreverandever, Etc…" quickly followed, with Crowder picking up his one and only keytar, and playing a little Super Mario Brothers tune before launching into the hit song. Quickly getting a new guitar and checking its tuning, the singer went right into the band's single "Here Is Our King," and followed with a beautiful hymn, "Come Thou Fount," which concluded with a chorus of "Amazing Grace." The bluegrass flavor of "I Saw The Light" soon followed, and Crowder introduced the title of their next record, The Remedy and that the next song would be on it. "Never Ending" was that new song, and was followed by what fans of the band call "The Rock Opera" from A Collision, "You Are My Joy". The sleeper hit "The Glory Of It All" was right after, along with two more hits, "O Praise Him" and "Sing Like The Saved", to close out their short-lived set. The crowd wouldn't let up for them to leave the stage, but no encore was given, due to time restraints. Third Day would follow, but after such a busy day, I retreated to my car to sleep out the night, while John enjoyed the band's set...
Indeed I did! ...despite being ridiculously tired. One of my favorite moments of the DCB set, however, was when Crowder pulled out a "Guitar Hero" video game controller that drummer Jeremy Bush had rigged to play like a real guitar. It made for a great live moment, and it sounded surprisingly good.
To bring things to a close for the evening, Atlanta rock band Third Day served as the finale, opening with the upbeat "I Got A Feeling" from their record Wire, setting the tone for the show. The stage was set up with three large illuminated versions of their Come Together logo, and lead vocalist/guitarist Mac Powell was even sporting the longer locks that he had during that tour. The southern flavor of "Took My Place" followed, along with the catchy "Rockstar" and the worshipful "40 Days." There was a distinct emphasis on worship during Third Day's set, as they performed "You Are So Good To Me," paused for the rockers "Tunnel" and "Come On Back To Me," and resumed the verticality with "I Believe," "Your Love Oh Lord," "Nothing But The Blood," "Cry Out To Jesus," and ended with "God Of Wonders." Their encore was surprisingly "Come Together," which ended up being a fine way to lead into the Creation Festival Communion ceremony in which co-founder Harry Thomas came out with the band to lead the audience in Communion. As the small cups of wafers and grape juice were passed out, the band played their aptly titled original "Communion," followed by "Blessed Assurance," and ended the night with their cover of Rich Mullins' "Creed."
It was a fantastic day of music, and despite feeling quite worn out already, two full days of Creation fest happenings were still to come...
On to Friday... --
John DiBiase
, 7/5/07
Creation 2007: Thursday Photo Gallery
click on an image for a bigger size
Britt Nicole -- 10:40am Main Stage
Family Force 5 -- 12:00pm Fringe Stage
Fireflight -- 1:00pm Fringe Stage
KJ-52 -- 1:00pm Main Stage
Disciple -- 2:00pm Main Stage
Day Of Fire -- 2:00pm Fringe Stage
Project 86 -- 4:00pm Fringe Stage
Pillar -- 5:00pm Fringe Stage
David Crowder*Band -- 9:05pm Main Stage
Third Day -- 10:20pm Main Stage
*all photos by
John DiBiase
and are the property of
Jesusfreakhideout.com
Creation 2007 Review: MAIN | Wednesday | Thursday | Friday | Saturday