Music has played a huge role in the life of
Matthew Ryan
since the age of ten, when he first jumped into serving on his churchís worship team. The multi-instrumentalist soon found himself joining a choir in high school, which further opened his eyes to the musical gifts that God had given him. This newly-realized talent, combined with his heart to share the Gospel, eventually led Ryan to taking pen to paper, coming out with five songs that make up his debut EP,
Healer
.
The title of the EP isnít a simple, passing reference to one of Godís characteristics. Part of Ryanís story includes a testimony of God healing him of his then-lifelong bout with epilepsy, from which he suffered up until his junior year of high school. And he hasnít forgotten Godís kindness, which is evident in these songs, most notably in the title track: ďYou are the strength inside of my weakness / You are the life inside my veins / You are the Lord above every sickness / my words could not explain Ö my Healer, my Savior / You have overcome / my comfort, my shelter / the victory is Yours.Ē These lyrics may not be the most poetic, but the passion behind them almost nullifies the need to be fancy about it; Ryanís desire is to thank the Lord for what Heís done in his life, and he does just that.
ďI Give It AllĒ is one of my favorite tracks, from a lyrical perspective. Here, Ryan expresses his desire to give everything to Jesus, but itís interesting because he also acknowledges that he can only give his all because Jesus first gave His all: ďI give it all / Lord, I give You my heart / Jesus, I give You my life / for You alone, You buried my shame and carried it out ok the cross.Ē ďSecret PlaceĒ is great, too, with an emphasis on trusting in Godís promises: ďI see a fire lighting up the sky / I see a shelter, a refuge in the light / I see a future where I donít have to run and hide / I see a promise of what You made me like.Ē
Musically, Ryanís influences are very noticeable, as the long, drawn-out tracks and big, anthemic sounds point to artists like Bethel, Hillsong, and Elevation Worship. But there are plenty of things in each song that help them stand out from the crowd a little. The synth in ďI Give It All;Ē the quiet strings and gorgeous, airy vocals in ďYouíre So Good To Me;Ē the fact that ďHealerĒ sounds like a glorious sunrise on a flawless morning; thereís so much to appreciate here, and more of it becomes noticeable with each listen. My first time listening through these songs was only a scratch on the surface, and repeat listens got better and better.
Matthew Ryanís debut EP is a great start for a young worship leader full of gratitude and humility. Listeners who donít take much pleasure in corporate worship music (like any of the above mentioned artists) may or may not find something here to enjoy. However, Healer is more than what the first meets the ear, and is certainly worthy of your attention.
- Review date: 7/2/19, written by
Scott Fryberger
of Jesusfreakhideout.com
JFH Staff's Second Opinion
Matthew Ryan is a singer/songwriter with a worshipper's heart hailing from Houston, TX. Ryan, who takes influence from church worship groups like Elevation and Bethel, makes it his life goal to spread the gospel of Christ. His debut EP,
Healer
, has recently released and is inspired by the story of his own personal healing from epilepsy. The musical inspiration is certainly heard throughout the five tracks -- especially when it comes to Bethel. All the songs fall along the slower tempo side of things, but they aren't without some really nice dynamics. For instance, the drum builds toward the end of "We Will Sing Your Praises" are a really nice touch to give the song some extra interest. The single from
Healer
, "I Give It All," rings with a little more of the Elevation sound with the electronic elements and overall feel. While the opener is a solid number, and "You're So Good to Me" has a beautiful sound, the top song is arguably the title track. "Healer" is another song that relies on dynamics and the overdriven guitar that kicks in near the 2:40 minute mark, as well as the end of the bridge later in the song, helps to sell this dynamic. Ryan sings, "
My Healer; my Savior, You have overcome. My Comfort; my Shelter, the victory is Yours
," as he sings out in worship to his Healer and Savior. Knowing Ryan's story gives it an added dimension that lends even more power to the song. Matthew Ryan's
Healer
is an EP that fans of worship music can easily enjoy, but those who have experienced a miraculous healing may relate even more. It could also be the EP and encouragement that those in need of healing have been waiting for. No matter your circumstances, a reminder of God's faithfulness, love, and healing power are never a bad thing. - Review date: 7/2/19, written by
Michael Weaver
of Jesusfreakhideout.com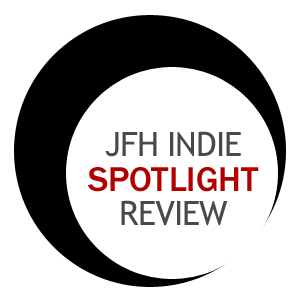 Record Label:
None

Album length:
5 tracks: 28 minutes, 53 seconds

Street Date:
June 1, 2019

Buy It:
iTunes

Buy It:
AmazonMP3
We Will Sing Your Praises (6:41)
I Give It All (6:31)
Healer (6:14)
You're So Good To Me (2:46)
Secret Place (6:41)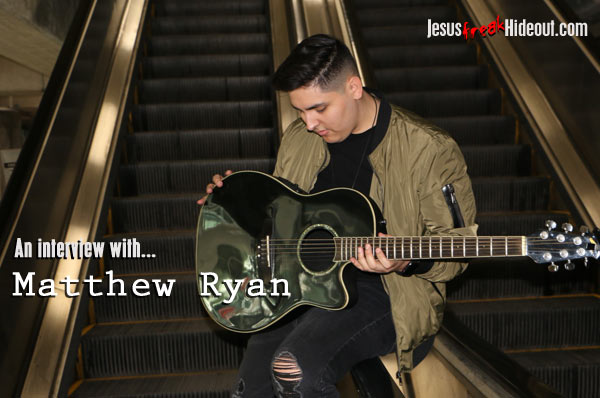 Jesus Freak Hideout (Scott Fryberger): Your bio says you joined a worship team at ten years old. How long had you been playing music before then?
Matthew Ryan: I had been playing guitar and piano for about six months before I approached my parents and asked them if I could join the worship team. They felt I was ready, and I was heavily involved with the worship team from that point on.
JFH (Scott): When did you begin writing your own music?
Matthew: I started writing my own music this past January; however, growing up I would write little instrumental songs and themes all the time.
JFH (Scott): What are some of your favorite artists and/or artists that inspire your sound?
Matthew: Growing up I listened to a lot of Relient K and Demon Hunter, so I had this crazy concoction of punk, pop, rock, and metalcore. I absolutely love Elevation and Bethel Worship. So recently Iíve been getting a lot of inspiration from people like Elevation and Amanda Cook.
JFH (Scott): You have a great testimony of God healing you of epilepsy. Can you share a little more about the experience of a supernatural healing?
Matthew: When I was 16 years old I was fed up with taking medicine every day since I was 5. I decided to listen to a lie the devil told me that my epilepsy medication wasnít working. So I stopped taking it, and I didnít tell anyone for six months. At the end of the six months, I had my annual tests that I needed to do, so I got a brain scan done, and the doctor told me that my epilepsy was gone. But not only from this immediate scan, but from the scan that happened prior to that one, the same month I decided to stop taking my medication. Itís my belief that Jesus died for our sins and our sickness. And God does things for us even when we donít deserve it. Today I am six years free from any trace of epilepsy. Itís the craziest experience Iíve ever had in my life, and this is something that no atheist nor agnostic could ever try to take away from me. Because this type of healing does not happen in the medical world. When people get healed of epilepsy, itís through careful, monitored weening off of medicine. But God healed me immediately after I quit my medication cold turkey.
JFH (Scott): Do you get opportunities to play your music and share your testimony for an audience?
Matthew: Iíve actually been getting great opportunities to sing and share my testimony. I just finished up a short two-week California tour, and Iíll be traveling to Mexico City and other areas around it to sing in July!
JFH (Scott): Which song from Healer would you recommend to someone curious about your music?
Matthew: If you havenít heard my music, I highly recommend checking out "Healer." Itís my favorite song on the EP, especially because healing is something very near and dear to me.
JFH (Scott): Do you plan to continue making music?
Matthew: Iíve already begun the writing process for my next EP or potentially an album. Since the release of the Healer EP in June, I already have three more songs.
JFH (Scott): Is there anything else you'd like to add?
Matthew: I love and cherish everyone that supports my music, because every single penny that I make from CD sales and traveling goes immediately into my savings account for my Bible school tuition. In August I will begin taking courses at Christ for the Nations Institute to get a worship degree. I could not be more excited! I absolutely cannot wait to be in that amazing atmosphere of worship and fellowship with other believers with the same passion. So please buy a copy of Healer - itís only $5 - and help me continue to grow in my ministry.