Brightwork
has been around for a few years and have released two EPs and then a third as small taste leading up to their first full-length.
Hope For Love
finds the Roanoke, VA band changing musical directions a bit. While songs like "The Sky and the Sea" from the
Brightwork EP
and "Yesterdays" from the
Loving Rescue EP
toyed with the idea of a pop/rock sound, the overall tone was much more CCM based, with comparisons to Mercy Me, Sidewalk Prophets, and the like being evident. Instead of continuing the trend set forth on their first two EPs, Brightwork has decided to embrace what they only experimented with in the past works. While still rooted in CCM, the group is likely to be compared to a completey different group of artists. "Let Me Love You" is a bit reminiscent of Mae, while the title track and "More" have some shades of Anberlin present. By "shades," I simply mean the sound is similar, but the aggression of the music and vocals are toned down a couple of notches. While these comparisons aren't really a stretch, they are, however, coated with a pop sheen and the CCM feel of someone like Everfound or Rush of Fools.
Brightwork has crafted a nice sounding pop/rock record with Hope For Love. With the majority of CCM artists going for the ever-popular "worship" sound, or just sticking to straight-forward contemporary, pop/rock is a niche that seems to be slowly disappearing from the Christian music industry. Even when some artists break out with a solid pop/rock album, they will follow it up with something much safer for CCM radio, if not just a full-on worship album. It's nice to see Brightwork seemingly do the opposite. Catchy tunes like "Rescue Remedy," "Difference," and "Now or Never" are coupled with rock-driven songs like "Let Me Love You," "Hope For Love," and "More" and then topped off with the CCM standard tracks "Write This Down," "Valley," or the piano led, and stand-out, "Heart Shaped Hole." The lyrics are highly spiritual and faith-based, but don't seem to be as watered-down and reused as some. Musically, the band is competent and offers up a variety of sounds.
Brightwork may not have struck gold with their first full-length release, but they show a definite improvement and willingness to grow. The group has maintained some of their previous sounds, but has pushed forward into different areas as well. Hope For Love isn't necessarily new and exciting, but it is a solid entry for the still sprouting band. Hopefully this solidly produced and overall nice sounding album will send some attention their way. Christian music fans deserve to listen to bands that are not only solid in their faith, but who are also willing to try new things musically.
- Review date: 10/31/14, written by
Michael Weaver
of Jesusfreakhideout.com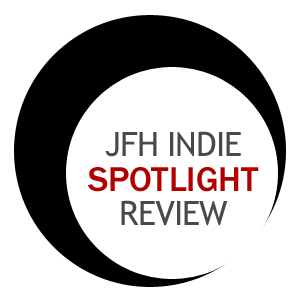 Record Label:
None

Album length:
10 tracks: 36 minutes, 55 seconds

Street Date:
October 7, 2014

Buy It:
iTunes

Download It:
AmazonMP3
Rescue Remedy (3:18)
Let Me Love You (3:36)
Difference (3:40)
Hope for Love (3:28)
Write This Down (3:57)
Valley (3:53)
More (3:31)
Now or Never (3:55)
Someone to Save Me (3:51)
Heart Shaped Hole (3:46)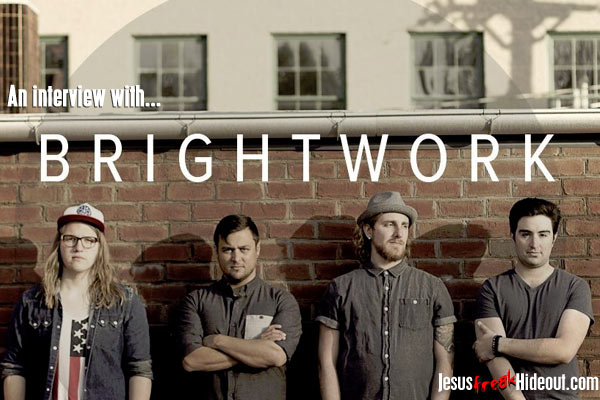 Jesus freak Hideout (Michael Weaver): How did Brightwork come together as a band and how did you decide on the name?
Caleb Carpenter: We initially formed in 2009 as I was exiting a previous project. Upon moving back to VA from Nashville, TN, I immediately started reconnecting with familiar contacts from different college ministries in Harrisonburg, VA, which happens to be home to James Madison University. Many of our early days were spent in dirty, cold basements rehearsing and writing for our first EP. It doesn't feel like it's been 5 years. Time flies when you're having fun I suppose.

Choosing a band name had to be one of the most difficult decisions in the startup process. Writing music and getting shows came naturally, but figuring out what label we were going to carry and be known by was extremely difficult. I think we originally started with a list of 200 names? Ha. There were some real solid ones in there, as well as some really really bad ones. We eventually settled on "Brightwork" after evaluating what we had set out to do as a ministry, and how that term related to us. Most people see the word Brightwork and actually think "Bright Works", which is a completely different direction than our original intention. I share this because we literally get called "Brightworks" at least once at every gig. "Brightwork" is actually a noun, as it is a nautical term for the craftsmanship on a boat. For example, Brightwork would be the shiny metal trimmings or varnished woodwork on a ship. It's what sailors have to continually polish and clean as they pull into harbor.

Ephesians 2:10 says "For we are God's handiwork, created in Christ Jesus to do good works, which God prepared in advance for us to do."

In some versions of this scripture, the word handiwork is translated as "craftsmanship." We see ourselves as that craftsmanship, His vessels for spreading and sharing the truth of the Gospel. And again, as sailors clean and polish the brightwork from their travels of the sea, God is continually shaping and refining us in his image through the peaceful waters, and treacherous storms of this life.
JFH (Michael): If Brightwork had a mission statement what would it be?
Caleb: This is what we have as a vision statement:

"As a ministry, Brightwork will love the people of this world as Christ loved them, to share and pray with the good in spirit, as well as the broken and needy. This platform has given us influence to speak into the lives of others, and we intend to use it to share the Gospel of Jesus. I will be transparent and honest, and rejoice in the truth that I, as man, am imperfect and in constant need of a Savior. In Brightwork, I will move to create and compose artistic works that inspire and encourage others. I am made in the image and the likeness of my Creator whom crafted the universe and the cosmos. I will not stifle, but rather embrace the revelations and words that are spoken over me, and through me. May God use us in this life to be a vessel for the Gospel, and may those who hear and see our music ultimately be drawn to the redeeming love of Christ, whom lives in me."
JFH (Michael): Hope For Love definitely retains the CCM feel of your first two EPs, but seems decidedly more pop/rock overall. Was this an area of focus while writing songs for the album?
Caleb: Absolutely. The past 2 years have been a major time of transition for us, with members and overall direction as a band. Brightwork has always been about ministry, and that will never change. Music is the means and platform from which we connect with people. We want people to see Jesus in our lives and our music, and we want them to know that Lord values them greatly. Another goal with this record was to make it extremely relatable and honest, and in doing so, I think we took a few steps away from the "super CCM" feel. We were all greatly impacted as young men by those big Tooth & Nail bands, and I feel as if we're trying to bridge the gap between the honesty of those songs and the commercial appeal of CCM. I don't know, maybe I'm weird but I like music that challenges me and isn't afraid to step on my toes. I still carry songs with me from 10-12 years ago that I routinely play, that at a specific moment spoke to real life situations for me and my life. So we kept that in mind and tried to balance the two worlds on this record. We feel as if we did a pretty good job of mixing things up on the record without necessarily sacrificing our identity as a band. We have definitely progressed more into somewhat of a rock feel, but we have a fair share of pop and vibe tunes on the record as well. I would go as far to say that there is something for just about every kind of listener.. Well, other than rap, which seems to be pretty hot right now.. but trust me, you don't want me to do that.
JFH (Michael): The album was funded by Kickstarter. How does it make you feel to have the support of raising just over $10,000 to fund this project?
Caleb: We were really thrilled with the outcome of the kickstarter. We're a relatively small, unknown band from the middle of nowhere Virginia, and the fact that we were able to garner enough support to help us finish our record was an absolute miracle. God's awesome.
JFH (Michael): Previously, you guys have only recorded two 5-song EPs. Was the recording process any different going in for a full-length record this time around?
Caleb: Yeah, it was definitely different to an extent. It took a good bit longer as one would expect. We literally have been working on this record for the past 2 years, and it's been a process getting it to this point where it's finally available. There is just so much work that goes into making a record. Our previous experiences helped us out as well, as far as knowing what to expect and what kind of deadlines we were working with. We also have to give major props and thanks to our team. We were blessed enough to work with some incredible people on this record, including Riley Friesen, Dustin Burnett, & Nathan Dantzler. Those guys are killer, and helped us take steps in the direction we were looking to go with this record. Seriously, we can't say enough good things about those guys.
JFH (Michael): Personally, "Hope For Love" reminds me of Anberlin and is probably my favorite song. Are they a band that influences Brightwork? What other artists influence you?
Caleb: Absolutely. We take that as a major compliment. We have followed those guys since the early days and love what they've created as a band. Really great music. The number of artists that have had influence on our music would be far too long to list on one page. We listen to a little bit of everything, but to name a few notable influences would include Bon Iver, Underoath, Coldplay, Angels&Airwaves, JimmyEatWorld, Radiohead, Muse, & Foo Fighters. As for names in the world of Christian music, I'd say bands like Switchfoot & Mainstay have definitely had influence as well. We love both of those bands. I'd be lying too if I said I didn't rock to some Steven Curtis Chapman back in the day as well. The Great Adventure used to be my jam as a kid.
JFH (Michael): What is your favorite song to play live from the new album?
Caleb: "Hope For Love" is definitely that song at the moment. We're getting ready to add a few more tracks from the new record into our live set, so it may be different in a few months, but that track is definitely the one to play right now.
JFH (Michael): God has been blessing Brightwork; your Kickstarter campaign is evidence of that. What has He been teaching you through this process?
Caleb: Hmm. That's a great question. I feel that God is consistently teaching us new things and lessons on a daily basis. We've really had to learn how to trust God with our future and our provision through this project. The music industry is tough, and for us it's really easy sometimes to look at other people's situations or circumstances and just honestly be envious. Being in a band is very much like being a missionary. We leave our families to travel all over the country sharing our stories and songs, while doing our best to point people to Jesus. In the meantime, we try to make sure all of our bills are getting paid on time. Again, it's a place for us where we have to ask ourselves if we trust our own reason more than we trust God, and somedays that's a real challenge. However, he has been so incredibly faithful to us throughout our journey. When I think back, there are a number of times that God has specifically shown up to meet a very specific need and just completely blown us all away. It's amazing to me. Whenever things are tough though, I try to dwell upon his word for it breathes life into us and renews our strength. There is also a quote that constantly resounds in my ears, one that has really has made me evaluate everything I do. Francis Chan states in "Crazy Love" that "Our greatest fear should not be of failure but of succeeding at things in life that don't really matter." With that being said, I want my life to matter, and I want Brightwork to advance the kingdom so that people might come know the God who gave himself up for them. There is no better feeling or greater purpose than to share that hope, that love, his truth.
JFH (Michael): If you were a box of cereal, what kind would you be and why?
Caleb: I would be Special K-leb, because my friends tell me I'm special. John would would be Frosted Flakes because it accounts for 3/4's of his diet. Micah would be a futuristic cereal that hasn't been created yet and is made of humus, and Andrew would be Lucky Charms because he comes from South Bend, Indiana where it's common to see Irish leprechauns. And we together would corporately be Pops, because we're super corny and love corny jokes.