We should all be thankful that music is never in short supply. Of course, many of us will complain about wanting to hear something new and fresh. Let's face it, it's easy to become discouraged when 8 out of 10 new artists sound the same or your favorite artist decides to "try something new" but ends up sounding like Taylor Swift or Nickelback. Of course, those are two very different styles, regardless, they just end up sounding like a cheap and day-late imitation. But then one of the 2 out of 10 new artists hits your music queue and everything changes, which leads to
Enterline
and their latest album,
Kingdoms
.
Kingdoms is a collection of indie-pop worshipful songs written by Melanie and Drew Enterline. While a number of these tracks might not become a part of the regular Sunday morning worship music rotation, there are still some incredible gems for worship leaders. Furthermore, they are deeply rooted in scripture and are handled with care.
Filling the album are synth-driven songs, like "All for Love," "Here and Now," and "Miracle," that have a pleasantly haunting sound reminiscent of 90's legend Dido with a blend of synthetic and natural instruments. This beautiful combination provides for quite a lovely listening experience. The title track is laden with 80's synths that give the song a bit of electronic whimsy, all the while singing of the greatness of God. As Melanie Enterline proclaims, "Kingdoms rise, and kingdoms fall, but Yours will be forevermore. In our hearts, Your love has won, now we are Yours," the truth of Jesus' lordship takes center stage.
"Hallelujah (My Heart Belongs To You)," and the bonus "Heart & Soul," feature a more organic sound while still retaining contemporary instrumentation. Enterline uses these moments very well to break up the polish with these lyrically raw tracks. In the future, it would be interesting to hear an entire album with this style.
In this reviewer's opinion, "It's In You" is the crowning jewel of the album. This wonderful reflective ballad dwells on the beauty of John 15:5, "I am the vine, you are the branches. If you remain in me and I in you, you will bear much fruit; apart from me you can do nothing." Without a doubt, it is truly a gift to treasure when an artist can musically translate scripture with such creativity. Up and coming songwriters should take note of how Enterline humbly let scripture inform their lyrics, not the other way around.
Enterline has crafted a very strong worship album that is sure to please many listeners. The band's knack for catchy hooks, encouraging lyrics and well-arranged instrumentation makes Kingdoms an album that is sure to gain momentum quickly. We should all set our hopes and expectations high for this band's future.
- Review date: 7/31/18, written by
Ryan Barbee
of Jesusfreakhideout.com
JFH Staff's Second Opinion
Enterline is a husband and wife duo playing pop/rock and worship music out of Costa Mesa, California. The couple released their debut EP in 2015, but are now unleashing their first full-length album,
Kingdoms
, to world. The album features nine new songs, their 2017 single "Resurrection and Life," as well as an acoustic version of
In Heaven's Light
's "Heart and Soul." Most to the music has a strong electronic and pop vibe, but many songs carry a driving rock aspect in the backdrop - the opening track, "All For Love," is a prime example. "Hallelujah (My Heart Belongs to You)" breaks up the big pop sounds for a straightforward acoustic worship song. The slick pop sheen is erased for a moment of simplistic music and earnest worship; it's a great spot on the album. Fans of Hillsong Young & Free and similar pop-centric acts should find a lot to love about Enterline as they use a lot of the same tricks. However, Drew and Mel offer up some actual musical moments helping them to stand out amongst similar sounding artists. For me, the acoustic songs "Hallelujah (My Heart Belongs to You)" and "Heart and Soul" take the cake and are the best available tracks, but the 80's undertones of "Miracle" and the infectious opening track are also great additions. The album is fantastically produced and should appeal to folks who enjoy worship music with a heavy pop leaning.
Kingdoms
is every bit as good, or better, than what you'll hear on CCM radio today. - Review date: 8/3/18, written by
Michael Weaver
of Jesusfreakhideout.com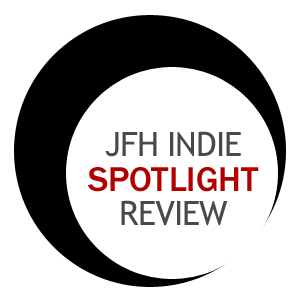 Record Label:
Calvary Creative

Album length:
11 track: 43 minutes, 48 seconds

Street Date:
June 1, 2018

Buy It:
iTunes

Buy It:
AmazonMP3
All for Love (4:09)
Kingdoms (4:20)
Running Free (3:36)
Here and Now (3:32)
Hallelujah (My Heart Belongs to You) (3:56)
Miracle (4:01)
Rest (3:27)
It's in You (4:19)
Give Me Jesus (4:19)
Resurrection and Life (4:10)
Heart & Soul (Acoustic) (3:59)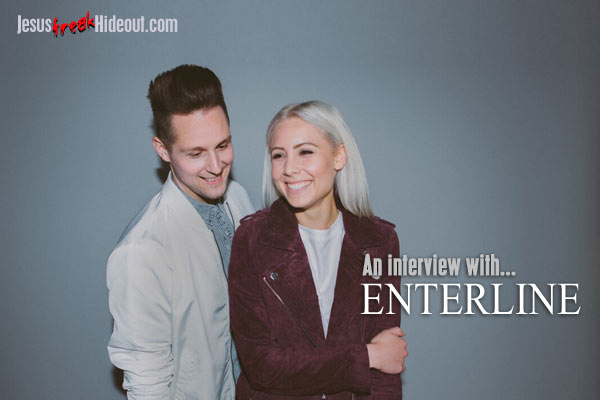 Jesus Freak Hideout (Ryan Barbee): First off, WELL DONE! Kingdoms is a fantastic album! But before we dive into the album, what is the story of Enterline?
Enterline: Thanks so much! We really appreciate it! My wife (Mel) and I met through the local worship music circle in Southern California and led worship together for a few years. After we got married, we spent our first year together writing and recording our first EP. We have spent most of our lives leading worship in the church and music is a passion that we both share. We had never written a whole song separately or together before but felt it was something we wanted to try together, especially because wherever we would play, people wanted to know if we had a CD they can listen to. It was kinda one of those things where we didn't want to wonder "what if" we would've made a project, so we went for it. We also felt like God was calling us to take a step of faith and He continually showed his provision throughout both of our projects. Our goal has always been to write, record, and produce all of our songs without compromising the quality for our listeners. We pray that our music can inspire, uplift and connect to our listeners. In the midst of recording both of our albums, we balanced several jobs each to make ends meet, and after 5 years, we are doing music full-time and excited for what's ahead.
JFH (Ryan): What was the inspiration behind Kingdoms?
Enterline: The inspiration behind Kingdoms is the message of LOVE. This is not just the kind of love that you just talk, but a love that is evident and shown, like the love of God. We believe that we have an incredible opportunity to be apart of the Kingdom of God, here on earth. We can all have our own "Kingdoms," whether that is building up your business, social media, or career, for example. These are all good things, but when we were writing this album, we had to ask ourselves if we are doing everything we can to help build the Kingdom of God to our fullest potential. In the world, we see so much hate, violence, and division and we know that love is the only thing that can defeat this kind of hate. Unfortunately, we have seen Christians mistreat or disown people who needed love the most. We know that us as a church can overall be making a bigger impact. We have seen division in the church and hope to see more unity among Christians so we can make a bigger impact in our world today. Our message behind Kingdoms is to inspire and empower others to break down the walls of division or fear in their lives and run towards freedom.
JFH (Ryan): Everyone has their DC Talk's "Jesus Freak" or Michael Jackson's "Thriller." What was the album that made you want to start making music?
Enterline: This is a hard one! For Drew, it would have to be between U2's "Joshua Tree" and Coldplay's "Parachutes". For Mel, it would have to be between No Doubt's "Tragic Kingdom" and Eisley's "Room Noises". So I guess our top 5 records that have inspired us the most would be:
1. U2 "Joshua Tree
2. Coldplay "Parachutes"
3. Switchfoot "The Beautiful Letdown"
4. No Doubt "Tragic Kingdom"
5. Eisley "Room Noises"
JFH (Ryan): If we were to look at your recently played music, what artists and bands would we find? And which one is influencing your writing the most right now?
Enterline: Recently, we have been listening to Florence and the Machine, Bishop Briggs, Broods. I would say those are the most influential right now.
JFH (Ryan): What are the future plans of Enterline?
Enterline: The future plans for Enterline are to work alongside with a manager, continue to share our music and play concerts/events. We would love to tour more in the future. We plan on recording a few singles in the near future and to continue to write, produce, and record albums.
JFH (Ryan): If you guys had the opportunity to have 3 bands/artists to do a massive tour with, who would they be?
Enterline: If we had the opportunity to tour with 3 artist/bands in our genre, our choice would be Switchfoot, Hillsong United, and For King & Country.