The 80s are alive and well. Many modern bands have found their signature sound by drawing influence from the decade, such as Anberlin, The Hawk In Paris, Arcade Fire, and many more. Andrew Huang had long hated the music of the 80s, but after a recent change of heart, and having cultivated a love for the genre, he decided to make his main summer 2012 project an 80s pop tribute album (complete with vinyl copies to give the listener the authentic 80s experience).
The first single from Love & Desolation, the 80s album in question, is called "Boom Box." It immediately puts you in a different frame of mind, with images of big-haired singers with bedazzled suits behind huge keyboards dancing around in your mind as you take in the sweet synthy sounds and electronic drum fills. Oh, and the cheesy lyrics to boot, talking about making mixtapes and holding up his boombox until he dies just to get the girl back - it's beautiful. The second track, "Everything Will Be All Right," is just as grand, with Huang singing to a lost love (for the record, the video for this song is incredibly cheesy and demands to be watched multiple times). The mood picks up a lot for perhaps the biggest highlight of Love & Desolation, "Never Look Back." The synth is super sugary and addictive, the hook is very catchy and the saxophone solo just blows me away. One listen to this and no doubt you'll be hitting repeat several times. Another highlight follows, called "Sara." The Erasure and New Order influence in the music is brilliant and leaves you with almost no choice but to get up and dance. Another excellent electronic drum fill takes us from the bridge to the final chorus, which sings "Sara be mine, you know that it's time, you're all on my mind, you're all I'm thinking of, Sara be mine, you know that we'll shine, there's no one beside you I could ever love."
The party keeps going, but begins to slow down simultaneously, with "Every Night I Dream of Dancing." The authentic sounds of 80s pop are enchanting in this song, which comes to completion with layers of harmonic vocals singing, "You're the only one I'll dance with now, and they're never gonna hold me down." "Walk Into The Light" is a lot slower, and ends up being my least favorite track on Love & Desolation. It's not due to the slowness by any means; I just don't feel like Huang's unique vocal style fit the quieter sounds or the given melody as well as it fits the rest of the album. I do, however, enjoy the use of voice echoing in the pre-choruses, as well as the piano/keyboard melody. "Desolation" may be the oddball of the album, as it's the one track that really screams "80s-inspired" as opposed to "80s song." More than being an 80s album, Love & Desolation tends to exist as an album that is very inspired by the 80s pop genre. "Desolation" features a modern-era dance style synth rhythm, but with a beat that reminds me of a-ha's classic "Take On Me." There's a couple of lines before the bridge where Huang uses auto-tune, and the subsequent bridge where he spits some rapid fire rap verses. Huang is an excellent rapper, and unexpected as it is, I really enjoy listening to this bridge. "Defy" is the last of the eight tracks (get it? 8 track? I don't think that was intentional, but I rarely miss a pun), and it incorporates some pop rock. This anthemic track is the type of song you could picture playing during the credits of an inspirational movie, or maybe even during an inspirational montage of some sort. It definitely ends the album on a worthy note, taking the 80s theme in stride.
Love & Desolation is one of the highlights of Andrew Huang's music career. It's fun and reminiscent, and the lyrics are legitimately relatable for the listener, especially those listeners yearning for a certain special someone. This album gives you a dose of 80s pop with a modern take, and with a price tag in the single digits for a download, it's an even sweeter deal. You can also get it on CD or clear vinyl (both a first for Huang) through his Bandcamp, and enjoy holding the music in your hands, and getting to gaze upon the epic artwork from Heather Andrews. Drop by his page and see what you think.
- Review date: 10/25/12, written by
Scott Fryberger
of Jesusfreakhideout.com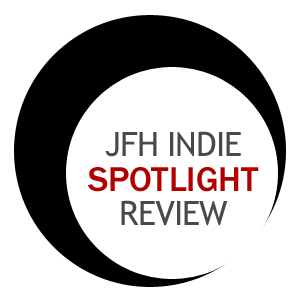 Record Label:
None

Album length:
8 tracks: 35 minutes, 18 seconds

Street Date:
July 10, 2012

Buy It:
Amazon.com
Boom Box (4:26)
Everything Will Be All Right (4:08)
Never Look Back (4:33)
Sara (4:19)
Every Night I Dream of Dancing (4:32)
Walk Into The Light (4:46)
Desolation (3:31)
Defy (5:07)