Graham and Abby Allen, aka
Wind and Sail
are back with a brand new EP. The New Hampshire husband and wife duo's 7-track pop infused folk set offers a lush sonic landscape. Wind and Sail call this sound "epic chamber pop to cinematic adventure folk."
Wild Edge
plenty of good musical moments, great melodies (look at "Quick Draw"), and some nice atmospheric background sounds to fill out the final product and put the cherry on top. Even the gorgeous album art adds to this experience. After a successful Kickstarter campaign to get the EP off the ground, the couple delivered in a big way. Produced by Grammy-nominated producer Jeremy S.H. Griffith, the promised 6-song EP, came out to seven. The couple's heart is that the EP was written for "you," the listener.
Wild Edge
seeks to help people find hope in a life of tension as we live between how things are and how we wish they were. The songs' lyrics explore this struggle, but also provide the hope necessary to navigate them.
The EP starts off with some hope in "Shalom," a Hebrew word for peace, before going into the lead single "Timeless." A couple of tracks later finds one of the biggest pop moments on the album in "Remind." The track features a great groove, is super catchy, and just gets stuck in your head. My personal favorite track follows; "Quick Draw" has a great vocal melody to start the track and the lyrics flow so well. The lyrics find true hope as the chorus hits, "You may feel small, but the Lord over all has your name written on His hand. Mockery and apathy, you have no mastery, and we won't fear your demands. We are children of God." The verse and chorus have a very different feel, but they work well together. The first transition feels a little abrupt with the complete drop out between them, but the flow feels much more natural the second time around. The EP closes out on a short and simple rendition of "Be Thou My Vision," which seems to be a great closer given the theme of the album. Both Graham and Abby have fantastic voices that highlight the already enjoyable musical journey. While Graham does take the lead vocally in most instances, Abby provides excellent harmonies and background vocals while taking full advantage of her lead spots on the back half of "Quick Draw," and at the beginning of "Boy and the Sea."
Wind and Sail's Wild Edge is an excellent addition to a solid year of music in 2023 -- especially from the indie scene. There are some fantastic moments interspersed throughout the EP, but there is never a bad moment. Whether it's a straightforward folk inspired number like "Shalom," the pop goodness of "Remind," or the more string-driven atmospheric feel of "Boy and the Sea," there is something to enjoy all the way around. Music fans drawn to these types of sounds should be giving Wind and Sail a listen today.
- Review date: 8/25/23, written by
Michael Weaver
of Jesusfreakhideout.com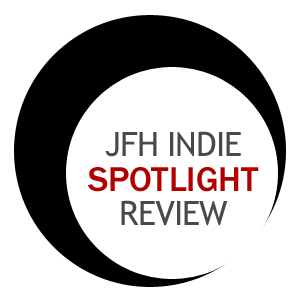 Record Label:
None

Album length:
7 tracks: 24 minutes

Street Date:
June 9, 2023

Buy It:
AmazonMP3
Shalom (3:49)
Timeless (3:47)
Wild Edge (4:23)
Remind (3:14)
Quick Draw (3:54)
Boy and the Sea (3:32)
Be Thou My Vision (1:28)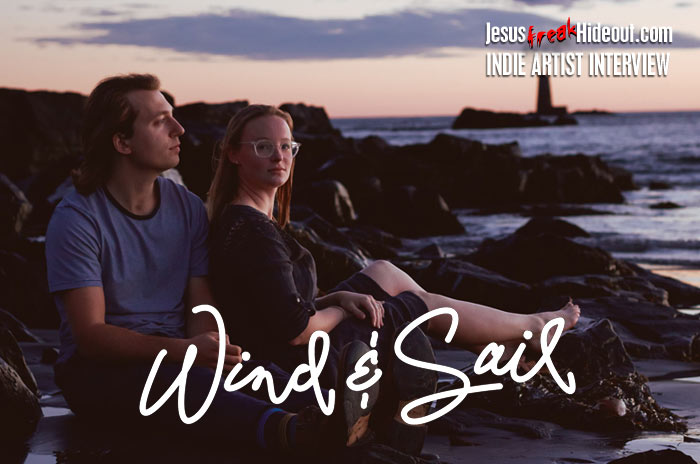 Jesus Freak Hideout (Michael Weaver): First off, this cover art is fantastic. Is this based on an actual photo, or is this just an outstanding looking artist interpretation? Who put this together?
Graham Allen: Thank you, that's so kind! Our band is comprised of me (Graham) and my wife Abby. Abby has an incredible eye and hand when it comes to design - she composes all of our album art. All of the singles for the album were acrylic pours that she then digitally manipulated to create different scenes.

The album cover itself was a group effort. Our amazing friend, Lauren Quinn (Mountain to Sea Photography New Hampshire), did an album photo shoot for us at Fort Foster in Maine. The combination of the shore and the lighthouse were strong thematic nods to how we envisioned the music being physically represented. Abby then manipulated the photo to exchange the sunset sky for the stars.

This was intended to partially be a nod to the influence that epic stories and sci-fi has had on our work, and partly a nod to the Scriptural promise of the closeness of Heaven. Christ says the Kingdom of Heaven is at hand. I often forget that, but my memory doesn't make it any less true or majestically close.
JFH (Michael): You describe your music as "Epic Chamber Pop to Cinematic Adventure Folk." It may sound odd, but it just takes one listen through Wild Edge for it to make sense. How would you explain eclectic sounding mix this to a potential listener?
Graham: I'm glad that genre moniker clicks! We actually worked for a while trying to figure out how to classify our music - every artist probably thinks their work is really unique, but we had a hard time genre-sorting our music.

We describe our music as being heavily story-based, with a trend towards the epic and imaginative. Musically we like to meld layered guitars, tight vocal harmonies, and strings. We see a lot of our songs like a movie, sometimes large and cinematic, other times pensive and reflective, and sometimes quiet and comfy.
JFH (Michael): I really love how the album flows together seamlessly, but no song really sounds like another. Was this your vision from the start, or did Jeremy have a lot to do with accomplishing this with the different sounds?
Graham: It is a huge compliment to hear that the EP translates to you as a continuous work, as we also felt like each song was quite different from its neighbor.

These songs took us 3-4 years to put together, partly because when we had played live, we were "just" an acoustic duo. Yet we wrote songs that we felt deserved much more grand and elaborate production clothing for their recorded version.
That was a huge factor in working with Jeremy. He'd done everything from acoustic duos (I.e. Johnnyswim) to death metal (I.e. Anberlin). So we knew he had the knack for really listening to an artist and bringing out their creative vision.

Jeremy actually said he wanted to work with us because he thought our songs were "weird". That honesty is one of the highest compliments - our hope is to be able to make original art that can resonate deeply with someone, even if it maybe isn't immediately accessible to all.

We came down to our recording week with 18 songs, with the goal of narrowing down to 5-6. We roughly had themed all these songs around the tension between the where we find ourselves (in a broken beautiful world) and where we hope to be (hope both in the large biblical sense and also in the discontented "grass is greener elsewhere" sense). I think the songs we landed on actually tell that story the most cohesively.

We had the vision for elaborate, diverse production but couldn't actualize that vision. Jeremy is legitimately a genius - balancing craft and spontaneity. We really feel like these songs are the combination of all three of our creative visions.
JFH (Michael): I think the two songs that grabbed me the most (from the first listen and through subsequent) were easily "Remind" and "Quick Draw." With "Remind" the catchiness is just off of the charts (there's almost this retro sound) and with "Quick Draw" I love the melody and differing verse/chorus sound. Could you talk about those two songs a bit?
Graham: Funny enough, "Remind" wasn't even on our shortlist of songs! It was one of three songs we had presented for a song that would be groovy, moderately mid-tempo, and catchy. Jeremy immediately gravitated towards it, and it ended up coming together really quickly.

"Remind" is the counterpart to the song, "Wild Edge". Where "Wild Edge" is speaking to a friend who has forgotten hope, "Remind" is inside the mind of that friend. I wrote "Remind" when I was in a place where I knew all of the reasons for hope but couldn't translate that back to my heart.

A few years ago I was wrestling with a lot of pressure and stress, and trying to maintain a facade of composure. This song was written as a prayer to be recalled to the visceral hope that a relationship with Jesus offers us. It also was a confession of this tension: "I'm not okay, but I know that in Christ I actually am okay. Jesus, please reconcile these realities."

"Quick Draw" was the song we felt the most conviction about needing to record. It is equal parts gut punch and worship. For our debut EP, we felt really strongly about wanting to have this song as a clear testimony to the hope of Christ, almost to have as a compass for us as a band.

This came out of processing the loss of one of my best friends to suicide. We work in youth ministry and have continued to see the epidemic that suicide and depression are inflicting on our teen friends. This song was written in the hope of what would I hypothetically want to communicate to a loved one in their moment of desperate darkness.

There is also an element of frustration in the song-as there also is on the chorus of "Wild Edge" ("but you can't just stop in place"). It is part of our witness that we should hate the tendrils that darkness weaves around our hearts.

We labored with the lyrics on this song to balance the delicacy of the subject matter. We actually ended up re-writing and re-recording almost a third of the lyrics after the song was almost complete, because we wanted to make sure we were being precise with our language. Our hope is this song sinks deep and spreads far.
JFH (Michael): I also find the story of "Boy and the Sea" to be quite intriguing. What is the inspiration behind this one?
Graham: "Boy and the Sea" is hands down our favorite song we've written. This song was a very intentional effort to meld different influences and ruminations into a tale.

I had spent some time living in Goa, India. I got to absorb a lot of musical and aesthetic impressions that I really wanted to put down into a song. Goa historically had a lot of Portuguese influences, so their local music had a flair of Eastern and almost flamenco vibes. Those really colored the instrumental.

Lyrically, the song is an allegory. The young boy is Wonder personified, whereas the man symbolizes the fatigued modern/Western pursuit of success. In India I got to befriend kids living in the slums. This was the height of what we in the West would look at and say, "poor third world child." But I was shocked and humbled.

I have never found more vibrant community and belonging than among some of these Indian slum churches. I wrote this song because these kids-and the Holy Spirit in them-flipped my concept of privilege. I realized that as a modern, Western, first world citizen I am often wired towards a rugged individualism that prizes accolades/praise/success at the cost of Christian love/community. This song is processing that fact that-when I lose a Spirit-filled wonder-I can become a shriveled soul. It is a prayer to live for and live in a kingdom far beyond AND deeply within the world that we just skim the surface of in our busy sprint to get…somewhere?
JFH (Michael): This EP is obviously a labor of love, and the songs were written with purpose. What are you hoping that God will do through the release of Wild Edge?
Graham: Thank you for seeing it as such. It is honestly really humbling to see it come to fruition and sometimes scary to steward it. We feel like we're holding something precious.

We put a lot into this first release - big Kickstarter project, big production - our hope now is to connect it with folks.

The question is well phrased. We want God to do what He will. And we don't always know what that means. We felt really called to make the songs, and to record them in the way they now are. It is a very live prayer for us now: "God, what now?" We chose to prioritize the music before amassing a large social media presence.

I think the place God is calling us now is to lean into sharing the songs live. We've begun the groundwork for local shows (in the East Coast Midatlantic region) and a Spring tour (likely Midwest/South). God has begun giving traction, we're excited to see what He brings to fruition.
JFH (Michael): Take a minute to plug any upcoming shows or tell people where they can follow you on-line.
Graham: Our hope and heart is to make music into a community. We'd love for you to be a part of that!

This link will show you our upcoming shows and direct you to our website/mailing list/Patreon/socials: https://bio.site/windandsailsocial

We would be especially excited if you wanted us to come to you! Like I said above, we are leaning into taking our music to different communities. If you want us to play for your town/community/congregation, we would LOVE to open that conversation together.

You are a large reason we make music. Thank you for leaning in. May the Lord richly bless you with the peace of Christ and the fellowship of the Holy Spirit!