Ted Jiboye, a worship leader, singer and songwriter for over 20 years, is releasing his newest album, Faithful. Jiboye's sound, while familiar, is actually pretty diverse in the types of groups, or congregations, it could reach. Instead of the typical: Artist A's songs are perfect for Church 1, but Artist B's songs are better for Church 2, Jiboye blends his music to reach varied church types and congregations. Musically, a lot of Ted's songs carry the modern worship sound adored by so many, a-la the Chris Tomlin type of worship leader, but they also have an obvious gospel undertone that will attract listeners who prefer a more traditional gospel sounding worship. One of the best examples of this comes in the album's second track, "Bless the Lord." The vocals that start the songs have a strong gospel feel, but when the overdriven and palm-muted guitar comes in, the track switches to a Kristian Stanfill type vibe. The song takes full gospel effect when Ted starts a spoken word riff/bridge at the 3:50 mark. During this time, you can hear some gospel music chords being played, but it really pays off with the fantastic gospel breakdown leading back to the chorus at 4:24 -- a breakdown that Tomlin or Stanfill would never dare to try. While the first two songs are upbeat, the album slows dramatically for the next seven of the track list. And while songs like the title track and "Unshakable" are quite beautiful, the large lull in the middle hurts Faithful from the viewpoint of being an album that flows well. After the relaxed middle, Ted picks up the tempo, and diversity, for the final two songs. Each of the final tracks have a Latin flare with "Thank You" being more of a salsa number. Despite getting bogged down a little in the middle, Faithful, is a solid album that brings some much needed diversity to the table. The only other detractor might be more of a personal taste issue: At times, Jiboye gets a little too caught up in riffing and adlibbing -- especially in the faster songs -- and the singing just becomes the background vocalists for large sections of the song. Minor complaints aside, Ted Jiboye shows his experience on his latest release and delivers a very nice album. It's listenable for fans of multiple worship styles and genres, but manages to stay cohesive as a whole. The highlights are certainly "Bless the Lord," "Faithful," Gracious God" (with its children's choir), and "Unshakable." Faithful is worth picking up for worship music fans looking to expand their horizons on the types of worship music available across different types of churches.

- Review date: 1/22/18, written by Michael Weaver of Jesusfreakhideout.com

Record Label: None


Album length: 11 tracks: 53 minutes, 5 seconds


Street Date: January 26, 2018


Buy It:
iTunes

Buy It:
AmazonMP3
We Give You Praise (4:13)
Bless the Lord (5:22)
God Almighty (feat. Noel Robinson) (4:47)
Lord of All (5:27)
Blessing & Honour (3:22)
Blessing & Honour Reprise (2:43)
Faithful (feat. Ian Oakley) (6:12)
Gracious God (feat. The Kids from COM Church) (5:50)
Unshakable (5:49)
Thank You (feat. Muyiwa) (4:13)
He Is Alive (feat. Jacy Mai) (5:07)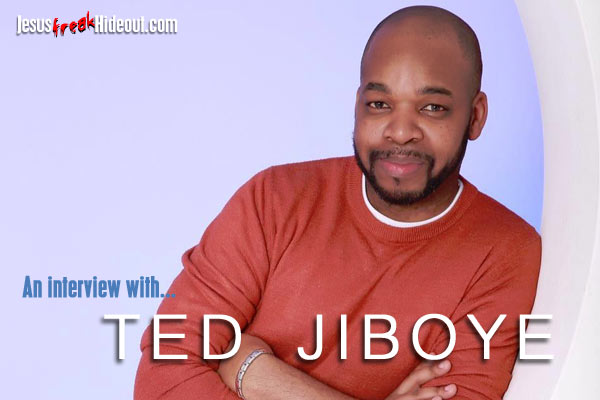 Jesus Freak Hideout (Michael Weaver): At what point in your life did you realize that the ability to be diverse musically, and reach out to all types of congregations, was so important?
Ted Jiboye: I realized this at a very early age. I discovered during my teenage years that my gift wasn't really one for a certain group type; I was the young singer that everyone gravitated to. I fell in love with and ministered songs from the Jim Reeves collection--in fact the gift attracted all types of people from the young to the old and cut across different cultures and backgrounds.
JFH (Michael): With that being said, where does your personal background lie when it comes to music -- especially when dealing with worship music?
Ted: I have always loved music as a child. I was in a church choir growing up, singing old and powerful songs from hymn books. I later got saved listening to an Integrity Music recording cassette that accidently fell into my hands. I had never heard songs that worshipped God in such a contemporary/modern way and that blew my mind and it was that experience that started the whole worship leading experience and journey.
JFH (Michael): I REALLY dig the vibe on "Bless the Lord." It's such a modern sounding worship song, but there are gospel elements all over the entire thing -- and that breakdown towards the end is killer! Can you talk about how you wrote and structured that song?
Ted: Thank You! "Bless the Lord" was one of the very first songs penned for this album, but I believe the song itself, the structure and everything else was inspired by the Holy Spirit. I remember getting the idea for the song while driving to work. The images I got were that of a massive congregation just declaring together with one loud voice "Bless The Lord" and the rest of the lyrics just fell into place. I finally sat with my producer to discuss the song and what we really wanted was a song that encompassed everything and be one that would relate to everyone. I hope we did just that!
JFH (Michael): Faithful sounds like a studio album, but it's recorded with the feel of a live album. What was your thought process going into recording the album this way?
Ted: LOL... That was intentional. Before embarking on the process of recording, we had toyed with the idea of recording a live album. But, in the end, we settled for a studio recording. However, what we wanted was an album that really captivated the heart of the listener and drew them into an atmosphere of worship right there in their living rooms. I think that is what we've ended up with.
JFH (Michael): Changing the topic a bit… What is being depicted on the album cover? There is a lot going on there when you really start paying attention.
Ted: The album cover tells a story or should I say depicts a journey of faithfulness. The journey of life starts us on a path and as we journey through, the elements of life surround us and sometimes make the journey somewhat challenging, and as we go on through, we leave behind the ruined walls of our lives or of our past. We know where we are heading and at times we can see it clearly, getting there may be a challenge, but God is with us all the way as we journey towards the goal. The one thing that remains constant in this journey of life is God's faithfulness.
JFH (Michael): Are you leading worship full-time at a church, or do you do more traveling as a worship leader?
Ted: No, I am not leading worship full time. I, however, lead worship on a regular basis at my church in Bedfordshire, England. I do, however, do a bit of travelling as a worship leader and still hold down a 9-5 job, but I have a feeling that, that's all about to change.
JFH (Michael): What are you hopes for this album and how God will use it and you?
Ted: My hopes for this album is simply that God will be glorified through it and that Jesus be lifted high, that it would go all over the world and that God uses it to touch lives, change hearts and captures lost souls, reuniting them with the Saviour and our Lord particularly beyond the four walls of the church. I am also believing that God's presence will abide and touch every listener and that the Holy Spirit would draw people from all walks of life to not just sing but enter into an intimate experience and realisation of God's faithfulness.