A music teacher by trade, with over a decade's worth of experience (including teaching in India),
Zachary Ray
has also recently jumped into the recording side of music. 2019 saw the release of two singles, "Refuge" and "Chloe's Song," and he's keeping his momentum going with his latest powerful single. "Let Go" is a mostly somber-sounding song, with minimal instrumentation at the beginning, adding layers and new instruments as the track progresses. Starting with nothing but a rhythmic piano and Ray's echoed vocals, the song gradually adds drums, strings, synth, and some background vocals for extra melody. The arrangement of the song really helps accentuate its theme, which, as the title might suggest, is about the idea of letting go and giving your struggles to God. You're likely familiar with the saying "God won't give you more than you can handle;" this saying is very untrue, and Ray's song is the perfect example of how to handle the situations when you
do
have too much to handle. The first verse of the song is plainly-written, as he sings, "
Days like today feel like more than I can take / when my strength is nowhere to be found / I cannot bear all this burden that I carry / inside, oh it's weighing me down
." Later, the bridge is Ray finding the answer; as the song crescendos, he sings, "
Take these chains of suffering / take this life, take these reins / give me hope, give me grace / give me freedom, in Your name
." "Let Go" is a solid single that piques my interest in an eventual album release. It's not necessarily a radio-friendly song, but the potential audience for it is pretty wide. You can listen to it now wherever you get your digital music. - Review date: 2/21/20, written by
Scott Fryberger
of Jesusfreakhideout.com

Record Label:
None

Album length:
1 track: 4 minutes, 6 seconds

Street Date:
January 17, 2020

Buy It:
iTunes
| | | |
| --- | --- | --- |
| Let Go (4:06) | | |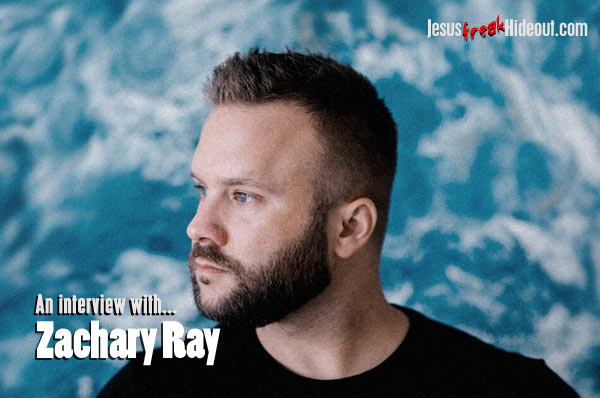 Jesus freak Hideout (Scott Fryberger): Your bio says you've spent nine years teaching music in Calcutta, India. Can you tell me about why you chose that path and how the experience has been?
Zachary Ray: After I finished studying at Berklee College of Music, I was really looking for opportunities to use music in a way that was bigger than myself - to use it to bring hope and healing to people. I got an opportunity to work with a music therapy program in India teaching kids that come from extremely difficult backgrounds. Most of them are orphans or have been rescued from red light districts or from a life living on the streets in India. That really began my career and life living in India.
JFH (Scott): Now that you're recording your own music, are you going to continue to teach? Or will you move into being a touring artist?
Zachary: I feel like I will always be a lifelong teacher and learner. I won't be teaching in the capacity I was in, but we can always learn something new on our journeys - music related or just life in general - that we can pass along to younger generations or older. I will start moving into a full-time career as an artist.
JFH (Scott): You have a few singles out now, but do you have plans for an EP/LP release?
Zachary: I'm currently working on new music writing with my producer, Nathan Walters. Eventually I will have a full LP release later in the year.
JFH (Scott): Can you tell me the backstory of how "Let Go" came to be?
Zachary: I worked on this song with my good friend Jillian Valentine. We were classmates at Berklee and stayed connected co-writing back and forth. This song is really a declaration song about releasing what we can't control into the hands of God and being at peace with that. This world seems so chaotic at times, but resting in His promises and knowing He has us all in His hands. He hears our cries!
JFH (Scott): What artists would you cite as your musical influences?
Zachary: I grew up listening to CCM. Steven Curtis Chapman was one of the first artists that I really listened to a lot. [I also liked] all the early 2000s pop: Plus One, Rachael Lampa, Stacie Orrico. Studying at Berklee, I joined a Stevie Wonder ensemble and started listening to a lot of early jazz vocalists, too.
JFH (Scott): What have you been reading in the Bible lately, and what are you learning from it?
Zachary: I've been staying in the Psalms lately. Not because they are simple and pretty, but mostly when I'm writing, it's from a place of Scripture. In Psalm 46:10, it says "Be still, and know that I am God." But when I began to read more about the command to "be still," it actually comes from the Hiphil (Hebrew) stem of the verb (רפה) rapha (meaning to be weak, to let go, to release), which might better be translated as, "cause yourselves to let go."
JFH (Scott): Do you have anything else you'd like to add?
Zachary: I feel like each of us has been given opportunities to be used in a greater way than just for our own personal gain. I'm grateful for the gift of music and songwriting and the impact it has to help shape and change the lives of people and essentially our world.