If you want new worship music, you can find it - granted much of it will sound the same, thus making your quest for new to be slightly disappointing. Indie newcomers
Augustus
are hoping to add their input into the worship music scene with their release,
Second to None
, but the question must be asked, "Is it new or is it the same song with a different vocalist?" The album begins with the synth-layered anthem "Second to None." During the introduction, it's almost reminiscent of U2's
How to Dismantle an Atomic Bomb
, but quickly changes to something resembling Chris Tomlin's early recordings. The only song on the album sharing the same synth sentiment is "Sonrise," but with a softer and more pop-driven sound. "Holy Lord" introduces listeners to the rock side of Augustus' music. This really seems to be the sweet spot for the band as "Open Heart Surgery," "King of Glory" and "Pentecost" are a continuation of this genre, albeit with a pinch more acoustic guitar. Speaking of which, for those who enjoy the softer acoustic sound, there's "Seek Ye First" and "Terra Sancta." Both of these tracks are clear expression of worship, yet the former could be used in a gathering while the latter is more personal. A true highlight of the album is "Son of Man." What begins with a somber overtone, ends beautifully as lead singer Andrew Michael Meador sings of the everlasting effect of Christ's resurrection has on the believer. For worship leaders looking for worship songs to sing during a Good Friday gathering, this will be perfect. The album concludes with the very upbeat "Messiah (Forever Praised)." Surprisingly, the album doesn't conclude as well as it started; musically, it feels empty and melodically cliché. While the lyrics aren't redundant, the level of the quality doesn't meet the standard set by most of the album. It's obvious that Augustus creates music deeply rooted in scripture - which songs the church body uses for worship should be. This point sets them apart from many contemporary worship artists as a decent portion of pop-worship songs are nothing more than emotions and feelings rather than biblical truth. In addition, Augustus are a group of very talented musicians. Reluctantly, it must be stated that the band's sound doesn't differ greatly from many worship leaders you can find at a contemporary local church in an urban/suburban culture. Nevertheless, any congregation would be extremely blessed to have a group of this caliber leading on a weekly basis. So does this album offer something new? Yes and no. That being the case, I wouldn't dismiss the future of Augustus; their follow-up album might break some new ground. - Review date: 7/19/15, written by
Ryan Barbee
of Jesusfreakhideout.com

Record Label:
None

Album length:
10 tracks

Street Date:
July 31, 2015

Buy It:
iTunes
Second to None (5:01)
Holy Lord (5:03)
Open Heart Surgery (6:19)
Seek Ye First (5:00)
Son of Man (5:32)
King of Glory (7:15)
Sonrise (6:01)
Terra Sancta (4:46)
Pentecost (4:04)
Messiah (Forever Praised) (4:49)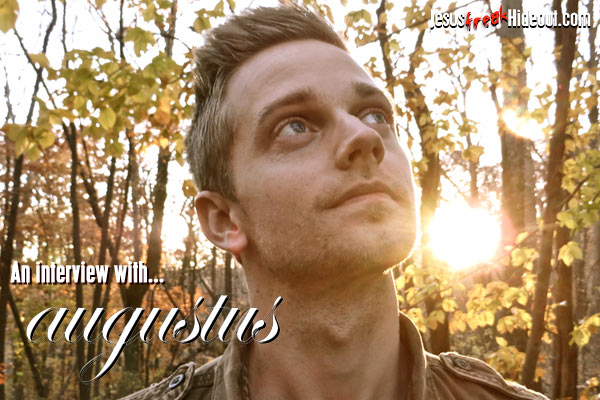 JFH (Ryan Barbee): What's the back story on the name of the band "Augustus"?
Andrew Michael Meador: Even though I grew up in the church, I didn't become a Christian until my first week at college. I could tell that I was not the same person I had been. I felt transformed on the inside. I read the stories of Abram being given the name Abraham, Saul became Paul, and so on. So one day I asked God, "I'm Andrew, but what do you call me now?" A few days later I had a dream and He whispered the name "Gus" to me.

I woke up and my first thought was, "Gus? Lord, that's a hillbilly name!" So I looked it up and saw that it was short for "Augustus" which means "worthy of respect". It has been a source of strength for me, a reorienting of my identity in Christ and as a Son of God. I decided that whatever I do I want to do it out of my true identity, who God says that I am, and so I named my band "Augustus".
JFH (Ryan): I've noticed that your lyrics are heavily inspired by scripture, which is fantastic! How important is it to write worship songs keeping scripture in mind?
Andrew: It is very important to me as a songwriter to make sure that the lyrics and the message of my songs resound harmoniously with Scripture. I often think about "what do I want to immortalize with my music?" Sometimes I take the Bible verbatim from a translation that I think really captures the message. Other times, I'll focus on the main theme of a passage and write my own lyrics to communicate the idea as clearly as possible. The bottom line is that I want the truth of the Bible to get stuck in people's heads. It's a very sobering aspiration, and most of the time I'm up for the challenge.
JFH (Ryan): What is your favorite song on the album and why?
Andrew: My favorite track is "Sonrise". It stands out sonically from the rest of the album because it's entirely synth-based. When we were rehearsing the songs for the album, it had a real John Mark McMillan's "The Medicine" vibe with electric guitars--kind of alt-country. But it just didn't fit. It felt lifeless and boring.

So I went home and had this musical intro that I had made a few months previously in Logic and I started building the track off of that. It was really natural to take it that direction and I felt that it gave the song its best shot at being heard.

Lyrically, it's my favorite imagery on the album. I wanted to communicate that we're living in the post-Resurrection era: Christ has risen and the Kingdom of God is manifesting on the earth.

Part of it was inspired by my thinking of a new way to say "the light drives out the darkness". I was looking at the sky one night and thought it looked like gasoline. I imagined what it would look like if the sun came and slipped past the horizon like a match head and set the night on fire. That's where the pre-chorus came from: "A new day has dawned, igniting the night, burning the darkness from our lives…" The chorus is "Flood our lives with holy light / The glory of the risen Son is shining down on us". Throughout the Gospels, I read about Jesus speaking in parables and using physical creation to teach spiritual truths ("I am the vine, you are the branches" sort-of-thing). I wanted to make the point that just like the sun rises in the sky and gives life to the earth, Jesus rose from the dead and gives new life to all mankind.
JFH (Ryan): I have to ask about the album artwork: it's some of the more unique yet intriguing that I've seen. What's that all about?
Andrew: I wanted to convey that the album has a modern sound and centers around Jesus, and I wanted the artwork to communicate what to expect from the album before listening to it. The cover is two pictures that I photographed and photoshopped together. They're both significant to me.

The foreground is a picture I took in San Diego. I hiked up this big hill and someone had built that cross with the cinder blocks at the top. It has special significance because it's really close to where my wife grew up. Also, I was there the day before and the day after, and that specific day was the only time that I saw it. Behind the cross is a picture of some ramp graffiti from my local skatepark in Indianapolis. Skateboarding has been a very positive (and sometimes painful) influence in my life, so it's definitely a representation of who I am.
JFH (Ryan): What are the top 5 artists/bands you are currently listening to?
Andrew: The Alabama Shakes, John Mark McMillan, The Punch Brothers, Gungor, and an equal mix of Hillsong United and Bethel.
JFH (Ryan): Where do you hope to see Augustus in the next five years? New albums? Big tour? Be as limited or as detailed as you want!
Andrew: I've been a high school science teacher for the last five years and I'm wanting to nudge that out so I can focus entirely on music and discipling worship leaders. I was a worship pastor when I started writing music for the church and I had huge ambitions and was really set on recording albums and touring with Augustus to lead worship and speak on worship.

My wife and I moved from Indianapolis to Memphis in 2014 and while this new album was in post production, I was setting the details for a CD release show back in Indy. While praying about it, I got the overwhelming sense that I needed to cancel the release show. After a few weeks, the feeling wouldn't go away, so I cancelled it. When I took that action, I felt the Holy Spirit tell me to "dig in and serve the local church." I put my dreams of traveling and touring aside and became fully invested in my church in Memphis.

The big picture to me is this: I'm following Jesus, anywhere. If He opens a door for me to go further than my city, then I'll gladly walk through it, but right now the sweet spot is serving the local church. He hasn't promised me fame and fortune in a music career but He has promised to transform me into the spitting image of Jesus Christ, so I'm holding onto that with both hands.

Even though it's tough getting over the initial trauma of letting go of a personal dream, I fully trust God to direct me and correct my ambitions. I have followed Jesus for the last ten years of my life and every time I've said "yes" to His guiding, I have discovered something much more satisfying on the other side of the decision. I can't sustain myself apart from Him, so I'm listening to anything He has to say.

I do hope that my personal influence grows and that I have the increased opportunity to mentor and disciple worship leaders and songwriters, to teach them what Jesus taught and to instruct them musically in leading teams and serving the Church.

As far as new music: I've got most of a Hymns EP arranged that I'm really excited about (a modern take on some of my favorite hymns) as well as three-to-five solid songs for another full-length corporate worship album. Those songs are the strongest I've written and I can't wait to release those!
JFH (Ryan): If you could go on tour with any band/artist who would it be with and why?
Andrew: Hands down, John Mark McMillan. I have a great respect for him as a songwriter and I love his music. I think we would gel really well together on stage and have a great time! I'd also be way into touring with Hillsong United, for the same reason.