Recorded worship music has made a huge impact on the Christian market over the past 15 or so years. With every passing year it grows and grows and grows. Indie newcomer
Tiffany Noel Watkins
is evidence of this growth as she offers her latest release,
Stronger
.
The album opens with upbeat "Brave." It has an almost Darlene Zschech feel as Watkins sings of all of God's works inspiring the believer to be brave. The vocal work is very high quality and musically it is something that would easily be heard in any mega church across the country. Sadly, this is the only real upbeat track on the album. "Give Me Faith" introduces the soft worship songs that incorporate some beautiful keys. "To Know Your Love," "Not for a Moment," and "Set Apart" continue with this same approach; granted, Watkins' voice really fits with the more gentle tracks. Her use of falsetto, and knowing when to push it and when not to, is very impressive - as some of the songs could be vulnerable to over-singing within them.
The album concludes with "Arrive Before Winter." Musically, it is more acoustic driven and features some very interesting chord structure - not bad, just different. Lyrically, it uses some beautiful imagery of the seasons to reflect the seasons of the soul, and how desperate believers are in the "winter seasons" of the soul. However, the track feels somewhat out of place, as if it shouldn't have been the conclusion but rather it should have broken up all of the slower songs. Regardless, that is just an opinion.
Music for the corporate worship setting is very difficult to critique, because listeners are observing art that is pointed directly at the Lord. It is also very personable; but sadly, many worship songs have built off of a model and sound set by trendsetters like Hillsong, the folks at Passion, Kari Jobe, and more recently Jesus Culture. In regards to Watkins' latest release, it is definitely decent art and has elements that many will find appealing: smooth and catchy melodies, easy to learn lyrics, and good sounding music. Worship leaders looking for some content to add to their library of Sunday morning songs will be very pleased with this release, although they sound like others that have been heard before. Nevertheless, this is a very good introduction for an artist and Mrs. Watkins should be very proud of her work.
- Review date: 8/27/14, written by
Ryan Barbee
of Jesusfreakhideout.com

Record Label:
None

Album length:
7 tracks

Street Date:
August 27, 2014

Buy It:
iTunes
Brave (3:57)
Give Me Faith (4:35)
To Know Your Love (4:12)
Not for a Moment (3:57)
Closer (7:18)
Set Apart (4:12)
Arrive Before Winter (4:41)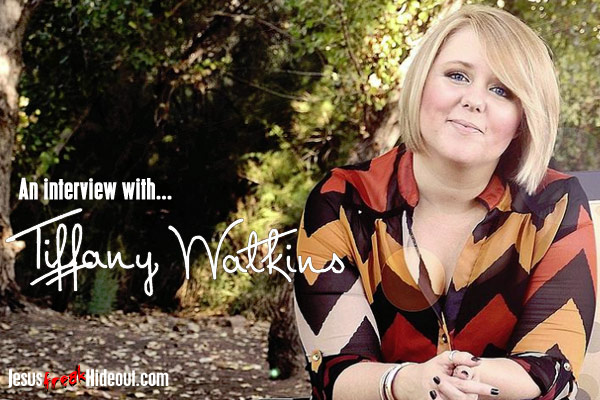 Jesus freak Hideout (Ryan Barbee): What made you want to record a worship album?
Tiffany Noel Watkins: I was at a time in my life where God was pruning and stretching my spiritual walk and God was bringing me out of my comfort zones. I had battled the idea of recording an album for a long time because I was uncomfortable with the idea of self promotion, but I knew that there was a lost and dying world that needed to hear about the goodness of God and I had a burning desire to be the willing vessel.
JFH (Ryan): Being a wife, mother, worship leader, etc… what was the recording process like?
Tiffany: LONG!!!!!! I would have to say that the process definitely had its tough times. Waking up early to a crying baby, then hours in the studio, then nap time for my son Koen, then worship practice, then band practice, then hubby time! All in ONE day. What made it a bit easier is my husband being a musician and tracking drums on the album, we spent a lot of the studio time together. I think we brought out things in each other as a married couple that strengthened us and will continue to strengthen us in the future. It was kind of a bonding experience per say...
JFH (Ryan): I loved the song "Set Apart." What's the story behind that song?
Tiffany: Well, where do I begin on this one... I wrote this song during a time in my life where I was uncertain if I had actually been called to be a worship leader. So I spent some time in the Word and began reading about all that God says I am, and out of my questions came His answers...which birthed "Set Apart."
JFH (Ryan): If we were to look at your iPod/iPhone (unless… you're an Android person) right now… who would be your most listened to bands/artists right now?
Tiffany: My most listened to:
1. Bethel Worship
2. Vertical Church Band
3. Jesus Culture
4. Kari Jobe
5. Gateway Worship
6. Elevation Worship
7. Hillsong Y&F
8. Hillsong United
JFH (Ryan): What do you hope to accomplish with this release?
Tiffany: I set out on this journey with no expectations except leading people to experience the presence of God in their everyday life. What God has for me after that is His call.
JFH (Ryan): What has God been teaching you lately?
Tiffany: I would say the big things that God has been teaching me lately is trust, faithfulness, endurance and that His plans are so much bigger than mine and to step back and enjoy life!
JFH (Ryan): I tend to end my interviews with some silly question, so here we go. If you were a surprise toy in a cereal box, what would it be and why?
Tiffany: I love this! I think I would want to be one of those cheesy plastic rings. Those things are the easiest way to bring out the childlike fun in your life!