Pennsylvania-based pop rockers
Compelled
have been glorifying God through music since 2004, when they started playing for their church. Five years later, the band put out their first official release, an independent EP called
Taken Over
. Then 2010 turned out to be a pretty big year for them; not only did they win the RevGen Battle of the Bands, which gave them the opportunity to actually participate in the RevGen Festival, but they also released a follow-up EP called
The Fight
. The EP shows the listener that Compelled is a talented band. Lead vocalist Matt Russell sounds like a more contemporary version of Anberlin's Stephen Christian.
The Fight
has a bit of a rough start, with "Fight For" sounding a lot like something you might hear from Chris Tomlin, but after that, the songs get a little stronger. "The Trend" is a good pop rock song; while not terribly original, it maintains a pretty solid sound and structure. "Nowhere To Go" brings in an electronic element, with a mild drum machine acting as the backbone of the song. The song is a yearning for God's saving grace. "Prodigal" is a bit of a power ballad, except with the guitars being a lot more toned down than other songs that would be considered power ballads. It's like a slightly more daring Goo Goo Dolls song. In other words, it's a made-for-radio song (with some pretty cool drum fills in the middle). They take on somewhat of a Copeland-esque sound for "Gotta Move," with a big indie/pop vibe. I like the chorus: "
If loving You means I gotta move, I don't wanna be still, and if anything is left for me to prove, I just wanna be real
." Some of the guitar work is pretty on point,as well. I would say "Gotta Move" is the highlight of the EP. The EP's final two tracks aren't quite as good as the middle section. "Redemption" has some good musicianship, but doesn't quite compare to the songs before it, and "My Desire" goes back to the Tomlin-like pop rock music (though this time around, it reminds me more of Matt Redman than Tomlin).
The Fight
is a quality EP from the fourpiece, and they have a lot of potential to make a name for themselves either in the Christian radio world, or the indie/pop rock world. I would hope for the latter, but either way, I think we'll be hearing more from Compelled. One thing I would recommend is working on having a stronger beginning
and
end to their albums. The strength of
The Fight
really lies in the middle three tracks. A stronger opening and closing will help a lot. - Review date: 5/3/11, written by
Scott Fryberger
of Jesusfreakhideout.com
Fight For (4:37)
The Trend (4:11)
Nowhere To Go (5:18)
Prodigal (5:47)
Gotta Move (4:48)
Redemption (4:27)
My Desire (3:55)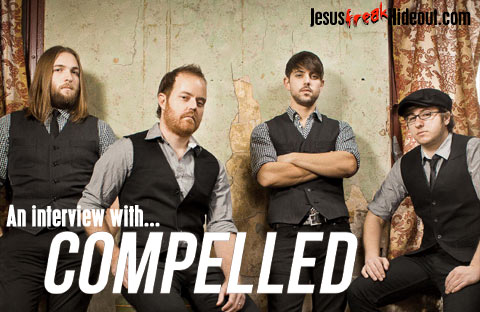 Jesus freak Hideout (Scott Fryberger): How long has Compelled been making music?
Compelled: Compelled has been making music since 2007.
JFH (Scott): What was the first song penned under the name Compelled?
Compelled: "Need You"
JFH (Scott): Why did you get into the music industry?
Compelled: We've always had a huge passion for music and ministry and this seemed like the best way to do both!
JFH (Scott): Independent musicians seem to be the future of music. Are you wanting to sign to a label or keep the independent status?
Compelled: We're willing to do whatever we can to help keep us on the road and in the studio while still staying true to ourselves. Right now we are enjoying the musical freedom and creativity you get as an independent band. We like being our own boss. But it is hard at times and the respect and promotion of a good label is certainly alluring.
JFH (Scott): Who would you consider some of your musical influences?
Compelled: Paper Route, The Myriad, Mutemath, Radiohead
JFH (Scott): What's the significance of the album title, The Fight?
Compelled: The album is really about "the fight" that we're in as we try to figure out how to make our way through life. It's for the Christian sinner who has found that they can't overcome their struggles, pain, and the monotony of today's trendy Christian scene on their own. It offers hope for anyone who is searching for answers to their own existence and value. This battle-scarred and yet victorious hope is found in the patient, open arms of our Savior who is the Answer to all our heavy questions and nagging insecurities.
JFH (Scott): How has the response to the EP been?
Compelled: A lot of new and exciting things have been happening since the EP came out last September, and we've been touring regularly ever since. It's definitely a different sound and style from any of our earlier music, but our fans say they like it! We've gotten a lot of positive feedback from promoters and have been accepted to play at Big Ticket Festival (Ionia MI), Soulfest (Gilford NH), Lifelight Festival (Sioux Falls SD), and First Love Fest (Buena Vista NJ) in 2011 which has been very encouraging!
JFH (Scott): Any final comments?
Compelled: There's a lot of great music out there saying a lot of great things. Our hope is that people find our music unique and our message honest. Woven into this album is a prayer for those who are really struggling in life, that they would take the time to honestly search their hearts and find that Jesus really is all they need. Check out our facebook page (www.facebook.com/compelledband) and website (www.compelledband.com)! We're hitting up several major festivals this year, so come check us out if you're in the area!