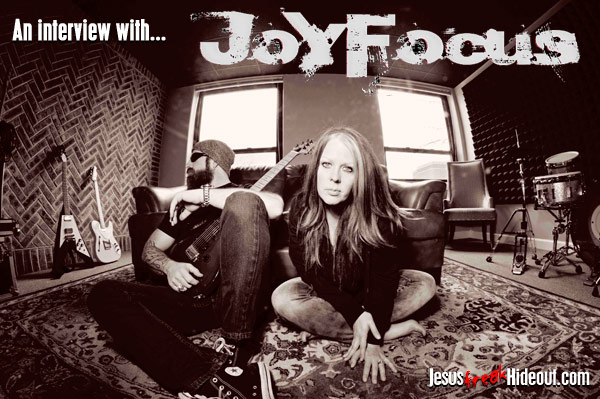 This interview took place in August 9, 2013.


Jesus freak Hideout (Ryan Barbee): What's the meaning of the band name JoyFocus?
Rikk Currence: We get this one a lot... "Joy" is actually Holly's middle name. She uses "Holly Joy" as her nom de plume as a singer, so since the band was going to be centered around her voice and vocal style, it made sense to me to try and extrapolate that idea further and call the band JoyFocus. It's often ironic as people see the name and presume we'll have a very cheery, blissful disposition musically or that we'll be very "motivational" lyrically...which, one you listen to us, is clearly not the case.
JFH (Ryan): How did you both meet and what made you decide to pursue music?
Rikk: Holly & I have been married for seventeen (17) years, and together for twenty two (22) years now... so we know one another pretty well! In the late nineties, I was touring and playing in a bunch of different bands and doing a bunch of session work here in our home town of Chicago. Even though I was loving all the work and all those musical experiences, I wanted a band/project that was 100% my own, a musical vehicle that I could envision, create and execute without the typical "band democracy" or "sideman" sort of situation. At the same time, unbeknownst to me, Holly had been patiently waiting out my other gigs for what she thought was the "right time" to proposition me about starting a band together. Fast forward a few months and JoyFocus was born.
JFH (Ryan): Now the album cover is very different, why the robot? Is there some kind of story behind the artwork?
Rikk: All of the lyrical content of JoyFocus's music is, and always has been, an ongoing conceptual narrative. All of the songs, beginning with our first record in 2001 all the way to the latest EP, work together chronologically, lyrically, to tell a story. I'm finally in the process of working with an amazing artist to bring that story to life visually in a graphic novel sort of way, and the album cover from this EP is part of the visualization of the story that will continue on through all of our recordings until the narrative is complete.
JFH (Ryan): What's your favorite song on the album and why?
Rikk: I love them all, but as of late I've really been digging "No Good Alone".
JFH (Ryan): What is the main thing you wish to accomplish with your music
Rikk: For us, longevity coupled with honest artistic contribution equals integrity. JoyFocus has a expatriation date built into it by design. Holly & I have a dedicated window we've given ourselves to make music that we hope affects people - in some way - any way. We plan to put out as much material as we can over a certain period of time and let the music find and speak to those it needs to organically. We are going to do what we do, the way we do it, until it's time to do something else. You are going to see a lot of music coming from JoyFocus.
JFH (Ryan): Where in your life has God been challenging you the most?
Rikk: Holly & I have both been in a phase of our spiritual journey where we find it necessary to "move through" everything considered to be orthodox or traditional in an effect to get closer to God. It seems one of the great myths running amok these days, primarily in western culture, is that the purpose of Christ and his time here on earth was to create and leave behind a religion in his name, which simply couldn't be further from the truth. We find ourselves (Holly & I) searching, studying and learning how to get closer to God, without having to move away from the everyday people and things we love and cherish. Your time in this world, is a gift, not a waiting room for what you hope will be a better eternity. Live, love and be now, that for us is all we want to do - and to us, anything else is an unnecessary distraction.
JFH (Ryan): Now… for the most important question…If you had a super power… what would it be?
Rikk: Wow. Okay....hmm...I'm going to go with a tie of M.O.D.O.K like mental abilities combined with Taskmaster's ability to absorb knowledge instantaneously. I just went full on Marvel geek for you.